Sky Sports brings you a mouthwatering Super Sunday this weekend - with the added spice of local pride on the line.
First up at 1pm, Birmingham and Wolves go head to head with West Midlands bragging rights - and a valuable three points - at stake.
Then from 3.30pm we bring you a clash that could go a long way to deciding this season's title race as London rivals Chelsea and Arsenal meet at Stamford Bridge.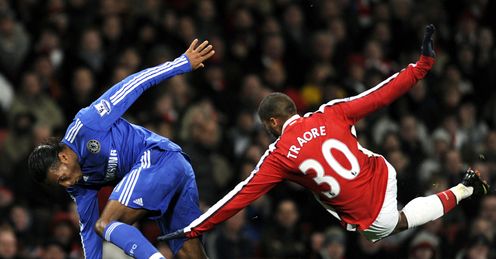 Sky Sports expert Paul Merson gives his views ahead of both games.
Birmingham v Wolves
1pm, Sun, Sky Sports HD1 & Sky Sports 1
If Wolves defend like they did at Crystal Palace, they shouldn't bother getting on the coach on Sunday.
Wolves pretty much had their first-choice back four out and if they play like that against Birmingham they'll lose by three or four - and Birmingham are hardly a free-flowing football team.
I had problems in my career, but the one time you don't have a problem is when you go out onto the pitch on a Saturday or a Sunday. For those two hours everything else goes out of the window and you're free.
Paul Merson
Quotes of the week
LIVE ON SKY SPORTS
Birmingham v Wolves
1pm, Sun, Sky Sports HD1
Chelsea v Arsenal
3.30pm, Sun, Sky Sports HD1
Watch online with
Sky Player
How to
remote record
Wolves made five changes for that FA Cup game with the regular back four and holding midfielder providing a base. The guys that came in are supposed to be Premier League players and they can have no excuses for being ripped apart by Palace.
Mick McCarthy will have learned a lot that night. At least some of those players won't be knocking on his door on a Friday afternoon to ask why they're not playing.
Hopefully that was a blip and I still think Wolves will stay up. There are worse teams in the Premier League and I think the enthusiasm in the Wolves team will keep them in the division.
As for Birmingham, they're the team of the season so far in my eyes.
This is a team that were definitely one of the relegation candidates - fourth bottom would have been a great finish for them - and here they are in the top half of the table.
They had a wonderful unbeaten run in the league which ended at Chelsea, but the last-minute equaliser against Tottenham will have given them bundles of confidence.
The advantage they've had is that they've had the same team out every week. When you're winning all the time you don't get tired and I expect their good run to carry on this weekend.
PAUL'S PREDICTION

Home win - I expect Birmingham to beat Wolves. The Blues are flying and Wolves are struggling at the other end of the table. Wolves always have a go. They won't go there to defend, but the home team will come into the game with much more confidence and I expect them to win 2-1. I'd be shocked if Birmingham don't score.
MERSON'S MAGIC MAN

Christian Benitez - I'll go for Benitez because he's quick and lively. The two Wolves centre-halves won't want to deal with him when balls go up to him and I think his movement could prove to be too much for the Wolves back four.
Chelsea v Arsenal
3.30pm, Sun, Sky Sports HD1 & Sky Sports 1
Should John Terry play in this game? If his mind is right then of course he should.
I had problems in my career, but the one time you don't have a problem is when you go out onto the pitch on a Saturday or a Sunday. For those two hours everything else goes out of the window and you're free.
The boos from the away fans won't affect him one bit. I used to get stick all the time and you shouldn't let it bother you. If they start leaving you alone it shows you're having a nightmare... fans don't tend to boo bad players.
Football is all about playing in big games like this and his performance against Burnley last week showed you what he's all about as a footballer. Captains like him don't come along too often. He's up there in the same category Roy Keane, Tony Adams or Alan Shearer as a leader on the football pitch. I think he'll play.
For Arsenal this is a must-win game, a draw wouldn't be good enough.
I expect Man United to beat Portsmouth on Saturday to go six points clear of Arsenal, so a draw at Stamford Bridge would leave Arsenal six points behind both United and Chelsea.
That's a lot of points when you're chasing two teams, especially when you don't get to play either of them again. One of them might slip up, but it's very unlikely that both of them will.
I fear for Arsenal if they go behind. They ran out of ideas when they went 2-0 down against United and it was the same in the home game against Chelsea.
I remember Arsene Wenger saying that if they let in two goals they'll score four. Maybe you can do that when you're playing Bolton at home but it doesn't happen against the big boys.
There isn't much Arsene Wenger can do to change the team after last week. If Nicklas Bendtner's fit he might add a bit of strength up front, but I don't see many more changes.
This is a game Arsenal must win and I can only see one winner. Unfortunately it isn't Arsenal.
PAUL'S PREDICTION

Home win - Last week's defeat to United will have taken a lot of stuffing out of the Arsenal players. It was a big result and I don't see them bouncing back here. Chelsea won't run away with it, but I can see them winning 3-1. They slipped up at Hull, but generally they have been playing very well.
MERSON'S MAGIC MAN

Frank Lampard - He's a big-game player. Arsenal will worry about him more than Chelsea will worry about Cesc Fabregas. He's got the ammunition to provide balls for Didier Drogba and Nicolas Anelka. When Fabregas breaks free, who is going to make the most of his deliveries?
Comments (26)
Umaru Lamin (Chelsea fan) says...
I seriously think the time has come to get rid of AW other wise ARESNAL will remained useless fighting for 3rd and 4th position. Drogba is my God fin ootball!!
Posted 00:47 8th February 2010
Hehdu Lee chog (Arsenal fan) says...
Mr Wenger is to blame for the lost to united and chelsea. He didn't learn a thing. He keeps saying i believe in the young players. But they dont' know how to win a game. If you doesn't change a little bit his policy, his way of play then he has to go soon. There is not much time in football these days, Wenger.
Posted 22:03 7th February 2010
Dr subin Ahmed (Arsenal fan) says...
I hope that delusional old man wenger wont come up with more excuses after the chelsea match.....i can hear him saying "we were the better side, we dominated pocession.....things would have been different if we would've scored first etc etc....when will he realise that without scoring, no team wins a football match & unfortunately we have no striker to score.........wenger.....be man enough to admit you lack quality & accept the blame instead of coming out with excuses we had been hearing for past 6 years....loser!!
Posted 19:17 7th February 2010
Rajanvir Grewal (Arsenal fan) says...
Arsene wenger is a very good coach. But he needs to buy experienced and quality players. Why did he sell flamini? adebayor and did not buy any replacements for them. He needs to buy GK, defensive midfielder and 2 world class strikers. With current crop of players at arsenal , they can never win league and champpions trophy. Another problem is that his players are injured most of the time. e.g Diaby, Denilson,Eduardo,Persie, Clichy,
Posted 18:37 7th February 2010
John Barron (Leeds United fan) says...
Arsenal havn't learnt a thing since last week it was almost too ridiculous to watch, time and time again they pass the ball all the way up the field until they loose it, as they did against United. My only plausible explanation is that during the week Arson Wenger had them all on shooting practice and realized how awful they are and said " Don't shoot until you have passed the penalty spot" Chelsea didn't need top gear, Drogba should not have been allowed to turn inside and shoot for his second goal but the Arsenal defenders were too busy watching. If I was an Arsenal fan I think i would go and watch their ladies next week to see a few decent tackles and a few shots at goal. The Liverpool game will be interesting.
Posted 18:36 7th February 2010
John Tuck (Arsenal fan) says...
As a long standing Arsenal fan, time for a change of manager, all these skillful 5'6 players will never work, NO Body Strength, No agression, pointless, Rooney, now Drogba, so eay, how many shots did we make ?, sorry, no money spent again on established players ? respect on his business mind, but that does not win sh@t, yet he still buys kids, and again this season he has brought 17 year olds, money is availabe, if he does not have the guts to spend then time to bring in a new manager, sick of watching pretty football with no GUTS
Posted 18:17 7th February 2010
Epi Saudi (Arsenal fan) says...
Wenger should stop giving excuses of not getting in new players and stop praising his players for doing nothing. Quotes like "We are the top scorer" while conceeding most, "No players who are better than our current ones" when he was actually so damn desperate to replace arsenal most consistent finisher, RVP. If I were fabregas, there is nothing to wait anymore. if I were to become one of the most important player for Spain then it's time to move this summer. While I am the die hard supporter of Arsenal. I don't see any specialty in the current arsenal squad except for fabregas and Arshavin. Players like Walcott who keeps getting injured and over rated should be put to rest for good money. Ashley young as compared to him is like heaven and hell. I dont thing Arsenal will go anywhere in at least another 3 more years because I don't think they will be able to keep some of our top rated players in future. What we will get from this is the same stupid policy of bringing in so called promising players who will eventually be sold later. Stop talking Mr Wenger and bring in at least the easiest silverware besides the emirates cup. I don't care if we need to be owned in order to improve because its rewarding as shown by chelsea and man Utd. "Most English clubs would be in financial trouble"? what a stupid saying. Trust me, team like Man Utd and Liverpool would never be in trouble if you are following the current trends in football. In God we trust.. the rest we sack if necessary.
Posted 17:32 7th February 2010
Roy Savery says...
Even though,i hate to agree with Paul. But he,s right dont know whats going on in the training camp?Arsene needs to start docking some wages.maybe that would help. I love the team.Just need to pull their blody socks up. They need to work on there finish.
Posted 15:21 7th February 2010
Brian Brown (Arsenal fan) says...
John Abraham, just glad I don't support such a successfull team as Villa. To all the other so called Arsenal fans, find another team to "support". There are plenty teams who would love to be as unsuccessfull as Arsenal. Arsenal to win 2-1.
Posted 14:32 7th February 2010
Jordan Lomas (Arsenal fan) says...
Paul, I disagree. Yes we have lost firepower over the years, but look at the first 10 minutes and the last 10 minutes of the last game against M. United, we should of had 4 goals. Yes chelsea are strong, but Arsenal have the flare that Chelsea lack. Walcott and Arshavin wake up and put decent balls in to Bendtner then, Who knows. IN ARSENE WE TRUST.
Posted 14:15 7th February 2010
Nick Bonnet (Plymouth Argyle fan) says...
Wigan v Chelsea Arsenal v Chelsea Man City v Chelsea Fulham v Man Utd Burnley v Man Utd West Ham v Arsenal Cardiff v Plymouth to name but a few Not a single result went as the experts predicted which is why we all love the game. yes I would say as a neutral Chelsea are likely to win this one but if anyone can beat them then it's an in form Arsenal. As a neutral I want Arsenal to win to keep the title race as a three horse race. Green Army!!
Posted 13:41 7th February 2010
Arghya Sarkar (Arsenal fan) says...
I don't agree with you Paul.I think Arsenal Is always a better team "playing football" than chelsea whose approach towards the game is too physical.Arsenal are the best in England and probably 2nd best only 2 Barca in the world in free-flowing one-touch football.It's just that we are missing a genuine goal-getter in Van Persie (remember he scored boith the goals in Arsenal's 2-1 victory against Chelsea the previous year).But still Chelsea should worry about the likes of Arshavin and Rosicky and Nasri and of course Fabregas, he is in sublime form this season and I hope he will prove his class and mettle against chelsea.One of them can sink chelsea today single-handedly and I believe they collectively will.And never rule out the Man-Arsene Wenger(In Arsene we trust).Come on Gunners!
Posted 11:44 7th February 2010
Magat Gooner (Arsenal fan) says...
Last game was a real morale killer but I still have faith with the team. I believe we being the underdogs would work out for us (always does)..Would love to see the team fight from the beginning to the end with their heads held high as some players are too quick to surrender.come on you gooners, make us proud....
Posted 00:35 7th February 2010
John Brayshaw (Arsenal fan) says...
Lets not forget that Arsenal have only lost one Premiership match since November when we last played Chelski. Both teams are very different articles from then. This is a crucial match for the Premiership, but I think AW is focused more on the CL than anything else. I reckon if Arsenal can score first, we'll be a good chance to win. A draw is not good enough for Arsenal today, because we shouldn't be in a position where our fate relies solely on waiting for two teams like CFC and MUFC to slip up in future games, coz it isn't likely to happen. AW said at the start of the season you can win the Premiership with 5 losses, lets hope he's right!
Posted 21:19 6th February 2010
Shank Krish (Manchester United fan) says...
As a manutd fan I would like to see a drawn match and to make it entertaining, I wish its a high scoring draw (something like 3-3)....But unfortunately tat isn't gonna be the case here.... Tomorrow's key players will be Denilson and Almunia... I really wonder why these two players start for a club like arsenal... Am pretty sure the tactics is gonna be simple for chelsea..... Mark Fabregas and hence the creativity in the Arsenal midfield is lost.... and then sit back and relax coz definitely Denilson and Almunia will join hands to give Chelsea the victory.... I can't imagine the strike force of Drogba and Anelka being held by Arsenal..... Arsenal may be lucky to score from a corner..... so 3-1 for chelsea Lampard(p), Anelka and Drogba (a free kick) for chelsea and William Gallas to score against his former club from a corner..... The only way Arsenal "MAY" get away is by making a chelsea player getting a red card and reducing them to 10 men...
Posted 20:52 6th February 2010
Ashley F (Arsenal fan) says...
why doesnt paul merson ever have faith against arsenal? i know chelsea and man utd are on a good run but then again so are arsenal. this season has been the best we've had in 3 or 4 years. yes we lost to man utd last week but they are on fire right now and we have a few problems with injuries but never count us out with chelsea. we are a great team who when were on form can upset any team and out play them. i think paul merson should rethink his anylasis.
Posted 14:27 5th February 2010
M C (Arsenal fan) says...
bednter can recieve passes from cesc so can arshavin. yes we slipped up in the past 2 games so what everybody does. Also why does everybody write arsenal off before the game nobody knows what will happen
Posted 14:22 5th February 2010
Maqdoom Khan (Arsenal fan) says...
hey paul i think your prediction will be 100 percent wrong arsenal are looking little shakey at the moment but they will bounce back against blues
Posted 14:22 5th February 2010
Dipo Denloye (Manchester United fan) says...
The real key man is Didier Drodga. Chelsea have not lost to Arsenal with him in the team. The Arsenal defenders will tremble at the very whisper of his name.
Posted 14:17 5th February 2010
A Azzouri (Arsenal fan) says...
I agree with merse, I can't see us winning at Chelsea...from the previous encouters they will be very confidant about beating us again. Chelsea are like a top quailty version of stoke, they are physcially stronger, are good at closing us down and also have the technical quaility that stoke don't have. Chelsea won't allow us the opportinties that Man Utd gave us last week, Man Utd were there for the taking, the fact that Alex Song had 3-4 opportunties to score shows open the game was...the only difference was Man Utd took their opportunties to score. I can see Chelsea beating us 3.0 may be 3.1 if were lucky? I am so sad to make this prediction but its reality. One thing is for sure Arsenal is bigger club (historically) then Chelsea and always will be. I really hope things will change next season with some new signings and without major injurys to key players...IF ONLY?? and please Arsene get rid of injury prone Walcott and that in-competent Denilson
Posted 14:08 5th February 2010