Transfer deadline day is one of the busiest days of the year as deals are done up and down the Premier League.
And skysports.com has again secured the services of a man who has been on both sides of the transfer fence to run the rule over the day's major moves - Paul Merson.
The Soccer Saturday pundit will be here to give us his perspective on the signings, rejections and rumours doing the rounds as Premier League clubs try to reinforce their numbers before the window closes.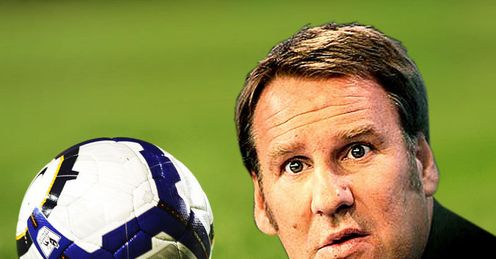 skysports.com's Transfer Clockwatch
Here's the Magic Man's verdicts on what we've seen...
Done deals
ASAMOAH GYAN TO SUNDERLAND

He's a decent player and he impressed me at the World Cup. He missed that big penalty against Uruguay, but then showed a lot of bottle to step up and take another one in the shoot-out. I'd have no worries about him and I reckon he could do well in the Premier League. It sounds like a lot of money, but the name of the game is putting the ball in the back of the onion bag, so that's why clubs pay top dollar for centre-forwards. You always have to pay a bit more for a striker.
ALEXANDER HLEB TO BIRMINGHAM

This rumour really surprises me. He was one of the best players at Arsenal in his last season there and at times he was a different class. He could still play for Arsenal and he'd be an absolutely brilliant buy for Birmingham. He's a proper footballer who can play on the wing, but he comes inside and he's so hard to pick up. I'd take him all day long.
PAUL KONCHESKY TO LIVERPOOL

No disrespect to the player, but this is Liverpool Football Club and the fact they're going for someone like Paul Konchesky shows how things have changed. He's steady, he does a job and he's got experience - plus they've been playing a centre-back in Daniel Agger at left-back so I can understand it. This isn't a move that will turn the fans' heads, but it's a shrewd buy.
EIDUR GUDJOHNSEN TO STOKE

I'm a big fan of Eidur Gudjohnsen, but he seems to be going everywhere on loan now and when that happens you get the feeling something's wrong. Tottenham didn't take him, and they could afford him, so I wonder if he's not that great any more. I also don't think he'd suit Stoke's style of play very well either, so I'm not convinced on that one.
JERMAINE PENNANT TO STOKE

He needs to pick career his up. When he was 15 we all thought he was going to be the best thing since sliced bread and he still has the potential to be a really good player. As long as Stoke aren't paying him silly money I think it's a good signing because Stoke need wingers; they need people like Etherington to get good balls into the box because they're not just about lumping it. The move to Spain was a badly-advised one and Pennant can count himself lucky to be back in the Premier League. But the lad can play.
PAUL SCHARNER TO WEST BROM

I like Paul Scharner, he's a decent player and he'll be good for the dressing room. West Brom aren't going to win every game this year and he's the sort of player who'll pick the other lads up and have a bit of a laugh. He's versatile too, so I think that's a really good buy.
MARCUS BENT TO WOLVES

Marcus Bent must have had more clubs than any other player! He reminds me of Marlon Harewood because he's quick, strong, good in the air and on his day he's unplayable. You wonder why these players don't perform week-in, week-out and they end up frustrating managers and going from club to club. Sylvan Ebanks-Blake is full of confidence at Wolves, so I don't see Bent playing, but he'll be a good squad player to replace Chris Iwelumo.
TOM CLEVERLEY TO WIGAN

The young Manchester United player has gone on loan to Wigan after going on loan to Watford last year. All the reports said he was very impressive in the Championship (and you can only be as good as the opposition in front of you) and now he's got a loan move in the Premier League. Fair play to the lad, he needs to play football if he wants to develop and he's trying to do that. Wigan play good football, so this should be a good move all round.
MARC WILSON TO STOKE

There have been rave reviews about him following his performances for Portsmouth last season and he's the sort of player you want to see plying his trade in the Premier League. Stoke have lost all three of their games so far this season and it could be difficult to get out of that spiral if they lose a couple more. I think they'll be fine, but it's not a bad idea to go out and buy some players in this situation.
ROBINHO TO AC MILAN

He's never been good enough for the Premier League. From the day he arrived I said he wouldn't do it over here - if you can't look good playing for Real Madrid then what chance have you got looking good anywhere else? I thought he'd be a flop and that's exactly what he's been. The league is too quick for him, he's not strong enough and he's a liability away from home. Every time I watched him last year it was like the other team had 12 men! Man City need to get him off the wage bill. Get rid of him!
Remaining rumour
RAFAEL VAN DER VAART TO TOTTENHAM

I like this guy! Tottenham haven't done much in the transfer window and that surprised me, especially after losing to Wigan on Saturday, but there's no doubt that somebody like Rafael van der Vaart would improve that team. He can play in the hole as a support striker for Defoe or Crouch and Spurs haven't really got anyone like that, apart from Robbie Keane. That would be a really good buy.
Ones that got away
CARLTON COLE TO LIVERPOOL

I think this would have been a good buy for Liverpool. He's big, he's strong... and he's better than David N'Gog. Whenever you bring players in you're trying to improve on what you've got and Carlton Cole would do that. I'm a big fan of Fernando Torres when it comes to getting in the box and scoring goals but, and this might sound strange, he doesn't really give you much else. He doesn't get involved in the build-up play, but Cole does and he'd be a handful for defences. However, after seeing Liverpool against Manchester City last week they might need more than Carlton Cole to get back in the top four...
RYAN BABEL TO WEST HAM

I don't mind Ryan Babel. He's been a bit disappointing at Liverpool, but he's hardly played and that's tough for any player. I remember watching him play for the Holland Under 21's and he was outstanding, but he's never had a consistent run in the Liverpool team. He's not shown enough to pick and choose his club, but I think this would have been a good move for him. If Babel reaches his potential he could be a £10million player before long.
MARK SCHWARZER TO ARSENAL

I played with Mark Schwarzer and he's a good goalie, but I don't know if he's that much better than Manuel Almunia. He has played for Middlesbrough and Fulham, but playing for Arsenal is a different kettle of fish. For me, Arsenal should have broken the bank and got Shay Given because he would save you 10 points per season. I'm not sure of the other two would do that. If Arsenal signed Given, they would have had every chance of winning the league.
JERMAINE JENAS TO STOKE

One day somebody will get hold of this lad and you'll see a really good player. Every time I see him I get the impression he's just doing enough - and we should be seeing more. He's shown flashes of outstanding play, but the next week he'll just do enough. He's not playing at Tottenham, so he should move on and he could be a really good player if he gave a bit more.
DAVID BENTLEY TO FULHAM

He needs to move on and he really should have moved on a while ago. He's just a bit-part player at Tottenham and he needs to go and play football somewhere. He can cross a ball, in fact he's Beckham-like when he's on top of his game and I just think he needs to play football, even if it's on loan somewhere. He can do it, he just needs to go somewhere and prove it.
Comments (125)
James Harrison (Manchester United fan) says...
It''s funny how Van Der Vaart said only two weeks ago that the only club worth leaving after Real Madrid that are on par is Manchester United. After almost joing Bayern Munich and then falling through and joined Spurs, it just shows he''s looking to just walk into a team and play in the Champions League. Still, it is a very good signing for Tottenham good luck to them and Van Der Vaart.
Posted 16:43 2nd September 2010
Sam Footkey (Leeds United fan) says...
Why blame Roy for the mess which Rafa created? Rafa was in Liverpool fo 6 years and left with no backup for Torres. Dont get me started on Alberto Aquilani, he was a nonsense signing by Rafa in the first place. This is the first time in history I have seen Liverpool fans divided.
Posted 15:08 2nd September 2010
Alan Robins (Southend United fan) says...
Phone rings in Wengers office. Hello Wenger speaking.. Hello Arsene, its GianLuigi Buffon calling to let you know I am out of contract. AW.. The name rings a bell, are you French? GB.. No Arsene I am Italian. AW.. Oh well never mind are you a fast pacey winger? GB.. No Arsene. AW.. Are you a playmaker then? GB.. No Arsene, I am the Italian No 1 Goalkeeper, and..hello hello Arsene are you there? Turns to agent.. How odd..he hung up on me!
Posted 15:01 2nd September 2010
Patrick Burrows (Stoke City fan) says...
To Andrew Bengston (Sunderland fan) says: Sunderland do not act as a "feeder" club to stoke. If anything weve brought your players and made them better. And Gyan wont score that many, Hes powerful strong but will he be a good finisher? 30+ goals is a good partnership. and i dont think Gyan and bent will cut it together. Dont worry mate Stoke will be fine had 3 hard games.Sunderland need to worry Leaky defense and a loss against west brom(no disrespect) Is not good on the cards.
Posted 14:06 2nd September 2010
Lee Nichols (Sunderland fan) says...
I love the fact you get a load of supposed Man U supporters on here, or Spurs fans (who think they have the greatest club in the world after finishing 4th because the other contenders had bad seasons).....but, how can you comment that £13 million is a gamble for Gyan? 1. He had a better record than Didier Drogba in the same French Ligue 1 and Chelsea paid £26 million for him. 2. We sold £18/19 million quid''s worth of players in the transfer window and only really shelled out on 1, in Gyan.
Posted 13:32 2nd September 2010
Steve Wright (Chelsea fan) says...
to the two birmingham clowns....your rant at my last comments are as boring as your team.....i watch about 20 games a week and i know hleb hasnt played for barcelona.hense why he came from a sunny climate and a class side to a dour one.he''s too good for birmingham.even mcleish was surprised to get him.watching a side with cameron jerome up front is as good as you get.youd be as productive with robson and jerome.lee bowyer still plays and he was over the hill years ago...i suggest you watch more games...and get back to me when you have a side thats capable of not sticking 10 blokes behind a ball.and i''ll bet my house varney and campbell (MR WOODALL) arent there by next season.7 to 10 goals a season each as you quoted will get you sent down straight away..we had 6 scorers on more then that by november
Posted 13:27 2nd September 2010
Gary (spurs supporter) (Tottenham Hotspur fan) says...
This comment is manily aimed at Darren J & Gareth O''Sullivan (Liverpool supporters .......surprise, surprise) It is funny how known of your comments relating to the late transfer of VDV are mirrored to West Hams signing of Jacobsen from Blackburn? This could be 1. Because you have a grudge against Spurs and Redkanpp for taking your precious 4th place and subsequent champions league place while you struggle in the Europa League or 2. Or it could be that whilst your transfer targets include Carlton Cole and Paul Konchesky we are purchsing players at the top of their game from teams such as Real Madrid. Either way there will be many transfers that will have completed a little late due to paperwork approvals but the fact is the paperwork was in on time, and the relevant associations with all the other paperwork to sort through were delayed in approving the deal as the previously stated Jacobsen deal. Rather then looking down South and pointing fingers, keep an eye on your own club and get your own house in order.
Posted 12:46 2nd September 2010
Broken Kirby (Arsenal fan) says...
As an Arsenal fan i would have liked to have seen a WORLD CLASS goalkeeper brought in, but the names we have been linked with have been for the most part, average e.g Schwarzer, Marchetti, Begovic. But none of that matters now, Almunia is just as good if not better than the above named and he is our No.1 Any true Arsenal fan would support the club regardless of money spent, players bought or even Stadium name. Almunia needs our support and confidence, as any real goalkeeper will tell you that its all about confidence! We are not Man City, nor are we Chelsea. We are Arsenal and have one of the best managers in european football''s history. If you don''t like it, the spuds are just down the road, they are brilliant at wasting millions and changing manager for no apparent reason!
Posted 11:41 2nd September 2010
Jay Sampson (Liverpool fan) says...
r.e ben price birmingham fan. You seem to miss the point, if you ask anyone (thats not biased) who do you want to play for birmingham or the likes of liverpool, man u, arsenal or chelsea anyone in their right mind would pick any one of them 4 as wether you like it or not are a bigger club than birmingham and always will be. all hleb has done is show his lack of ambition in himself. oh and i would comment on your comment on hoping man u would win their 19th but i expect that from b,ham fans coz they have to hope other teams win coz they cant do it themselves!!!! glory hunters come to mind. by the way even if man u do win their 19th lfc would still be most successful as won more euro cups. when was the last time you won anything????????
Posted 11:10 2nd September 2010
Clinton Strydom (Liverpool fan) says...
How typical of those who want to blame Roy for us for not having a backup striker for Torres. Are you all part of the IRWT brigade. Who sold the likes of Crouch, Bellamy, Cisse, Baros and bought the likes of Voronin & Ngog? I think you all need to realise that Roy has a very difficult task ahead of him. Roy has been at the club for 2 Months where as Rafa was here for six and he should be blamed for our problem upfront. Six years of his reign and when he left there was only Torres. Six years and only one recognised striker? Rafa is gone now (couldnt be more grateful for that!!!) and it is time for all you naysayers and doom & gloom predictors to catch a wake up. Roy is the right man for the LFC job, if those of whom do not believe the same then go give your support to Rafa at Inter where he now also needs to sell to buy. Long live Roy Hodgson, YNWA!!!
Posted 10:39 2nd September 2010
Leslie Burnard (Arsenal fan) says...
i hear what all my other fellow gooners are saying. i agree we need a better keeper. 1 that will save us a few points in order for us to give a realistic title challenge this season. BUT it is easy to say wenger should have bought a world class keeper. they just not easy to get ur hands on. clubs are relucting to let there keepers leave (as we saw with fulham) i believe that if there was a possible deal for a keeper then wenger wouldve wrapped it up. for now im putting my trust in wenger and hoping almunia will give us a fighting chance. rest of the squad is looking really good. we have enough players to replace song in the centre of midfield, like diaby, denilson,frimpong (injured) and now wilshere
Posted 09:34 2nd September 2010
Craig Williams (Tottenham Hotspur fan) says...
To Darren J - What a load of tosh. Quote ''Man Utd, Chelsea, Arsenal, Man City,Liverpool, Barcelona, Inter Milan etc... and tell them he was available at this price because they are all potential rivals to current and future Champions League and domestic success''. You actually added Liverpool to that list???? Unless you have inside knowledge of what was the problem with the VDV transfer, then you only know speculation. How do you know that the problem was with the FA''s administration process and nothing to do with Madrid or Spurs. Also Madrid have also denied there was any contact from Bayern. Sour grapes from a supporter from a side on the slide. COYS!!!!
Posted 09:25 2nd September 2010
Michal Sklepowicz (Arsenal fan) says...
Unfortunately keepers are confidence players and the way we (some Arsenal ''so called'' fans) treat our keepers we are basically shooting ourselves in our foot. If Rooney / Messi scored N''Gog''s goal, we never would have heard another word on it. Stop listening and believing all the pundits and form your own opinion, failing that, support your team and it''s players. Please post this one SkySports
Posted 00:12 2nd September 2010
Jamie Hunter (Arsenal fan) says...
Why haven''t Arsenal signed Shay Given? We should have signed him when he went to Man City. He has been concistently the best goalkeeper in the Premiership for the last 10 years. Mark Schwarzer is no better than Almunia and he''s 37, ok Almunia has made some mistakes but show me a keeper that hasn''t and some games he''s been world class i agree with the guy that said we concede goals because of our attacking play when you have both full-backs going foward and sometimes the center-backs its not always the keepers fault. Only time will tell the signings we''ve made, Chamakh looks good not sure about Koscielny its alot of money for someone thats unknown and that came from a French second division team but Squillaci is a solid player and he''ll be better than Gallas, good riddance.
Posted 23:24 1st September 2010
Ray Ronan (Arsenal fan) says...
What is going on,i just cant believe the people on here who call themselves arsenal fans. We are much stronger this year than we were last year . we let william gallas go (great defender but bad influence on the team ) and signed two very good centre backs . Almunia is a decent keeper hes made a few mistakes but what keeper hasnt look at Reina,Friedel and Howard this year and for about two months last year Cech counldnt catch a ball. the real problem was our defence , remember the first half against barcelona in the emirates he was outstanding. The reality of it is Arsenal are a very stable football and are never going to throw money away on big name players. In a few years there are going to be a lot of clubs in huge financial difficulty and arsenal are going to be one of the few that wont. Lets just be happy we have a great manager that can spot talent and bargains and stays by our club through thick and thin not like O Neill .And for gods sake just enjoy the football we play we are lucky compared to most.
Posted 22:08 1st September 2010
Common Sensei (Arsenal fan) says...
Errr .... I am shocked by the negativity within the ranks of Gooners on here. Apparently if we had a new keeper we would walk the league regardless of anybody else. The logic just doesn''t hold - that is like saying if we field 11 strikers we will score 5 goals every game :) Of course not!! Arsenal has a very much improved first team (in terms of experience and confidence) and new players who further enhance the squad as a whole. Arsenal are awesome and to be honest if Almunia recreates his past form (10 CL games without conceding) he is more than able to help us to a title or two! Arsenal for life :D
Posted 21:00 1st September 2010
Grant Barker (Manchester United fan) says...
Cant believe were all these deals pop up from?! We hardly see anything for 2-3 weeks then all this happens! Bit suprised at were Gudjohnsen, Hleb and Van Der Vaart have ended up! Should make the league even more interesting! Spurs have definately got some top class players now, they already had Modric,King,Gomes, Lennon,Crouch, Keane,Defoe,Huddlestone and Bale, now theyve managed to get Gallas and Van Der Vaart, they have a really good team now!! Hope Cleverley does well at Wigan, he could be a good player!
Posted 20:57 1st September 2010
Natasha Bartlett (Arsenal fan) says...
So, we didn''t sign a world class keeper, how many are available really? I will continue my faith with AW, he has done wonders for the club and in a few years we will be debt free, which other consistanly top teams can say that? Almunia will learn from his mistakes last season also the fact that we were looking for another keeper may spur him on as he will not want to go next season either, this season is for him to get all critics to back track. Oh and about the spuds, well all I can say is what a great signing, I''m not going to be bitter, I think it was pulled right out of the bag. AFC for the league this season
Posted 20:55 1st September 2010
Elliott F (Tottenham Hotspur fan) says...
Darren J, so are you telling me that a transfer fee must be made public to every club in the world before a club can sign a player. You have a valid point with regards to the deadline but the rest of what you say is ridiculous. As you will see a number of deals have completed after the deadline.. that is life. Just think that another talented footballer has joined the Prem
Posted 20:38 1st September 2010
Ankit Sengar (Arsenal fan) says...
well i completely support (Daniel Foster) stop moaning and see the positives Marouane Chamakh ,Laurent Koscielny, Sebastien Squillaci are all good purchases as for holding midfielder we already have song & denilson so trust them n start this season with your support and not complains IN ARSENE WE TRUST
Posted 20:34 1st September 2010