The departure of Alan Pardew from Southampton has left me gobsmacked.
The Saints were everybody's pre-season favourites for promotion. They kept the squad together that did so well last year and in the likes of Rickie Lambert, Adam Lallana, Jason Puncheon and Lee Barnard they have an embarrassment of playing talent.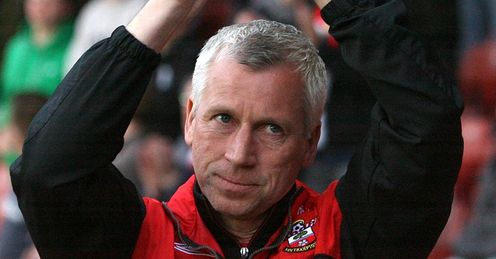 They haven't had the greatest start to the season, but it's still early doors. They've been creating chances in every game, but unfortunately haven't been as ruthless as last season in front of goal. The 1-0 reversal against Plymouth, which was live on Sky Sports, was a good example of that and a failure to take chances is the only criticism that can be levelled at them.
Personalities should be left out of decisions like this. You should look at how a club is progressing and how a team is playing before getting rid of the manager.
Peter Beagrie
Quotes of the week
LIVE ON SKY SPORTS
MK Dons v Hartlepool
12pm, Sat, Sky Sports HD2
Brentford v Sheff Wed
12pm, Sun, Sky Sports HD1
Watch online with
Sky Player
How to
remote record
However, the news of Pardew's exit came after a 4-0 rout of Bristol Rovers - a clear sign that they were getting things together - so I was shocked. I can only imagine every Southampton fans feel the same.
Pardew was popular among both the fans and the players. I've spoken to Adam Lallana, who had been linked with clubs in higher divisions, but was happy to stay at St Mary's because he rated Pardew so highly. He was a manager that gave players the license to go out and impress.
It's a shame because Southampton were all about stability last year. Investment had arrived and Pardew, a man with Premier League and Championship experience, appeared to be the right man to take the club forward.
I don't know where they go next. The names of Gianfranco Zola and Paul Hart have been mentioned, but I don't think Southampton fans would be pleased about either of those replacing Pardew.
The supporters have turned up to games in numbers, effectively voting for the manager and the team he'd assembled with their feet. They obviously liked what they were seeing.
I've spoken to Alan and he loved working at Southampton and loved working with the players. Everything seemed to be rosy in the garden, but the massive positivity around the club has been turned on its head.
Maybe this decision stems from the sad death of Markus Liebherr. He was perhaps Pardew's biggest ally in the boardroom and new chairman Nicola Cortese clearly wasn't particularly enamoured with the manager, for whatever reason.
It appears that a clash of personalities has led to Pardew's exit, and the exit was hastened by the passing of Liebherr.
Personally, I think personalities should be left out of decisions like this. You should look at how a club is progressing and how a team is playing before getting rid of the manager.
This decision stinks of a personality clash and has nothing to do with where the club is going.
MK Dons v Hartlepool
12pm, Sat, Sky Sports HD2
Whenever I've been to MK Dons with the Sky Sports live cameras or for Soccer Saturday I've been treated to a host of goals.
The youngster Sam Baldock has hit the ground running this season and is scoring goals left, right and centre. The coaching staff at MK Dons have told me his attitude and application is fantastic, even when he's not in the first XI, and that's refreshing to see.
This Saturday's game will also allow us to get a closer look at Didi Hamann, a signing which has gone under the radar somewhat after Craig Bellamy and Edgar Davids joined the Football League.
Hamann has been a top-class performer for Liverpool and various other Premier League clubs, but his move to MK Dons showed real forward thinking by the manager Karl Robinson and the owner Peter Winkelman.
The owner is a massive football fan, full of enthusiasm and the club has come a long way because of him. He has a vision for the future - and hopefully that includes a haircut that brings him into this decade!
There's been a real contrast in fortunes for Saturday's opponents Hartlepool, who lost 5-0 to Sheffield Wednesday last week and then beat Northampton 4-0 in the Johnstone's Paint Trophy.
Keeping James Brown fit will be key to their season. They have some good young players, but the experienced players will dictate where they finish.
I hope they do well because Hartlepool gave me my first playing contract back in 1979. There have been enormous changes since then; the changing rooms are immaculate now, but in my day I think 25 of us had to share a bath the size of a sink.
Sometimes change is a good thing!
Peter's Picks of the Week
CHAMPIONSHIP PLAYER OF THE WEEK - Matt Mills (Reading)

Reading were down to the bare bones for last Saturday's game against Leicester, but Mills produced a real captain's performance. He led from the front, put his body on the line and scored a terrific headed goal. At the other end, he hurtled past a player to clear one off the line, despite the fact he'd aggravated an ankle injury. Reading desperately needed a win and his display was crucial to their three points.
See highlights of Leicester v Reading here
CHAMPIONSHIP GOAL OF THE WEEK - Jean Calve (Sheffield United)
One of Gary Speed's first signings, on loan from Nancy, gave his boss a big fillip with his first goal - a 35-yard screamer into the top corner - to seal a 1-0 win. That's how to make yourself popular straight away! I'd also like to mention James Bailey who scored a cracking first goal of his career for Derby, but Calve just edged it.
See highlights of Sheffield United v Preston here
LEAGUE ONE PLAYER OF THE WEEK - Neil Mellor (Sheffield Wednesday)

Neil Mellor has done really well since moving to Sheffield Wednesday and the club now have four really good strikers on their books. Mellor has plenty of experience and was at the heart of everything in their 5-0 win at Hartlepool, scoring one, assisting two and winning a penalty. It's no surprise to see the Owls near the top of the league.
See highlights of Hartlepool v Sheffield Wednesday
LEAGUE ONE GOAL OF THE WEEK - Aaron Cresswell (Tranmere)
Cresswell showed terrific technique with this left-footed free-kick. Anybody who has watched his career develop knows he can produce moments of magic from set pieces and this was certainly one of them.
See highlights of Dagenham v Tranmere here
LEAGUE TWO PLAYER OF THE WEEK - Mark Wright (Shrewsbury Town)

The former MK Dons winger can play on the left or the right and provides a real goal threat. He scored two goals against Stockport last Saturday and has been settled in fantastically well at Shrewsbury this season.
See highlights of Stockport v Shrewsbury here


LEAGUE TWO GOAL OF THE WEEK - Anthony Griffith (Port Vale)
I was torn between two goals this week. I nearly chose Andy Sandell's terrific goal for Wycombe, but I eventually went for Anthony Griffith, who scored a fine goal in a 2-1 defeat to league leaders Torquay.
See highlights of Port Vale v Torquay here
Comments (9)
Ricky Hobbs (Southampton fan) says...
The body language between Pards & Cortese from day 1 was wrong, the dismissal is poor timing for the club & has resulted in 2 awful games since. I believe Pards fate was secured last season by failing to reach the play offs but having started this season with him at the helm we should have given him until xmas. Too many names in the frame for the job for my liking but it is essential we appoint someone quickly to get some feel good factor back in the stadium & into the team. Cortese reminds me of Lowe - no good. Let¿s hope he does the decent thing & doesn¿t land us with a failed skate!!
Posted 18:01 7th September 2010
Peter Wesley (Southampton fan) says...
From what has been said there were ''Real Reasons'' to do with personal conduct ....apparently Cortese interviewed most of the players before the dismissal. Apparently when/if the truth comes out, we will have a full understanding of the sudden and illogical dismissal! We can only hope that our great club takes on somebody worthy of the position. General consensus id O,Neil (in our dreams) Shearer a close second Eddy Howe close third, Phil Brown if not these three!
Posted 13:42 3rd September 2010
Martin B (Charlton Athletic fan) says...
The Southampton board might be wise not to put their faith in Pardew. Charlton backed his judgment to the hilt and gave him a lot of money to replace Curbishley''s team with his own players. He was not to blame for relegation from the Premiership but an expensive team which should have been challenging hard to get back there finished mid-table and were relegated the following season, a disaster for the club''s finances. It has been left to his former no.2 Phil Parkinson to get Pardew''s many expensive flops off the books and build a new team from free transfers and loans.
Posted 03:55 3rd September 2010
Robert Rowsell (Southampton fan) says...
It''s frankly quite ridiculus to me, that fans like the previous poster should speculate like the media does, as they are are no better placed to know what happened than a journo. It''s a matter of days since the manager who i''m sure would have taken us up this year was sacked, and seems that certain fans ie: prev poster would believe fergie was leaving utd for st marys if that mini mussolini told them it were true. Saints are in the position and division they are in because too many saints fans sat by and naively believed the last wolf in sheeps clothing (Lowe) and it''s as if some people learn nothing from past mistakes !! Chairman Nicola Cortese IS BAD NEWS .... Only a man as arrogant and self important as he or Rupert Lowe would sack the most popular saints boss in years and actually consider replacing him with most saints fans worst nightmare a failure and ex -pompey boss.
Posted 00:32 3rd September 2010
Yossarian Docker (Southampton fan) says...
Nichola Cortesse is an idiot, and sacking AP and the coaching staff at this moment is just another example of the Saints CEO''s inability to run as successful football club.
Posted 22:25 2nd September 2010
Saints Optimist (Southampton fan) says...
I think the fact that he was sacked so soon after a 4-0 win and without a replacement speaks absolute volumes in my eyes. Cortese doesn''t come across as a nieve business man, infact i espect whenever he saw a weak leak in a business he would replace immediately. The way in which Pardew was sacked to me points to an incident that has happened at some point. We have all probably heard rumours now and ones that are potentially libellous so i will not go into details. Add to this the resignations of staff at Staplewood lately hinting towards a hard working relationship with alan and it makes you look at it in a different slant. Another point is the fact that it has been reported that it was Markus that wanted rid of Pardew and not Cortese. To me this just smells of another stick to beat the current chairman with, yes he has made some bad decisions but the more i think about this dismissal the more it looks like immediate action needed to be taken instead of a thought out process to replace a manager not well liked. Will the truth come out eventually ? Probably not, however i think at times it pays to take an objective look and reporting rather than jumping on the bandwagon.
Posted 21:29 2nd September 2010
Nicky Shakespeare (Southampton fan) says...
From what I have heard (If it''s right - I wont pass judgement until the truth outs) then Nicola Cortese did the correct thing! Either way, it''s time to move on and try and ignore all the rumours. We support the team, NOT the manager and I hope all this worry and stress that SFC have been through in the past month is behind us
Posted 19:02 2nd September 2010
Farley Rusks (Portsmouth fan) says...
nevermind stains fans atleast Paul Heart could do a nice little job for you. (like take you down!!) haha PUP
Posted 18:57 2nd September 2010
Bella C (Southampton fan) says...
I think a lot of people will be eating their words about Pardew''s sacking when the truth eventually comes out. If AP was so hard done by, why the deafening silence? I suspect that there will be reasons that would get you sacked on the spot from any football club.
Posted 17:17 2nd September 2010