I feel fortunate and privileged to be working on a humongous game at Elland Road on Good Friday.
It's a game between the teams in fourth and sixth in the Championship, but Reading's amazing form means this could have as much bearing on the automatic places as it does on the play-off race. The Royals have taken 24 points out of 24 and with four games to go they are charging towards a second-placed finish.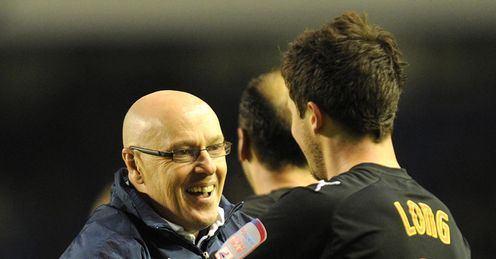 I felt Brian McDermott deserved to win Manager of the Month in March when they'd won three out of three games, but he surely deserves the April award after a maximum return in their five matches so far.
His team has played in such a relaxed manner this year. He has deployed some senior players to lead by example, but has encouraged his younger talent to go out and express themselves. He won't lose faith if they have one bad game and he's created an environment in which they can flourish.
They've emerged as genuine candidates after an astonishing two months and I wouldn't argue with anybody describing them as the favourites for that second automatic spot.
Peter Beagrie
Quotes of the week
LIVE ON SKY SPORTS
Nottingham Forest v Leicester
5pm, Fri, Sky Sports HD1
Leeds v Reading
7.30pm, Fri, Sky Sports HD1
Watch online with
Sky Player
How to
remote record
You can see he respects the players and they respect him. I think a level of trust developed when he was the youth team coach and that has resulted in some incredible performances as those players mature in the first team.
I can't give him enough praise for the job he's done because nobody expected Reading to have a chance of returning to the Premier League this year. They spent a couple of seasons among the elite between 2006 and 2008 - and didn't look out of place - but none of the football pundits were tipping them at the start of this season.
Yet they've emerged as genuine candidates after an astonishing two months and I wouldn't argue with anybody describing them as the favourites for that second automatic spot.
You wouldn't be surprised if they won the rest of their games - against Leeds, Sheffield United, Coventry and Derby - and it looks like a nice run-in on paper. But of course we all know that football isn't played on paper - Scunthorpe's win over QPR was proof of that.
You can make also make a case for Cardiff, Swansea and Norwich finishing second. I have always felt Cardiff have the best front six in the division; Swansea have the best defence and can boast the talent of Scott Sinclair; and if Wes Hoolahan and Grant Holt are fit and firing then who can write off Norwich?
Those sides have been up there for a while, but Reading are the gatecrashers and really could go all the way. But even as somebody who watches a lot of Championship football, I think it would be silly to make too many predictions.
Proud
Leeds' hopes of automatic promotion are over, but to a man they can be very proud of what they've achieved this season.
Like Norwich, they have covered themselves in glory. Both are in contention for a second successive promotion with four games to go and that's a fine achievement.
Simon Grayson has encouraged his players to go forward and attack with optimism and they've scored more goals than any other team in the Championship. They attract huge crowds and while that brings huge pressure, it is a big plus for the players.
They have faltered of late and have several teams breathing down their necks, hoping to snatch that sixth spot from them. They haven't won in their last three and might pay for drawing too many games earlier in the season.
If they'd been able to convert a couple of those into wins then they'd be sat in the top six with a cigar in one hand and a glass of champagne in the other. Instead, their supporters must bite their nails for the rest of the season and Friday's game will be very important.
Leeds have pressure on their shoulders to hold onto their final play-off spot. Reading's fine run will count for nothing if they fall away now. That what makes it so exciting.
You can forget what's happened so far. If any of the teams in the top six can put a run together in the next four games then their destiny is in their own hands.
Possession is nine tenths of the law and Leeds will be looking to hold on to what they have. However, Reading will hope to go even higher.
Promotion races? It's more like Wacky Races?
Destiny
On Good Friday, we will also be covering the Midlands derby between Nottingham Forest and Leicester; two sides whose destiny is no longer in their own hands.
Forest are only two points behind Leeds, while Leicester are a further three points back but I would be surprised if either of them made it into the play-offs.
I always felt Leicester had the squad to make inroads in this division and at least make the top six, but their hopes seem to have been extinguished. The likes of Burnley, Millwall and Hull are better bets to hunt down Leeds on current form.
Meanwhile, Forest went on a great run when they charged into the top six and looked like they were going to push on towards automatic promotion, but now they appear to be spent of energy.
I have huge admiration for the Forest defence with people like Wes Morgan, Chris Gunter and Lee Camp, who is arguably up there with Paddy Kenny as the top goalkeeper in the division. If one of their strikers had scored 20 goals then they'd be candidates for automatic promotion, but that hasn't happened.
Perhaps the in-house politics over signings - people don't seem to be rolling in the same direction - has disrupted the team. The other teams in the top six have a unity that doesn't appear to be there at the City Ground.
You can't write them off, but I don't expect them to be taking part in that £90million play-off final at Wembley on May 30.
Comments (5)
Shane Linford (Leeds United fan) says...
the chamoionship has been a very exciting league with very good players and managers. Norwich, leeds and millwall need to be proud the way they have conducted themselves since being promoted to the championship. would be great if norwich and Leeds could do it again. sorry Millwall looks like we are leaving you behind this time :(
Posted 22:11 21st April 2011
Dom Koski (Norwich City fan) says...
Yeah massive weekend. I can see us beating Ipswich tonight and then all eyes on Cardiff v QPR. If QPR can win that one, that should secure them the title. Also put us in the driving seat for second spot. I know Norwich should be happy with a playoff spot but with the form of Reading and teams like Burnley and Millwall sneaking in. It will be harder then ever to win through that route. What a great end to the season in prospect.
Posted 17:33 21st April 2011
Peter Scott (Leeds United fan) says...
Its going to be a massive few days for a lot of teams at the top end of the championship. Who will go up i dont know, And while Reading's form has been very impressive recently and almost the opposite as far as Leeds are concerned. With only 4 to play, Form means nothing and its the final few games that will make or break a season. Hopefully Grayson can get Leeds playing with flair and passion again starting at home to Reading as we are throwing a huge chance to get back to the premiership away.
Posted 17:16 21st April 2011
Gary Bennett (Leeds United fan) says...
Leeds have thrown away too many games this season with our dodgy defence conceding too many soft goals.Scoring goals has not been a problem and i think the play offs are still there to be won if Simon Grayson can sort out the defence. Both ourselves and Norwich have had a very good season after getting promotion from league 1 last season. If we can't do it this season i expect to be up there next time.
Posted 16:18 21st April 2011
Tom Hearn (Reading fan) says...
What a game friday will be! Everyone reckons this weekend in the auto and play off race is do or die due to Cardiff playing QPR in the 1st vs 2nd clash which is QPRs perhaps perhaps glory and promotion moment, tonight Norwich must travel to Ipswich in a big local derby and that could easily see Norwich dropping points whilst of course Reading must go to Leeds in a 4th vs 6th clash in which both teams must win for different reasons. Everyone in the auto race has a tough game this weekend and any of the 3 teams could be occupying 2nd come Sunday and who ever does I feel will be there at the end of the season. BIG weekend!
Posted 15:06 21st April 2011