The Championship promises to be as competitive as ever during the 2012-13 campaign with many teams having eyes on promotion to the Promised Land of the Premier League.
Blackburn, Bolton and Wolves will be looking for an immediate return to the top flight, while Charlton, Sheffield Wednesday and Huddersfield, elevated from League One during the previous term, will be aiming to stamp their authority on the division.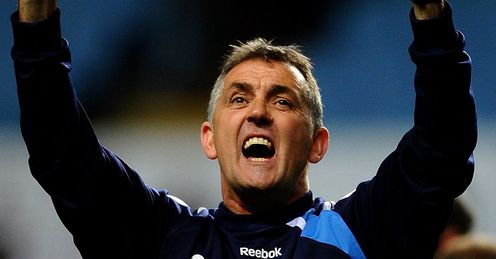 Plenty of other big clubs will be in the mix, too, and Sky Sports' Football League correspondent Peter Beagrie has taken an in-depth look at some of the teams that are figuring highly in the bookmakers' thoughts...
The Championship this year could be a battle between the North West and the Midlands.
The three sides that have been relegated from the Premier League look in very good order ahead of the big kick-off and have been able to keep a lot of their better players.
FOOTBALL LEAGUE LIVE ON SKY
Cardiff v Huddersfield
7.30pm, Fri, Sky Sports 2 HD
Leeds v Wolves
12.30pm, Sat, Sky Sports 2 HD
Watch on the move with
Sky Go
Bolton (13/2f with Sky Bet) have cleared out a lot of dead wood and made some very impressive signings, particularly in that central midfield area with Keith Andrews.
They will also be welcoming back two players who missed last season in Lee Chung-Yong and Stuart Holden and, in Owen Coyle, have a manager who has won promotion before.
I can see Wolves (8/1) being major players but it will be vital that they keep hold of Matt Jarvis and Steven Fletcher, both of whom are being sought by Premier League clubs.
Fletcher could be a revelation in the Championship as he has got every single attribute needed: he is fantastic in the air and can score goals out of nothing. Plus, Jarvis should be devastating at that level. Those two could make Ståle Solbakken's side automatic promotion contenders.
Check out Sky Bet's Championship odds here
I don't think the continued uncertainty over Steve Kean's future will affect Blackburn (10/1) and they are rightly one of the favourites because of the strength of their squad.
Losing Yakubu and Junior Hoilett is a blow - they would have lit up the Championship - but they have acquired brilliantly with the midfield signings of Danny Murphy and Dickson Etuhu and are a match for anyone in the centre of the park and at the back.
Leon Best's injury is unfortunate, though, and you wonder whether a lack of an out-and-out goalscorer could scupper their promotion aims.
Rovers are after Huddersfield's Jordan Rhodes and I would argue that it is as important for Blackburn to get him as it is for Huddersfield to keep him.
Changes
Leicester (15/2) are up there in the bookmakers' reckoning but I am not sure how big a threat they will be. The squad looks to have the strength in depth but there have been a lot of changes at the club in recent seasons and key partnerships have not had time to develop.
Nottingham Forest (12/1) have been taken over and a lot of people might have expected them to splash the cash, but it has been the other way around and they have lost important players like Chris Gunter, Luke Chambers and Garath McCleary.
The appointment of Sean O'Driscoll as manager is a bit of a surprise as the owners said they would be looking for a high-profile boss when they came in.
But I am pleased he has got his chance over a box-office figure who doesn't know the division. Still, I would pick four or five other teams over Forest to make the play-offs.
Leeds (11/1) have a proven manager at this level in Neil Warnock and he has been able to significantly strengthen over the summer.
Adam Clayton has moved to Huddersfield and that will be a big loss, but Neil has beefed up his backline with Jason Pearce and Adam Drury and he now has a strike partner for Luciano Becchio in the shape of Luke Varney, who will work tirelessly in the channels.
United's only problem could be in the wide areas where they lack a creative dazzler following the loss of Max Gradel last summer and Robert Snodgrass this.
They used to be able to overturn possession and hit people on the break but I think they are lacking that ability at the moment.
That's Peter's view but who do YOU think will soar or struggle in this season's Championship? Should he have mentioned YOUR club as promotion contenders? Let us know using the feedback form below...
Beags will look at the League One and Two sides later in the week.
Over the course of the campaign, Beags will be answering YOUR Football League questions in his weekly column. So whoever you support, make sure you send in your posers via the feedback form for Peter to sink his teeth into.
Comments (16)
Ben Brookes (Nottingham Forest fan) says...
Forest will win it easy. Derby relegated.
Posted 12:58 17th August 2012
Peter Taylor (Millwall fan) says...
Millwall finished last season really strongly. If they can produce the form that saw them top the form table at the closing stages of last season, we may be this seasons dark horses.......
Posted 12:33 17th August 2012
James Mewis (Wolverhampton Wanderers fan) says...
As wolves stand today we will be happy with a shoot at the playoff's. If we can sign a good centre back and our new manager can get the players on his side and playing the compact football he likes, then we could win the league. Big if's but we will finish there or there abouts.
Posted 09:12 17th August 2012
Lee Beynon (Cardiff City fan) says...
cardiff will be up there with bolton and maybe birmingham.leeds,blackburn and sheff.weds to be in play offs
Posted 22:38 16th August 2012
Ed Groenhart (Ipswich Town fan) says...
This is the closest Championship race ever. Is there really any team that can't make the playoffs? Expect a surprise package to emerge late in Autumn, then who can catch them...? It's all about the strikers in this division, so Brum could do it, but who will be on song as well? I'd like to say Ipswich, but it could just as easily be Brighton or Huddersfield with their solid strikers, Mackail-Smith and Rhodes.
Posted 20:51 16th August 2012
Barrie Price (Birmingham City fan) says...
It's natural to be optimistic for your favourite team at the beginning of the season and logic would dictate that the three relegated clubs will be strong contenders and names like Forest and Leicester will be up there. However, rarely does the early predicting actually come to pass and I expect in a really tough division that teams will take points off each other and there will be a lot of draws. The teams that can put a run of wins together in short bursts and at the right time will be the ones that prevail. I don't think Wolves will have an easy time of it as suggested in the article. Fletcher and Jarvis don't want to be there and I'm surprised they still are. Keeping resentful players doesn't usually pay of in the long run and I don't think they will feature as automatic contenders for that reason. They also can't defend and you have to be able to if you want promotion. The picture will be clearer after the first 10 games or so.
Posted 15:19 16th August 2012
Michael Holden (Brighton and Hove Albion fan) says...
Brighton have a shout at the Play-offs this year. With possibly the best player currently in the Championship (apart from Jarvis and Fletcher) being Vicente, Brighton will be a force to be reckoned with. Up the Albion!
Posted 12:49 16th August 2012
Nick Wiggett (Birmingham City fan) says...
I think Birmingham will be there or there abouts. We have made a couple of good signings with Peter Lovenkrands and Darren Ambrose, and with Nathan Redmond and Chris Burke on the wings and Marlon King up front, I think we have a tasty attacking line-up. We also have an experienced backline with Curtis Davies and Steven Caldwell.
Posted 07:58 16th August 2012
Dec Seasider (Blackpool fan) says...
Blackpool are massive contenders and if we manage to sign Stephen Dobbie there could be no stopping us.
Posted 01:43 16th August 2012
Des O leary (Middlesbrough fan) says...
If Middlesbrough can improve their home form they will be in the top two by the end of the season.
Posted 21:28 15th August 2012
Guy Bailey (Middlesbrough fan) says...
Middlesbrough are the most improved squad in the division. Jonathan Woodgate could prove to be the best signing of the lot, we've kept Marvin Emnes, strengthened where we've needed to and apart from Barry Robson and Tony McMahon, haven't lost any first teamers. We are nailed on for the play-offs and maybe more if we can get a decent support man for marvelous Marvin.
Posted 19:49 15th August 2012
Lorraine Denyer-mcginty (Brighton and Hove Albion fan) says...
Gus Poyet's Brighton a mention should have a great season and will aiming for the top!
Posted 19:14 15th August 2012
Paul Manton (Birmingham City fan) says...
Birmingham and Blackpool come in with extremely settled sides again and Cardiff also have new investors and have added to their squad. I confidently predict neither Forest or Leicester will be near the play offs. As for Wolves, once Fletcher and Jarvis go forget it, play offs at the best for them.
Posted 18:23 15th August 2012
Harry Boot (Watford fan) says...
I think Watford can be considered as an outside chance. They have new owners who have loaned in a lot of good players, either with experience or a lot of potential. I am not saying they should be one of the favourites, but we should keep an eye on them.
Posted 18:17 15th August 2012
Michael Ball (Cardiff City fan) says...
The mighty Bluebirds (or is that Redbirds) are going to dominate the Championship. I really think they will win it.
Posted 17:49 15th August 2012
Nathan Garner (Birmingham City fan) says...
surely birmingham are up for promotion, with new signing like ambrose and loverkrands
Posted 17:45 15th August 2012