Best of Enemies brings two friends-turned-foes together for an all-British world-title affair.
When David Haye and Audley Harrison meet on November 13, live on Sky Box Office HD and in 3D, there will be much more at stake than the WBA heavyweight crown.
It is a fight that has captured the public's imagination already and our expert Panel are no different.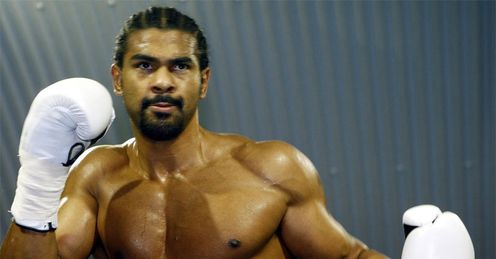 Over the next two weeks, Jim Watt, Johnny Nelson, Glenn McCrory and Nicky Piper will discuss the major issues surrounding the fight, before delivering their final verdicts...
Question Two
You've all been following the war of words - is it fair to say Audley has won the early rounds? Is there a danger David will try too hard to, as he says, knock his block off, as a result?
JOHNNY: Whenever Audley says something, you can see a little wry smile on his face because he knows each time David has bitten. He's got to be loving it. He's doing everything he can to get under his skin. I did the same with Carl Thompson all those years ago; anyone with any commonsense would know it was a load of rubbish, but you know what? I got to him.
GLENN: David's normally a very cool customer, but I am sure he doesn't feel that Audley deserves this chance. I don't think this is a fight he actually thought he'd ever be in and I think that is annoying him as much as anything.
JIM: Whether or not Audley deserves a crack at a world title doesn't matter. He won the European title against Michael Sprott in a fight he was losing, but turned it round in dramatic fashion - so that shows you the level he's got to. He is a genuine threat.
NICKY: I'm with Glenn. I get the feeling David is genuinely rattled. It looks to me as if he is a little more nervous; he's boxing a man from his own country, he's the one under real pressure because if he loses his pride will be badly shaken. Lose this and he loses all face. This is a real pressure fight for him, real pressure - and I think that shows in some of the things he has said.
GLENN: This is a guy he used to look up to and now he's bad-mouthing him, saying he's going to knock him out - and it means he has to think a different way. He obviously doesn't like him and I think it is getting to him
JIM: I'm not so sure he is that bothered by it. I think the one thing with all this talk is for the first time, David is in against someone who is giving as good as he gets. Normally he's the one rubbishing the other guy, but this time it is coming back the other way. That is something he is not used to, so it's a different situation and I think that has been the hardest thing for him to deal with. Not necessarily what Audley's been saying, but just the fact he's been saying it.
JOHNNY: When David came into the Ringside studio recently, I said to him: 'You need to be careful' because it's human nature, when you're angry, to start swearing and spluttering, saying and doing things you end up regretting. That's because you can't think straight - and that is the last thing he needs, because if David isn't thinking straight he makes mistakes. His nature is one of reckless abandonment in the ring and that is dangerous anyway.
GLENN: David has always been a good pro, an excellent pro in fact and his mind is always on the job once that bell sounds. But I think he might have a problem here with all this bitterness and animosity that's building up - and we're still two weeks away from the fight. There's a long way to go but here and now, you've got to wonder whether that red mist will have cleared by November 13.
JIM: I don't think it will be an issue. It's in David's nature to go for a quick knockout anyway - he likes knocking people out - but I don't imagine he'd do anything silly. I don't think he'll be taking all this chat seriously; it's just two guys enjoying the limelight and doing what's expected of them. There is genuine needle there, but I don't think either is stupid enough to go jumping in just because they're angry.
What do YOU think? Let us know by filling in the feedback form below...
Question One: Talking the talk - click here to read
Comments (26)
Brad Dawson says...
Audley is in with a shout simply because Haye is vulnerable to a big shot. Haye will be strong favourite and rightly so, but if he doesn't keep a good defence he is going to be tagged at some point and I believe if Harrison lands something similar to the Sprott punch Haye will be out for the count!
Posted 09:30 3rd November 2010
Craig Collins says...
Haye and his trainer Adam Booth are brilliant at the pre-fight build ups.They create a total hysteria and use it totally to their advantage to motivate Haye to the point where hes a boxing robot and machine to the game plan they have devised.Haye will be far to fast for Harrison and in and out with lightning speed and footwork which will leave Harrison desperate and swinging his one trick pony of a left hand like a rusty old gate.Haye all the way for me because Audley " no you cannot".
Posted 09:46 2nd November 2010
Andy Chadwick says...
What has Harrison done to deserve a world title shot....NOTHING, all respect for the sport is lost when you can buy a title shot with TV rights. Fraud fight, only Haye has something to lose. Hopefully Audley loses and becomes a bouncer, he has no respect in boxing, and should give up. Haye is better than this and has been poorly advised in taking what most people see as a bum fight.
Posted 23:40 1st November 2010
Paul Walsh says...
Got to admit I am loving all this chat it's how the boxing circus goes and lets be honest when David Haye made this fight possible and lets be honest David did the majority screamed "Right I refuse to watch it because Audley has no chance and it's a cheap money spinner" now look everyone will watch it to either ................. A. See Haye end Audleys erm career so british heavyweight boxing can recover from the comedian ( The Majority I might add).. or b. See Audley beat Harrison and become heavyweight champ ohh god i really hope not.... So lets watch this build up come to an explosive Haymaker ending Audley in dramatic fasion..... O Please Please Please..!!
Posted 01:54 1st November 2010
Jay Cee says...
Why I and I expect so many people are so interested in this fight is because Audley however slim the odds are has a chance to knock out Haye. He is a strong heavyweight and as proven can deliver the big punch accurately and successfully! Like when Lewis got knocked out cold by Oliver McCall...every dog has its day as they say! Haye since moving upto heavyweight has done well but not yet been tested against a fighter who in boxing years is still young and ambitious...like Haye said himself , ' I have put my last two fighters into retirement!'...unfortunately they were ready for that before he fought them! I am not knocking Haye as I am a massive fan of his and have followed his career since it began. I think he is an exceptional talent and will continue to be successful in this divsion. I hope Audley does not freeze in the opening round..like Bruno against Tyson the rematch. To be honest I do not think he will...and that is what makes it interesting for at least a round or two anyway!!
Posted 00:58 1st November 2010
Howard Mourinho says...
Totally agree with Paul Robinsons comment below. Haye although a great fighter has taken the easy option and I hope it comes back to bite him. That being said Audley Harrison and indeed this match up are about as ridiculous as boxing gets this is made even more so by the fact its on PPV?
Posted 22:28 31st October 2010
Paul Antoine says...
Whist Audley has the power as a natural heavyweight, I am sure he cannot learn in one fight to improve his timing, balance, footwork and defence. The only way Haye loses is if he doesn't respect Audley's power and walks into a punch. Let's not forget, Audley has been knocked out cold. David has not....
Posted 22:12 31st October 2010
Graham Desmond says...
I can't believe Frauidly is getting this chance to fight for a world title,Haye went out there and proved he is world champ.Is this the message we send that if it makes money you jump ahead of the boxers that are FIGHTING there way up the ladder.Boxing has lost this fight for me.And i know it's all about the money but its against 2 boxers that have proved there worth
Posted 18:06 31st October 2010
George Walmsley says...
David ignore everything that Audley says he's nothing on you mate, go and knock him out it will be quite easy. And once you have finished this so called "Undisputed" bout, actually go and prove to the world how good you are fight a real opponent - The K brothers mate go and knock them out not a bum like Harrison.
Posted 17:30 31st October 2010
Andy Prain says...
I am still shocked this fight has been scheduled as i dont beleive harrison deserves it and i personally think that this is a lose lose fight for haye as what does he gain in winning absolutley nothing. maybe the knowledge that he ended a nobodys career! i really do hope haye wins this fight as i would love to see him fight a klitchko!!!
Posted 13:49 31st October 2010
Richard Mason says...
Its has got to be said....audrey, as i call him. you are no where near the fighter Haye is, infact your nowhere near the fight you think you are. Ok you did well at prizefighter but against what competition. yes your a big man but lets see what you got against David Haye. mark my words, your career is over. bring on klitchko and haye !! now thats a closer matched fight!
Posted 12:44 31st October 2010
Paul Carter says...
I think audley will resemble enzo within 3 rounds when he meets haye as for audleys left hand any fighter has a punchers chance but lets be honest if haye cant beat harrison then his claim to heavywieght top shelf is false audley is going down 5 rounds tops!!!!!!
Posted 11:23 31st October 2010
Colin Murphy says...
Harrison has never matched the hype that surrounded him whilst Haye has walked the walk having talked the talk. There is no earthly reason to assume that things will change here. Haye is obviously frustrated that somebody of Harrisons meagre talents gets to challenge him. It rather shows that there is a startling lack of talent in the heavyweight division of British boxing.
Posted 09:48 31st October 2010
Don Ruddock says...
If Audrey wins, does this proove that he is the World Champ he always claimed to be? No, he has to defend against some half decent opposition first. Audrey doesn't deserve a shot at the title but he has his chance and needs to take his last and only shot at it. He's improved alot over the last couple of years but no where as good as his mouth makes out. David looks in great shape and if Audrey comes in with his usual spare tire, David should tire this guy down within 8.
Posted 04:23 31st October 2010
Joe Johnson says...
i personally think audley is trying everything he can to annoy david because harrison knows that his chances of walking out that ring with the tittle are little yes he was European champ and he did win Olympics but that was like what 10 years ago? i got david to ko audley in 6th round
Posted 01:10 31st October 2010
Wayne Rouse says...
I hope Haye knocks Audley out in the first round and finishes the so called "career" that Audley believes he has. Audley has just not showed any of the potential he had when he won his Olympic title. It is a joke that he even gets a chance to get in the ring with Haye. One final pay packet eh Audley?
Posted 21:54 30th October 2010
Vincent dad Harrison says...
When AUDLEY hit Divid he will think a MULE kick him.
Posted 18:35 30th October 2010
Ian Mitchell says...
the talk is fantastic and everybody in the uk is talking about it, but i will be absolutley shocked if this fight goes beyond 3 rounds ! audleys made for haye. and he will be knocked out in fantastic fashion, wish i was going but the tickets sold out in hours, sky hd is the place to be and i cant wait....
Posted 17:17 30th October 2010
Lee Kerslake says...
People talk about Audley being underrated... like old man Bruno's comments. I don't think that is the case at all... it's Haye who is over rated. I love watching him fight and will continue to do so, but so far he's shown nothing by fighting no one. He'll win this fight, because Audley simply isn't good enough to be rated all, over or under, but ultimately Haye's legacy isn't about Harrison, it's about whether he'll lose to the Kiltschko's by knockout, or show some heart and last the distance... that is unless he's waiting for them to draw their pension before calling them into the ring, then at 65 they might be more evenly matched.
Posted 10:35 30th October 2010
Richard Gair says...
Audley ALWAYS talks a good fight then comes out slow sloppy and scared to throw some punches. David Haye to win by the sixth round methinks.
Posted 09:51 30th October 2010