This week's Flèche Wallonne classic offered a hint that Nicole Cooke, Britain's Olympic road race champion, could finally be rediscovering her form.
In one of the toughest races on the calendar Cooke, after a difficult two years, was fifth behind the peerless Marianne Vos, the best all-rounder in women's cycling.
Flèche Wallonne is one of the few races to run a women's event on the same day as the men's, and it works well. It gives the fans, packed on to the murderous slopes of the Mur de Huy, a full day's entertainment. Everyone, you would think, is a winner.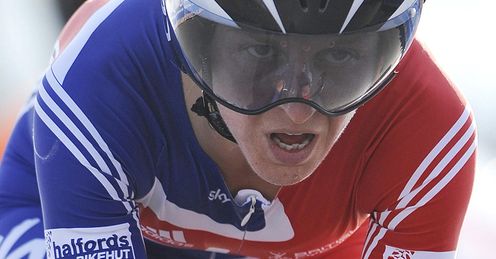 Yet this kind of doubling up is rare - the Tour of Flanders does it, and the Tour of California in May will include a women's time trial. You wonder why more top events don't do likewise.
At the weekend I spoke to Emma Pooley - last year's Flèche Wallonne winner, who was unable to defend her title this week after breaking her collarbone - and she raised some interesting points about the state of women's racing.
This kind of doubling up is rare - the Tour of Flanders does it, and the Tour of California in May will include a women's time trial. You wonder why more top events don't do likewise.
Rochard Moore
Quotes of the week
Pooley, the world time trial champion, admitted that she despairs at the way the sport is organised and promoted, particularly at a time when it should be buoyant; when more and more women are cycling, and, inevitably, buying bikes.
"It's frustrating that it doesn't get much media attention and that it doesn't rank very highly on the public radar, and I think it's largely because very few of our races are televised," said Pooley.
TV exposure would, she argues, create a virtuous circle: "It would make a difference to the existing teams; more companies would be interested in sponsoring teams; and more race organisers would be interested [in staging events] involved because their sponsors would get TV coverage.
"Instead, more and more of our races are getting cancelled and the UCI doesn't really care," she continues. "They're the governing body and they should be making sure there's a decent women's circuit out there.
"I think they're the only authority who could really encourage more races for women and more teams for women. And I think the way to do that is to ask major men's race organisers to put on a women's race, like Flanders or Flèche Wallonne have, or like the Tour of California is doing."
Peanuts
The doubling up of men's and women's events works, says Pooley, "because the media are there anwyay; it costs the organisers peanuts; and fans are there. If people are there they end up watching our races and generally say they're excellent. Some are surprised, I think.
"That's the way forward, and I think that's what the UCI should be encouraging - but they don't seem to have any interest in us."
They're not the only ones. Of the top teams, only HTC-High Road and Pooley's Garmin-Cervelo squad have serious women's set-ups. "Yet the budget for a whole UCI women's team is probably less than the cost of one of the top riders in a men's team," Pooley suggests.
"My dream would be.... Can you imagine if there was a women's Tour de France concurrently to the men's, so we start further down the road, and finish an hour before the men? For the spectators there'd be two races to watch, and the TV cameras could show the action from the women's race. It would be amazing."
There was a brief period in the 1980s when it seemed that the stage race then known as the 'Tour de France Féminin' was on the brink of a major breakthrough, when Maria Canins of Italy and Jeannie Longo of France were rivals and stars (as Longo, incredibly, still is: at 52, she is the national time trial champion, and was fourth in the Olympics in Beijing).
Nowadays there are arguably more marketable stars - Vos, Cooke, Pooley, Judith Arndt, Emma Johansson, Lizzie Armitstead, to name just six. Yet for Pooley the most depressing realisation is that the sport seems to be going backwards.
Asked if she sees any progress, she says: "Frankly, no."
And while the world of sports sponsorship is naturally suffering in the current financial climate, what's curious is that the cycling industry appears to be thriving, not least thanks to what is surely one of the fastest-growing niches: the female market.
"Women are buying a lot of bikes these days," Pooley notes. "It's a huge market. I just don't understand why cycling is still so old-fashioned."
Follow me on Twitter: twitter.com/rbmoore73
Post to your View!
Be the first to post a comment on this story