Mark Cavendish says he's in the best form he's been in for two years, and who are we to disagree?
It has always been difficult to contest what Cavendish claims, because he has so often been right.
On the eve of the 2008 Tour de France, he declared himself the fastest sprinter in the world, prompting some to accuse him of arrogance.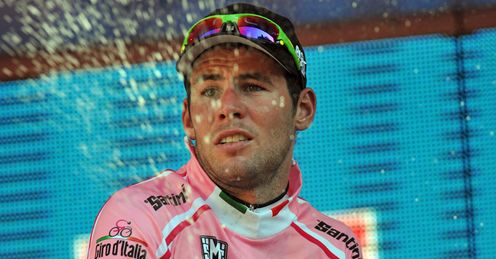 He said no: he was just stating a fact. Then he went and won four stages of the Tour, to prove his point. The next year he won six. And last year, coming off what seemed to be shaping up to be his annus horribilis, he won five.
So if, as Cavendish claims, he's going as well as he was in 2009, then, well, do the maths. He says there are "five or six possible" stages that suit him, "maybe seven. But definitely five or six."
Measured
He seems to be taking a slightly different, more measured approach to racing as he matures. It's interesting to compare his victories year-on-year: in 2008 he had seven wins prior to the Tour; in 2009 he notched up an astonishing 13; in 2010 only three.
There is a school of thought that says Cavendish is a rider who 'rides in' to Grand Tours, becoming sharper the longer the race goes on.
Richard Moore
Quotes of the week
This year, so far, he will start the Tour having collected four wins (five if he wins this weekend's national road race championship in the North East). Even in 2007, his first full year as a professional, Cavendish had five wins by July.
There is a school of thought that says he is a rider who 'rides in' to Grand Tours, becoming sharper the longer the race goes on.
It was first apparent at the 2009 Giro, when Cavendish surprisingly lost the first bunch sprint to Alessandro Petacchi, and didn't claim an individual stage until day nine.
At last year's Tour a similar trend was evident. Unusually, Cavendish misjudged a corner on the run-in to the first bunch sprint and was soundly beaten the next day - with Petacchi the winner, and Cavendish sitting up to finish 12th. Finally, on day five, he won - and didn't look back, with another three stage wins, including his second consecutive victory on the final day in Paris.
Pattern
But the pattern appeared to be maintained at this year's Giro, when his nemesis Petacchi struck again, edging Cavendish out on stage two. Nine days later, Cavendish finally claimed his first stage win, adding a second two days later.
But hold on. At the Giro, Petacchi veered from his line, obstructing Cavendish - a fact that annoyed him. "I would've won that sprint," Cavendish said. "I didn't lose it because I wasn't fast enough."
Fair enough.
On paper, if Cavendish can find his sprinting legs on day one of this year's Tour - which starts with a road stage rather than the usual time trial - then he will have possibly the best chance of his career to claim the first yellow jersey.
There is the small matter of a 'summit' finish, however, with the Mont des Alouettes providing an obstacle that may prove too severe. As he put it: "I've won on harder finishes but I've lost on easier ones."
Great record
The next day is a team time trial - an event Cavendish loves - in which he has a great record, winning three of the five he's contested with his HTC-High Road team.
"The two we didn't win, it was only because I didn't take charge of the team," he said - and he wasn't joking.
Those three team time trial victories include the stage that opened last year's Vuelta, following which his young American team-mate, Tejay van Garderen, offered a vivid and revealing account of what Cavendish brings to the ultimate team event.
"Before the team time trial he was stressed, man. I mean, he really wanted to do well," van Garderen said.
"He was really taking charge, and telling everyone: 'Look, this is what we've got to do'. He wanted us to get a pen and paper and write down what we had to do on every corner, and give it to the director. He was so detailed; but that's the kind of leader he is.
"And we nailed that team time trial," added van Garderen.
Even if the first stage proves beyond him, few would bet against Cavendish inspiring his troops to victory on stage two, and perhaps, in the process, claiming the first Tour de France yellow jersey of his career.
Follow me on Twitter: twitter.com/rbmoore73