This year's post-Tour de France blues will be a deeper shade of blue for many, I would imagine.
Apart from the race for the yellow jersey going to the wire, it was a Tour with a rich assortment of sub-plots.
Let us not forget that interest in the first two weeks was sustained more by the likes of Philippe Gilbert, Thor Hushovd, Mark Cavendish, Johnny 'Hot Pants' Hoogerland, Jérémy 'Attack' Roy, Edvald Boasson Hagen and of course Tommy Voeckler, than by the battle between the favourites, which didn't truly ignite until stage fifteen to Gap.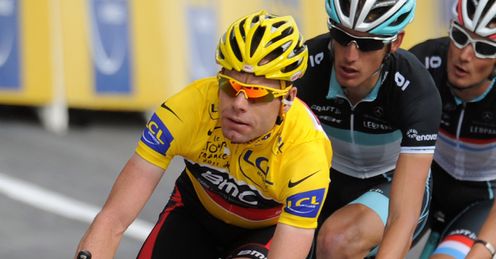 Our impression of this as a great Tour - arguably one of the greatest - has perhaps been coloured a little by those final days. I'd also like to add that 'close', though it invariably means 'exciting', doesn't necessarily equate to 'great'. The 2008 race left us all breathless at the time, but few now talk of that as a classic.
Our favourite pantomime villian
There were, however, four stages in that final week, to Gap, Pinerolo, Galibier and Alpe d'Huez, that produced thrilling racing, thanks partly to the course, which seemed to encourage unpredictability and reward boldness, but also to the aggression of everyone's favourite pantomime villain, Alberto Contador.
It wasn't about Evans at all.The fact is this: the Tour has been brought to its knees by doping scandals, and to restore public trust it needs a winner that people believe in.
Richard Moore
Quotes of the week
Many - myself included - felt that Contador shouldn't have been riding the Tour while his doping case from last year's race, when traces of clenbuterol were detected in his urine, remained unresolved. In fact, his presence in the Vendée seriously diminished many people's appetite for the Tour, particularly because most imagined he'd win.
Although at the teams' presentation in the Vendée Contador was roundly booed, it was interesting to observe how much the prevailing attitude towards him changed as the race went on and he fell out of contention. By the final week, with Contador reduced to scrapping for time and stage wins at every opportunity, he began to garner more sympathy.
And by the time he appeared on the podium at Alpe d'Huez the cheers drowned out any boos. But his mere presence on the podium offered a stark reminder of how the mighty can fall. At the summit of the Alpe, before an apparent sea of Luxembourg fans, Contador was awarded the Prix de Combativité - the consolation prize for the day's most aggressive rider.
He looked suitably sheepish as he accepted his prize and waved, but it had been surreal to witness him playing second fiddle to Pierre Rolland, the young Frenchman who won the stage by dropping the three-time winner near the summit.
That summed up the Tour: it was strange, and full of the unexpected. And the ultimate irony: Contador's image improved, his popularity soared - though it's conceivable that we won't see him back at the Tour until 2014 if the Court of Arbitration for Sport, which will meet to decide his fate in November, finds against him and bans him for two years.
Questions on doping
It seems almost indecent to harp on about doping after such an enthralling race, but that's precisely why it's so important. Many speculated that the closeness of the race, the style of the racing, and even the performance of Voeckler, provide evidence that the sport is cleaner, but if we were to rely too heavily on those kinds of assumptions then we'd really be in trouble.
This is why it was so disappointing that Cadel Evans, in his winner's press conference, declined to answer a question about doping. He was asked whether his success could be interpreted as a sign that the sport was cleaner. "I don't think I'm in the best position to comment on that, sorry," he replied.
I was surprised and disappointed that this intelligent man couldn't offer something more coherent on this most important of subjects, and said so on Twitter - and promptly received a lot of criticism. I wasn't implying anything about Evans. It wasn't about Evans at all. The fact is this: the Tour has been brought to its knees by doping scandals, and to restore public trust it needs a winner that people believe in.
Any discussion over whether this might have been one of the 'greatest' Tours de France becomes utterly meaningless if it turns out that the winner has doped: that is why it is so important for the winner to make a clear statement.
Sadly, we are at the stage where the winner of the Tour carries that responsibility. It is the price the sport pays for its history, and for the fact that, of the last seven winners, dating back sixteen years, one has admitted to doping, one has tested positive, one has a doping case pending, two have either been, or still are, implicated in doping investigations, and one has died of acute cocaine poisoning.
In which context, would it not be a bit weird if the winner of the race wasn't asked about drugs?
But let's consider the circumstances in which he might not be. I imagine it would either be because we're 100% convinced that the problem has been solved, or that we've all been so seduced by the excitement of the race that we've forgotten that it ever existed.
Better, I think, that the winner is asked about doping.
Richard Moore is the author of Sky's the Limit: British Cycling's Quest to Conquer the Tour de France, and Slaying the Badger: LeMond, Hinault and the Greatest Ever Tour de France.
Comments (5)
Colm Mchugh says...
Evans is doing what cyclists have always done, and sticking to the Code. It's natural to be disappointed, but hard to expect one man is going to take a stand against the entire culture. The phrase turkeys voting for Christmas comes to mind, sad to say.
Posted 11:47 15th August 2011
Tim Mahouts says...
Having thought about it though.. And I'm not wanting to point the finger here in any way or cast aspersions, but realistically, if I won the Tour and I was clean, I would hop up on the Paris podium and excitedly proclaim so.. "guys, guys! I'm clean! Seriously! I just won! and I'm clean! Check it out! It can be done! Look at me! Me! Winner! Clean! haha!" and so forth. Wouldn't anyone? I'm not saying point any fingers, but it would be something in the future if someone had the balls, and clean slate to be able to say so, without doing so in their own defence..
Posted 15:44 13th August 2011
The Muse-ette says...
You are dead right to be disappointed in Evans ducking the questions but it's probably no surprise, given there's a potential can of worms there for him. He might be seen as the clean hero but there are several clouds over his team. There's it's heritage, deriving from Phonak team of Landis and Hamilton. There's the soigneur arrested just before the Tour. There's Big George, implicated by 60 Minutes in the Armstrong mess. Unfortunately Evans may just be tarnished by the "old guard" smell that is hanging over so many teams with riders and staff hanging on from the bad days. Radioshacks pensioners, various DS's, Rebellin, Schumacher, etc, etc, etc are all reminders of where we've come from and where we don't want to be any more. Isn't it time for a raft of retirements to leave the path clear for the (hopefully) new wave coming along behind.
Posted 12:58 28th July 2011
Tim Mahouts says...
Good blog man. I agree with your comments to a point, Yes: Evans should be in a position to answer these questions. And No: just because the cards fell right to make for an exciting race (more for people being so unsure about as to whether or not AC was bluffing or not than anything else). But as to whether or not this was a great Tour I think the doping question is irrelevant - after all, just because none of the winners prior to 1998 (when the dope testers begrudgingly actually started testing riders with any real commitment) went positive it doesn't mean that they were ahem doing it on water. We have reached the point at this years Tour that Italian football got to after they won the world cup in 2006. They had just spent years uncovering that pretty much the entire Seria A was a fix: then they let everyone off the harsh sentences because it would ruin everyone's buzz if they went on about it for too long. Dare anyone try that door, it says Do Not Enter?
Posted 11:36 28th July 2011
Chris Proudfoot says...
Great story, but why cloud Cadels mind with doping stuff. One thing for sure, all winnres will be iunder some sort of cloud of suspicion eventually. However, the issue is BIG. If they let AC off the hook, what does that tell everyone that has ever popped for anything. The credibility of the testing itself requires a fidelity beyond reproach.
Posted 00:06 28th July 2011