Richard Moore casts his eye over all the action in the past year and recognises the cream of the cycling world in 2011...
RIDER OF THE YEAR: Philippe Gilbert
What a season. As I said in an earlier blog, some sports people become less popular when they win with such regularity that it becomes predictable. But Gilbert never became boring. He won 18 races, each one thanks to his attacking instincts and with his trademark panache.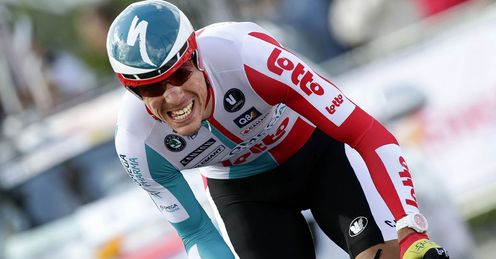 The highlight was eleven days in April, when he won four times: Brabantsje Pijl, Amstel Gold Race, Flèche Wallonne and Liège-Bastogne-Liège. But Gilbert enjoyed a season-long sweet spot, combining outstanding form with ebullient confidence.
MOMENT OF THE YEAR: Tommy Voeckler, stage 19 of the Tour de France, July 22
What was Tommy Voeckler doing? That's what we all asked as we watched the rider in the yellow jersey, caught between a rock and a hard place -- actually, a lead group containing Alberto Contador and Andy Schleck, and a chasing group with Cadel Evans -- toiling up the Col de Télégraphe and Galibier on stage 19 of the Tour, which finished atop Alpe d'Huez.
It was excruciating to watch. It was suicidal. It was enthralling and brilliant.
Richard Moore
Quotes of the week
He faced a classic dilemma. Should he risk destroying himself to try and catch Contador, or slip back, join Evans, conserve energy? Silly question. This was Tommy Voeckler: Suicide Tommy, as he should be known. He chased forlornly, fruitlessly, agonisingly, probably losing his chance of winning the Tour, or even finishing on the podium, in the process. At times he seemed to lose the ability to pedal and slump forward, as though he might either burst into tears or erupt in fury. It was excruciating to watch. It was suicidal. It was enthralling and brilliant.
BEST TEAM PERFORMANCE: Great Britain at the world road race championships in Copenhagen
It was ridiculous to ask the British team to control the 250km race from start to finish. But they set out to do just that, and, incredibly, did, leaving Cavendish to finish it off with a sprint.
Of course, their audacious tactics could have blown up in their faces. If Matt Goss had moved a fraction to his right in the final 200 metres and closed the door on Cavendish, they would have been ridiculed for their naivety and misplaced confidence. But Goss held his line, Cavendish won, and the eight GB riders were hailed for what some called the greatest ever team performance at the world championships. That's cycling for you. Even in a six-hour race over 250km, the margin of difference between naive fool and superhero can be mere centimetres.
Honorable mention: Europcar at the Tour de France, where they overcame scepticism and some ridicule from rival so-called super teams to defend Voeckler's yellow jersey for ten days.
BEST INDIVIDUAL PERFORMANCE : Mark Cavendish at the world championships in Copenhagen
His team-mates were outstanding, but in praising their efforts there seemed a danger, at times, that Cavendish's performance was overlooked. Not only did he produce a remarkable finish; he knew what he was doing for each of those 250km, deliberately easing up on the climb each lap, and he knew precisely where he needed to be coming around the final corner. Crucially, he also instilled in his team-mates the confidence they needed to ride as they did - Cavendish told them that if they executed the plan, he would win. They did, and he did.
BEST RACE: Tour of Flanders
This was a bit of a throwback: a race where rhyme, reason and tactics seemed to go out the window. It was ding-dong stuff, from Fabian Cancellara's confident (too confident, it turned out) attack with 60km remaining, to his collapse on the Kapelmuur, and his resurrection; then there was Philippe Gilbert's bid for glory on the Bosberg, Sylvain Chavanel's race-long heroics, and finally a surprise winner, Nick Nuyens. All in all, the most engrossing classic of the season.
TWEET OF THE YEAR: "Just saw today's last kilometre. Gilbert humbled everyone with the equivalence of pulling down his pants to reveal a 13 incher. #YIKES" -- Mark Cavendish posts his reaction to Philippe Gilbert's big one: his victory on stage one of the Tour de France.
MOST LOOKING FORWARD TO IN 2012: how the Team Sky dynamics play out, particularly when Bradley Wiggins and Mark Cavendish pair up for the first time, at the Tour de France. Will it be a love-in? Fireworks? Both?
Follow me on Twitter: @richardmoore73