Despite Mark Cavendish's victory in last weekend's Kuurne-Brussels-Kuurne there is no question about who has been the British rider of the year so far, and he does not ride for Team Sky - at least not yet.
Jon Tiernan-Locke, of Scottish-based Endura Racing, is a 27-year old from Plymouth who stunned many big names by winning the Tour of the Méditerranéen at the start of this month. Even if it's lost a bit of its lustre, it is the traditional season-opener: it's a big race.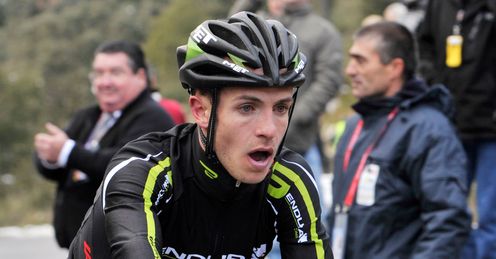 Next, Tiernan-Locke proved that wasn't a fluke by winning the Tour du Haut Var in mid-February. Both victories were built upon his performances in the decisive, hilly stages. At the Med, he won two stages. At Haut Var, he danced away on the ridiculously steep climb to Fayence for his third major victory of the season, and second overall win.
Not since Stephen Roche has an English-speaking rider arrived on the continental scene with such a bang. In 1981, his first year as a professional, Roche won the Tour of Corscia and Paris-Nice, but he came with a reputation after excelling as an amateur in France, and he was riding for Peugeot, one of the major teams.
Tiernan-Locke's body is skinnier than ever, which may offer one explanation for his breakthrough. He used to weigh 69kg; now he is 61.
Richard Moore
Quotes of the week
To put it mildly, Tiernan-Locke's successes so far have come from leftfield.
Brian Smith, Endura's general manager, takes issue with the assertion that his rider has "come from nowhere." And he has a point.
Tiernan-Locke was ambitious enough to travel to France when he was 19, and talented enough to join UV Aube, the Troyes-based club with a rich English-speaking heritage. Malcolm Elliott, Simeon Hempsall and Rod Ellingworth - now Team Sky's race coach - are among its alumni.
An even more illustrious rider lived in Troyes, in the heart of the Champagne region, in the 1980s and early 90s. And it is the rider to whom Tiernan-Locke has earned comparisons: Robert Millar, the winner of three mountain stages of the Tour de France, and 1984 King of the Mountains.
Millar comparisons
Smith, a Scotsman who was close to Millar, makes the comparison himself: "Jon has the same shape: big legs, skinny body. And he's explosive on the climbs, as Robert was."
His body is skinnier than ever, which may offer one explanation for Tiernan-Locke's breakthrough. He used to weigh 69kg; now he is 61. Even at last year's Tour of Britain, where he flashed across the radar by winning the king of the mountains, he was 65kg.
"I knew if I lost weight I'd go better," Tiernan-Locke says. But he hasn't been on any special diet. "I used to do long hours to try and lose the weight, but I was turning myself into a diesel. Now, it sounds simple, but I do more intense training and I count the calories."
An equally important factor might be his diet of races. British events don't tend to include the kind of hills you find on the continent, and Smith points out that domestic racing tends to be less controlled, more anarchic. A lot of the bigger continental races come down to a single, decisive moment: something that tends to favour climbing specialists.
Blood values
Still, Tiernan-Locke's successes have raised eyebrows and - this being cycling - some suspicion. Smith could not be unaware of this, and says: "He is clean and we are going to prove he is clean by releasing his blood values. It's something we're working on with British Cycling just now. Everybody on the team knows that if anyone's caught doing anything illegal, it'll be the end of the team."
Those who know Tiernan-Locke vouch for him and say they are not surprised by his success. They point to the illness he suffered just when it looked as though he might make it in France: he lost three years to the Epstein-Barr virus, and then his cycling took a back seat as he completed a degree at Bristol University.
But Tiernan-Locke admits that he is surprised. Not by how he is riding - he feels no different, he says, and there have been no unexpected spikes on the power meter he trains with - but by his wins. "The actual results have surprised me," he says. "I didn't expect to win those two races."
They mean he is in demand by the big teams, apparently including Team Sky, though he says he is committed to Endura. "I'll definitely ride the whole year with Endura. As for as next year goes, I've made no decisions yet. It's about getting the right programme of races. But my dream is to ride a Grand Tour, definitely."
Before that, there is this weekend's Tour of Murcia, then, from 20-24 March, a bigger goal: the Settimana Internazionale Coppi e Bartali, one of Italy's major stage races. "I'm really looking forward to that one," says Tiernan-Locke. "I'm going to do my homework for it."