It seems almost certain Mark Cavendish will leave Team Sky at the end of this season.
The Tour de France, despite ending on Sunday with his fourth consecutive win on the Champs-Élysées, demonstrated that the attempt to accommodate a general classification rider and a sprinter in the same team is not working.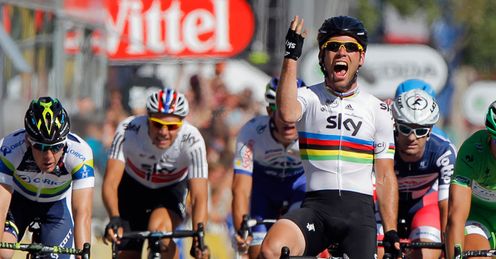 This is not Cavendish's fault. When he was in negotiations to join Sky, early last year, he wasn't to know that Bradley Wiggins would emerge as a Tour de France winner, far less that Chris Froome would also develop into a podium finisher.
It isn't really Team Sky's fault, either. The move for Cavendish came on the back of their debut season, which had been a disaster. It was no surprise that Dave Brailsford wanted him, since he was British and would guarantee lots of victories. And if, in the meantime, Wiggins managed to turn himself around, and become the rider Brailsford believed he could be, then so be it. Better to deal with the problem of having too many leaders and winners than too few.
The world champion deserves better than to be left to fend for himself in sprint finishes, or to perform the role of domestique, returning to the team car for water bottles and rain capes.
Richard Moore
Quotes of the week
But now that Wiggins has become a Tour winner, and Froome a contender for future Tours, Cavendish has become a problem. It's mainly a problem for Cavendish himself. The world champion deserves better than to be left to fend for himself in sprint finishes, or to perform the role of domestique, returning to the team car for water bottles and rain capes.
His ability justifies having a team built around him. He is an uncompromising character and it is a waste of his talent for him to accept anything less, and to try to fit into a team dedicated to winning the yellow jersey.
At Sky he has become a square peg in a round hole. Having now won the yellow jersey, there is simply no way they are going to return to the Tour to try and win green with Cavendish. It would be like Chelsea, now that they have won the Champions League, prioritising the FA Cup next season.
The Belgian Omega Pharma-Quick Step team is Cavendish's likely destination, with several of his old HTC colleagues now there, including the sports director, Brian Holm, to whom he is closest.
A new British team?
But how about another possibility? With the upsurge of interest in cycling in Britain, and the extraordinary publicity around Wiggins' victory, could it be feasible for a second British-based team to be set up, with Cavendish as its leader?
There are other British riders who might thrive in a team that prioritised the Classics and sprint stages in the Grand Tours: Ian Stannard, Ben Swift and Andy Fenn, to name a few.
Then again, one of the things that Brailsford said on Sunday, as he projected ahead, was that the Classics represent unfinished business for Sky. "We've been sh*t in the Classics," he said, "we really have."
There is a plan, apparently, for Geraint Thomas to have a proper go at the Tour of Flanders next year. It is also rumoured that Wiggins would like to have a proper crack at winning Paris-Roubaix before he retires. I hope he does. It would be great for the sport to see a Tour de France winner target some of the other big races on the calendar.
And it would be great for the sport in Britain to see another big team, built around Cavendish. Any takers?
Comments (10)
Alex Bright says...
It's not just Cav that's unsettled. If you consider the aspirations of riders like Ben Swift, EBH, and gerant Thomas having wiggo and now Froome as potential GC contenders / winners at the TDF. they won't be likely to get a look in. The machine that is sky will roll forward without them. Be ready for a number of high profile departures and new riders to be brought in to support Wiggo and Froome
Posted 16:34 26th July 2012
Jon Sparks says...
With fellow Brit David Millar as a co-owner of Slipstream Sports (Garmin) how about a big British sponsor getting involved there? With Tyler Farrar under-performing you'd think they'd bite Cav's hand off ¿ if they had the budget.
Posted 16:01 26th July 2012
James Cole says...
A second ProTour cycling team is pie-in-the-sky talk however. Britain neither has the riders or the fanbase yet to support one, and they would need a sponsor with serious financial clout to musle in on the ProTour calender. A lower-tier British team has diddly-squat chance of getting w wildcard spot on a Grand Tour, just ask Endura
Posted 14:17 26th July 2012
Simone Warner says...
If Cav does move, it will only be to OPQS. Classics mesh with sprinting rather better than GC does. Boonen could be an issue - he's used to being top dog there - but he has changed from being a pure sprinter (when he kept getting beaten by Cav when he burst onto the scene) to a classics maestro with a sprint. OPQS would find the money, they have Brian Holm, and they have the riders to support Cav. A second British team...perhaps in 2014 earliest, but there's no way a new team is going to be put together in the next 2 months to apply in Oct for a Pro Tour licence. Someone has started kicking around the idea of building on/buying out Endura - but they're Conti, and certainly dont have the infrastructure or indeed quality of riders on the squad to make the massive move up to Pro Tour. Even with a wad of cash, Cav would be wasting the 1-2 years of his career whilst any new squad tried to get up to speed. Ain't going to happen. He'll either stay another year at Sky, or move to OPQS.
Posted 12:53 26th July 2012
Andy Rake says...
I personally believe Cavendish will leave at the end of this year, if not this year then certainly next, he wont see out his 3yr deal at Team SKY. The fact is, Cav is a sprinter, its what he does and if he isnt doing that now or for the next few years then what is he doing? hes basically a very well paid domestique, which is ok when your 35+ but hes only 26/27 and still got a few years left in those legs yet to gain stage win sprints. If i were Cav i would leave as SKY are never going to offer him what he wants, as good as they are. Cav needs a team around him to win but at SKY he's only ever got half a team which isnt enough.
Posted 12:00 26th July 2012
James Cole says...
On forums cav leaving has been discussed seriously since we saw him roll in at the end of the Langudoc stage in this years tour, having been dropped on that short climb. Lotto got Greipel back to the Peloton and despite Wiggo's attempt to set it up for EBH he won. A dedicated sprinter's team would have got him back.
Posted 11:43 26th July 2012
Harry Eagle says...
I don't think Omega Pharma-Quick Step would be workable for Cav with Tom Boonen the lead sprinter there.
Posted 10:48 26th July 2012
Jon Sparks says...
I think you're a little unfair on Cav, who said himself that being part of a British GC win was very important to him. Playing the team role rather than being the protected rider was a bit strange for him but I thought he handled it really well ¿ and of course his big goal is on Saturday. A second British team would be fantastic, of course, but needs a really big investment to even come close to the money Sky have put in.
Posted 10:20 26th July 2012
Paul Carpenter says...
I disagree and I think you'll see Cavendish racing with Sky for at least another year. After the previous Sky blunders with the Tour de France, it was key that Sky put everything into getting the yellow jersey this year. Froome was reeled in and there was little support for Cavendish. Now that they've achieved winning le Tour with a Brit I hope that they'll be able to release the riders more next year. I would love to see Wiggins dominating the time trials while competing the mountains and Froome competing in the time trials while dominating in the mountains. It would give Sky two separate strategies to grab the yellow again (and hopefully the king of the mountains on the way). Through in a small lead-out train of 2-3 riders for Cavendish to get the green and hopefully Thomas back competing for the white again and Sky could get a clean sweep. I believe they had the riders available to do this in the 2012 tour but getting yellow was the only goal. Another reason why I think Cavendish won't leave at the end of the season if he's been persuded to work for the team in France this year in return for an olympic gold. The 4kg he's dropped is in anticipation for box hill. If he was only interested in sprinting he would have retained the weight. Wiggins has come out numerous time during the tour to say Cavendish will be getting all of his support during the road race on Saturday.
Posted 10:17 26th July 2012
Nigel Moss says...
A pity Sky can't run two squads. One with GC target one with Points target. They certainly have the riders in the squad. I know this can't happen but a nice thought
Posted 16:10 25th July 2012