In 2011, 254 players were drafted in the NFL Draft.
In 2012 the number will be around the same - and Penn State defensive end Jack Crawford will be one of those players.
But Crawford's different to the other 253 - he's not American. In fact, he comes from South Kilburn in West London, he supports Arsenal, and is only started playing American football when he came over to America in the second-to-last year of high school.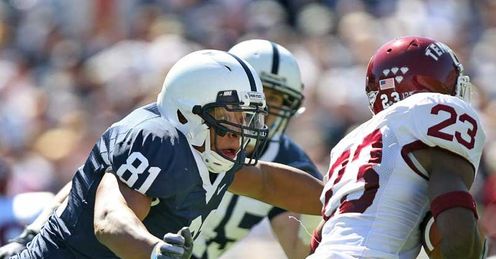 Sky Sports columnist Alex Ferguson interviewed him just days after the NFL Combine, and here is his story...
Read our last chat with Crawford here
How did you get into American Football coming from the UK?
I was playing basketball in South Kilburn and someone saw me playing and suggested I should go to a football camp to get exposure to the US. I did really well, and got a scholarship, but my dad wanted me to finish my GCSEs (I got three As, three Bs, and one D - the 'D' was in Spanish!). But I went out to the States after that and played in New Jersey in my junior year.
Penn State
So who recruited you at Penn State?
It was sad to see a person who devoted his whole life to Penn State suddenly break down like that.
Jack Crawford
Quotes of the week
I was recruited by a number of coaches, and eventually I went to State College to meet with Joe Paterno [Penn State's legendary head coach]. He told me he would love me to come and play for Penn State. I also had offers from LSU, Tennessee, all the ACC Schools and Baylor, and I'd also met Jim Tressel, the Ohio State head coach, but Columbus didn't appeal to me as much as State College did.
So who were your influences at the school?
I was a big fan of Tamba Hali [current Kansas City defensive end who was a cult hero at Penn State], who came to Penn State before me. He came from Liberia, picked up American Football in high school like me, and had a good career at Penn State. We talk to each other all the time because we relate, and we're kind of close.
What was it like playing at Beaver Stadium, one of the biggest stadiums in college football?
The first time I stepped onto the pitch to the noise of 110,000 fans screaming, I found it overwhelming. But you get used to it. Later you learn to blank it out and use it for your own momentum.
And who were the most difficult fans to play against on the road?
Iowa's - easily. The fans are basically two yards behind the bench, and you can hear everything they said, and they are in your ear all game long.
So in your career at Penn State, who was the hardest player to stop?
Trent Richardson at Alabama. He's strong, he's powerful, he runs hard, and it's hard to bring him down. You have to take him high- if you don't he'll go right past you.
The scandal
What was the atmosphere in the dressing room once the scandal broke?
Nobody thought the allegations about Sandusky would affect the dressing room like it did. We all thought it was one messed-up person who was going to get charged. I mean, I never met the guy. We never thought it would have the impact that it did. So when it hit it put everything that we did as a team into a bad light.
We tried to focus on football and Joe Paterno said that he had no idea about the stuff that was brought up about Sandusky and that it should not affect us. But you could see the biggest effect that the allegations had weren't on the players -it was on the coaches. When Paterno was fired the coaches knew that they were going to lose their jobs, too. It was tough to say the least.
And what were your feelings about the Joe Paterno situation in general?
It was sad. We had that final team meeting when he told us that he was leaving and you could see he was broken. He wasn't ready for it. He never thought he was going to lose his job - he'd been coach for 40 years and in the program for 60. He broke down at the meeting and it was sad to see a person who devoted his whole life to Penn State suddenly break down like that.
For me, it was also sad and upsetting the way the board of directors at Penn State fired him.
The future
How early were you contacted by agents?
Agents start calling at the end of your junior year and every day it seemed there was a phonecall from another agent or a meeting with one. I really tried to focus on training. You talk to agents a lot.
So do the agents or the school pay for you to go to the NFL Combine?
No, the NFL does. They pay for everything.
So what was your experience of the NFL Combine?
It was a fantastic experience. Most of it you don't see on TV - I got there four days before I even did a televised workout.
So what happened, day by day?
Day 1: I was in the hospital for six hours straight. The doctors took six different blood tests and I had my heart and urine examined. There were 20 different X-Rays, but at least you got your results back on the day!
Day 2: I had an MRI on a foot that I injured in my junior year [which restricted Crawford from playing a full season]. Then there were five to six hours of physicals in an effort to test the weaknesses in your bones and body.
Day 3: Meetings with loads of doctors and teams. The teams would ask you everything, from your background to whether you're a US citizen - as I'm still on a student visa I was worried whether this might be an issue (the teams said it wouldn't be!). They also want to test your football knowledge, as well as pick up tape and ask you to go through the good plays and the bad plays that you made throughout the season.It was all very wearing!
And on the final day, the testing...
That was actually the shortest day. You did a warm up, did the testing which included the 40, the different jumps and then went home.
Now what?
I'm going to go back and work out, because I've got a Penn State Pro Day on March 14. I won't have to do any exams at Penn State - I'm just concentrating on trying to go pro. After that, it's more interviews and individual workouts with teams before April.
So after all this, have you worked out where you'd like to play?
I'm happy to play anywhere as long as I get drafted!