This week the National League's Most Valuable Player for 2011, Ryan Braun, was banned for the rest of the 2013 baseball season for drug use.
According to ESPN.com via an 'Associated Press source', Braun got 50 games for his connection to Florida drug outlet Biogenesis, and 15 games for arguing a suspension for drugs in 2011.
Braun, to his credit, said: "I realize now that I have made some mistakes. I am willing to accept the consequences of those actions. This situation has taken a toll on me and my entire family, and it has been a distraction to my teammates and the Brewers organization."
Appeal
But, sadly for baseball, it doesn't stop there.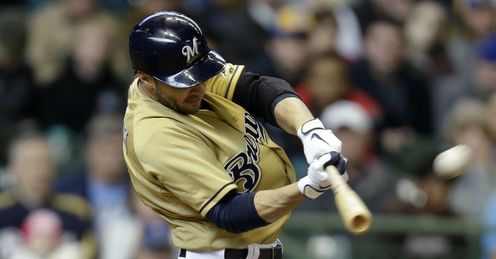 Next is the name of Alex Rodriguez, once Cameron Diaz's boyfriend, a star at the New York Yankees.
Major League Baseball has been gunning for A-Rod, putting the news out there that the third baseman won't just be banned for the rest of the year - he might be banned for life. Rodriguez, through his sources, had adamantly said that he will appeal.
It's not like we never knew that drugs were part of the game of baseball - or even suspected it.
Alex Ferguson
Quotes of the week
This isn't a surprise, bearing in mind the tens of millions of dollars on the table thanks to the player's disgustingly large contract with the Yankees - which is looking like one of the worst sports contracts in history - although a Queens Park Rangers fan might argue that A-Rod in his absence for the Yankees gave more than Chris Samba did during his small stint at Loftus Road.
Also there are worries out of Texas for outfielder Nelson Cruz, who is also rumoured to be on Major League Baseball's list of players that are going to be hit with a drug ban. Nolan Ryan told ESPN that the baseball authorities haven't talked to the Rangers. It's all a bit messy.
Target
Speaking of messy, it's not like we never knew that drugs were part of the game of baseball - or even suspected it. Anyone expressing outrage about the Biogenesis deal probably doesn't remember the Greatest Baseball Summer of All-Time - 1998.
In 1998, Mark McGwire of the St Louis Cardinals hit the long ball. And he didn't just hit into the first seats in the bleachers. He hit towering fly balls that were lucky not to hit planes or even satellites. His hitting filled Busch Stadium, and got everyone talking about the home run race. The home run race had a target - Roger Maris' 61 home runs that he hit for the New York Yankees in 1961. And it wasn't just the crowds inside the stadium who were gawking at McGwire. It was all of us. Not a day went by without long mention of the home race. "McGwire's got another one", we whispered to ourselves as the gigantic ginger ploughed another ball out of baseball's green fields.
Then came Sammy Sosa. He started quietly, but suddenly Sosa - playing for baseball's most beloved franchise, the Chicago Cubs - started to hit them too, earning him the nickname 'Slammin' Sammy'....one that was repeated onto the UK TV screens by then-Channel 5 presenter Johnny Gould. Sosa banked 20 during June, and suddenly the conversation erupted again. "Is it going to be McGwire? Is it going to be Sosa?" we asked, fixated onto this sports drama playing out before our eyes.
Power
Then came Ken Griffey Jr, baseball's favourite son and owner of the most beautiful swing the game has ever seen. Then it was Greg Vaughn, a powerhouse from San Diego. Both those players were accelerating towards unfathomable heights too.
Major League Baseball dined out on it. Why wouldn't they? The power was filling the stadiums. The home run had become cool again. Hell, baseball had become cool again. There was noise ruminating around the world of baseball that something was up - that the giants that we worshipped were actually drug users. Their power was not from Baseball gods, but from the chemical brothers who gave them out the little pills to perform the block rocking beats day in, day out, so they could beat THAT home run record. If Major League Baseball didn't know drug-taking was going on at the time, either they were very blind or very stupid. I still hope and pray that they were very stupid.
A few years later - after both McGwire and Sosa did break the home run record (McGwire on September 8th against the Cubs, Sosa later on against the Millwaukee Brewers) a new player came to play: Barry Bonds. Unlike the affable McGwire and Sosa, Bonds was anything but affable. He was truculent with the media, which immediately made him persona non grata with baseball fans. But boy, could he hit. Barry Bonds could hit like God himself, and in 2001, he hit 73 home runs. Unfortunately, everyone in baseball smelt a rat, and the accusations of Bonds' cleanliness with regards to steroid intake abounded. But despite everyone smelling a rat, the stadiums would still be packed out to see Barry Bonds hit for the San Francisco Giants. Why? Because everyone loves the long ball.
The problem for the baseball authorities is that the best thing that ever happened to baseball was when McGwire and Sosa chased down Roger Maris' record in 1998. McGwire acknowledged much later on that he had indeed taken steroids all the way through that wonderful season. Sosa was questioned by a Senate Committee about it and has pleaded his innocence - although he was denied entry into the Baseball Hall of Fame due to suspicions surrounding his baseball career. In other words: Drugs were 'good' for the game.
Saddened
We all know that. We're just afraid to say it. A baseball purist would love to see a pitching duel, where the game ends 2-1 and everyone's on the edge of their seat, but the fans - those who come out in their droves to eat popcorn, drink beer, and yell - love the long-ball. And the drug takers gave us that. I actually got to see a few games during that glorious season (I saw David Wells pitch a perfect game at Yankee Stadium, and Ken Griffey hit two home runs), and I was as enwrapped as anyone in that world. Why? Because - to use an oft-used phrase- I dig the long ball. So do millions of other baseball fans.
So what does baseball do? Baseball's furiously trying to change up its image. It's trying to be Louis Renault in 'Casablanca', and tell anyone who'll listen that they are shocked - shocked - that gambling is happening in their establishment. Now, they are going after the drug users, and trying to crucify everybody - as big a superstar as possible.
Is it the right approach? Sure. I love baseball. Although I know that the drug cheating goes on, I'm saddened that it's happening to the game I love. But I wish Major League Baseball had put its house in order a little bit earlier.