Gareth Bale was handed the Professional Footballers' Association Player of the Year trophy on Sunday evening, but even before he picked up his prize many were wondering how the Spurs flyer actually did take the award.
Many have been critical of the choice and Bale himself has been on the end of some unwanted and unjustified criticism.
Tottenham star Bale, like with runner-up Samir Nasri and to a lesser extent third-placed Carlos Tevez, was in exceptional form at the start of the season which threw him into the media glare and into the minds of the voters, his fellow professionals.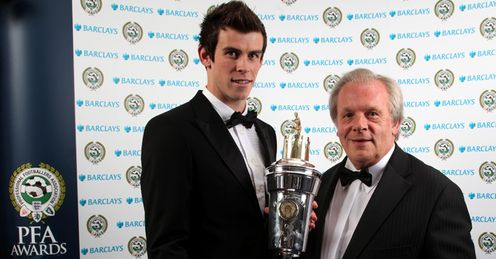 But if the voting was done now, you could easily see none of the top three making that list again.
The real issue is how the award is decided, and that is where the problem lies.
The PFA ballot their members at the turn of the year, and every player in England is asked to vote on Player of the Year, Young Player of the Year and the team from their respective divisions.
The timing is the first and major issue, and even many players have admitted that they would like to see this delayed.
Backlash
Sometimes a player can dominate an entire season, like Wayne Rooney last year, and the award does get it right, but two of the last three seasons have seen decisions which have led to a critical backlash.
Ryan Giggs two years ago was handed the PFA prize and, like with Bale this year, many have questioned what he did to win it.
I would also suggest that only players from that division should be able to cast a vote. Each division should name their own Player of the Year, with the Premier League winner gaining the overall crown.
The Bale award this year also raised the question of how can the Player of the Year, age permitting, then not get the Young Player prize - it simply makes no sense - if the Spurs man is the best player, then he is obviously also the best young player.
So it is clear what the PFA needs to do. They need to totally overhaul their system and in today's electronic dominated world, there are no excuses for why each individual member could not cast their vote in seconds. The Football Writers' Association allows its members to cast their vote in this manner.
The PFA need to make sure that such a prestigious prize is not devalued - something it is very much in danger of doing as it stands.
Comments (17)
Pieter Seeb says...
Surely Nani, despite his theatrics/tears etc, has been the most consistent and the main reason that ManUtd are having such an exceptional season. Agree this award should not be taken too seriously.
Posted 15:20 18th April 2011
James M says...
The award is absolutely ridiculous for all the reasons stated... Most of these players were only good for half the season (if that!), the season hasn't even finished yet, Performances outside of the premiership are clearly being taken into consideration when they shouldn't be. I think it's a joke that Bale was picked for player of the season when he hasn't even been Tottenham's best player this season. I just can't even begin to understand this system of choosing player of the season failed to acknowledge what is probably the most important period of any season!
Posted 15:13 18th April 2011
Katie C says...
Give credit where credit is due Gareth Bale fully deserves this award. He is outstanding and still has alot to learn in the game and is sure to be one of the best. Tottenham arent stupid they arent going to sell their best players and Gareth will be going nowhere. Well dont to him
Posted 14:59 18th April 2011
Dpac73 , thfc fan says...
You could look at the PFA award as effectively voting for the player who has carried his form over 2 halves of a season i.e. the second half of 2009/10 and first half of 2010/11. So in effect the award is for the calendar year 2010 rather than a football season year 2010/11. People are criticising that if the voting was now then you would get a different result so what you are saying is that the vote is really about who has had a couple of hot months prior to the voting in which case we already have awards like Barclays Premier League Player of the month, etc.
Posted 14:36 18th April 2011
Rob Thomas says...
It is a poor system. Bale had a good start to the season, although his standout performances came in the Champions League. The voting should be done at the end of the season, not at the turn of the year. There hasn't been a huge amount of standout performers this year but Vincent Kompany and Scott Parker would have been worthier winners as they've been consistently good throughout the season.
Posted 14:33 18th April 2011
Thomas Brennand says...
I agree the voting system should be done on the final day of the season, not in February, this happened a few years ago when ashley young won young player of the year over stephen ireland who played exceptionally well for the whole year, yes the top 3 did have a great start to the season but like them and most of the players in contention for this award have fizzled out in the back half... In my opinon players like scott parker or vincent kompany should have taken it home, these two have been standout players for both teams in every game not just amazing in a few games and some that are in the champions league.
Posted 14:21 18th April 2011
Potlako Borole says...
I personally feel, that Bale was not deserving of this award. Over the duration of the season I would say both Modric and Van De Waart have been more influential for Tottenham. He blew up at the beginning without a doubt but (whether due to injuries or not) he has not been as influential ever since then. This season lacked stand-out performers but for me players like Luis Nani (Top assists) and Charlie Adam, Modric, and Vidic have carried their teams a lot more than Bale has. I'm not quite sure what stats back Gareth Bale's selection as Player of the Year. So yes I do agree that the awarding process needs to be reviewed urgently.
Posted 14:15 18th April 2011
Mike Edwards says...
Unbeliev'able' that Bale won this award. Nani has played better this season and there is no question he deserved the award over Bale. There is too much hype around Bale for a performance against a team that were 4-0 up and coasting. Don't forget bale was on the losing side. Nani has 18 times more assists than Bale in the League. 18 TIMES!!! Nani has also score more goals in more matches. The fact is that the players who are voting quite honestly don't like manchester united and it has clouded their judgement. Hopefully Nani can put this behind him and push on win the Premier league and the Champions League and prove he is one of the best players in Europe. The Players and the Media and SKY sports believe that Nani play acts and this probably cost him the award. These were the same players saying he play acted when Carragher nearly ended his career. There are countless otherbad tackled on Nani. Bale doesnt mind a good dive.. only have to watch the game against Madrid to know that. Howeve he is the golden welsh boy who cando know wrong... He wont win nothing at Spurs like Nani will win at Old Trafford. This award has to change the way it is voted for and the votes need to be made public.
Posted 13:47 18th April 2011
Tony Burton says...
I agree that the system needs to change. Both Bale and Nasri had great starts to the season but even as a Liverpool fan I would think that if the vote was taken in the last couple of weeks Vidic would surely have won it
Posted 13:16 18th April 2011
Matthew Hill says...
Ridiculous criticism of Bale, and a ridiculous article. The idea that a player should get the Young Player of the Year as well as Player of the Year if age allows is non-sensical, especially in an era where players are reaching their peak at a much younger age then they used to. And further to the point of the criticism of Bale - who would you give it to?!
Posted 13:15 18th April 2011
Taiye Agoro says...
Stupid system, so imagine if somene like Samir Nasri or Jack wilshire score 2 goals a game and help them win the league or something? Bale still would have won? It is basic common sense to award things after the premiership is actually over..
Posted 13:14 18th April 2011
Marc D says...
I agree that the format needs revising. I think "Young player of the year" should stop being thought of as a second place award, and instead, any player aged 23 or under is ONLY eligible for the Young player award, and the overall player of the year award should be renamed to "Senior player of the year" for players over 23. That way you eliminate the argument of whether the overall player of the year should also be Young player of the year if he is under a certain age.
Posted 13:12 18th April 2011
Alan Sherriffs says...
I would like to know who 'The Insider' would have chosen as Player of the Year and Young Player of the Year? This season, I don't think there have been any stand out performers for consistency. In fact, I think Giggs deserves it this year more then 2 years ago! Not saying he should of got it though.
Posted 13:10 18th April 2011
Elliot Fionnlagh says...
Surely it's player of the YEAR, not season, if the voting is done around the turn of the year? This would then include Bale's performances at the end of last season against arsenal and chelsea etc.
Posted 12:37 18th April 2011
And Rew says...
I'm a Spurs fan, and Bale wouldn't make it in my list for Spurs player of the year, which would consist of Modric, Gallas, Lennon and Dawson. And yet 2 of our nominated players were VDV and Bale, who had great starts, so yeah, the system is ridiculous.
Posted 12:35 18th April 2011
Dan O'brien says...
It's true that Gareth Bale won his award on the basis of half a dozen games. There is no doubt that he's a decent player but this award won't add a penny onto his value when Spurs decide to cash in during the summer (which they will). Like anything in football, change will always be slow in coming. I felt that over the season Scott Parker should have won it for consistantly being the top performer. It had to be even harder for Scott Parker as every game was a pressure game.
Posted 12:27 18th April 2011
Ben Thompson says...
bale is a good player but u could count his good games on one hand and two of them were in the champions leauge not the prem and samir nasri was great for the first 3 or 4 months but whats he done since
Posted 12:21 18th April 2011