Arsenal have finally done the right thing and sold Cesc Fabgregas. Now they have to sell Samir Nasri as well.
It's not admitting defeat if they do. He wants to go and players have so much power now that they can't do much else. He's got one year left on his contract and Arsene Wenger has always made a point of telling us how well Arsenal is run as a football club, how financially sound they are; well, they can get maybe £20million for Nasri now, or let him go for nothing next year. If they did keep him for that final year it would not make good business sense and it would go against everything Arsene Wenger stands for.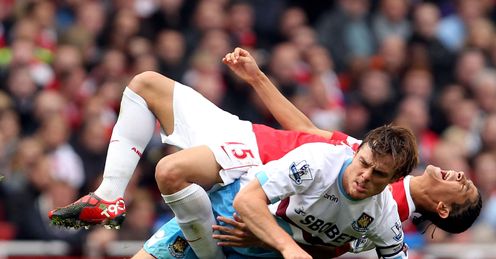 It also makes good football sense. The boy wants to go and if he can go and pick up £200,000-plus a week at another top club, probably Manchester City, you can't really blame him. If he stays, will his heart be at the club? No. He doesn't want to be there, Fabregas wanted to be at Barcelona, so they have to start looking at the future.
Hopefully that means Aaron Ramsey and it definitely means Jack Wilshere and one or two others. But it is that one or two others that might well make or break Arsene Wenger. It's not fair to judge him until the transfer window is closed. But he does need to spend well - and spend big - before it does.
It's time for Wenger to make a statement, to show that Arsenal can compete in this market and make a couple of marquee signings. Even if he thinks there is no real value down the line, or if it is not bringing anything to his vision of the future for the club, he needs to show the players and supporters as much as the rest of the Premier League, that he and Arsenal Football Club mean business this season.
Jamie Redknapp
Quotes of the week
LIVE ON SKY SPORTS
Arsenal v Liverpool
12.00pm, Sat, Sky Sports HD2 & Sky 3D
Watch on the move with
Sky Go
How to
remote record
SKY BET ODDS
Sky Sports football pundit Jamie Redknapp has signed a two-year contract extension with online betting firm Sky Bet. Each week Jamie will provide his '
Red Hot Tips
' and you can also watch his weekly video previews.
Who will Arsene Wenger sign in the transfer window?
It has to be time for him to go out and splash big money on ready-made players, ones who are already at the top of their game. He needs to as well because looking at that squad that drew at Newcastle and beat Udinese, it will not finish in the top four. I'm not being anti-Arsenal either, I think Arsenal fans would agree with me.
Every time they lost the ball it became like a basketball match, they were a car crash waiting to happen. They were so open. It made me think - not for the first time this summer - why on earth don't they just go for Scott Parker? Surely he's ideal for them? He's a good lad to have around the place and more importantly, he would do the job they need. I look at Alex Song and I don't think he sees himself as a holding midfielder.
Collectively they look to go forward when they've got the ball, but someone like Parker would sit back and make sure they were in position, covering, just in case they lost the ball.
Confident
They clearly still need a centre-half, a dominant one at that. Wenger has tried abroad before with Lorent Koscielny and Sebastien Squillaci but it hasn't really worked, so you're probably looking at Christopher Samba or Gary Cahill. They've been in for Phil Jagielka but obviously didn't offer enough money to tempt either him or Everton, I know they tried hard to get Phil Jones but lost out to Manchester United, but that's life.
Let's say he has £50million to spend, which is the figure being put about: I would go out and get Eden Hazard from Lille; he is in the Nasri/Fabregas mould, a real No 10 and he speaks French, which would suit Wenger perfectly. Then I would buy Scott Parker, on loan and then it would be a decision between Samba, Jagielka and Cahill.
But I honestly wouldn't be too confident of sitting here in two weeks' time saying he has bought all three of those, or even those types of player, but for once, I think Arsene Wenger HAS to bite the bullet.
His squad's so threadbare, so lacking in real quality that unless he does something, unless he makes a stand now he is in danger of giving the likes of Wilshere and Robin van Persie, a get-out clause should they become disillusioned come January or next summer. I am not saying they will, but if Arsenal don't start bringing in some good players, it will give them an excuse if they do want out.
It's time for Wenger to make a statement, to show that Arsenal can compete in this market and make a couple of marquee signings. Even if he thinks there is no real value down the line, or if it is not bringing anything to his vision of the future for the club, he needs to show the players and supporters as much as the rest of the Premier League, that he and Arsenal Football Club mean business this season. He has to, for once, think about the present.
He might have to accept that the days of bringing in the young unknown gems are over as well. Arsenal always had the French and African markets cornered and Steve Rowley always seemed to pick out a real talent none of us had really heard of; a Patrick Vieira, Nicholas Anelka or Thierry Henry. Everyone has seen what Arsene's done and they are now doing the same - some of them with more money behind them.
Compete
There is huge competition out there right now and unfortunately for Arsenal, not a great deal of quality out there in the market. And when a good player becomes available, the top clubs all try and buy him and as we know as well as Arsene does, Arsenal cannot compete with the wages. If he does start paying £200,000-a-week then it won't be long before Arsenal Football Club goes bust.
I think he rebels against the market. I think he gets angry when he sees Chelsea and Manchester City offering ridiculous money and find's it obscene. It's a bit like he's at a party and the music's on but he doesn't want to dance - even if he wanted to - because everybody else is doing fancy moves! I think it offends him and for that reason he still thinks I've got money here, so I'll keep going and buying young players from Southampton say, because my club will still be here, when everyone else's money is gone.
Get the latest Premier League odds
But it doesn't need a massive change in the wage structure, because there are still some world-class players at the club. It just needs a couple of marquee signings to show they are willing to compete. He might not like it but if Wenger wants to continue his fabulous record, he has to make exceptions.
They cannot do anything though until they have played the second leg in Udinese -and that is by no means a cert, having watched them on Tuesday night. Liverpool in the Premier League on Saturday is another tough game, but I can tell you this right now, they would rather lose that. The Udinese game is worth something like £30million - to add on the Fabregas cash and whatever they get for Nasri - and will really define where this club is going.
Careful
I've said before, this is the first time the pressure is really on Arsene Wenger. If they lose on Saturday that's one point from two games but if they miss out on Champions League football - for the first time in 14 years - where would they be?
I can understand why the fans are so frustrated, but they need to put that on hold for the next couple of games. Trust me, someone like Paris St Germain with their new backing, would write Wenger a cheque tomorrow, so the supporters have to be careful. If they force him out, they will never see the type of football they have seen over the past few years. And whatever happens in the window, they will see it again this year, absolutely they will.
Whether that football will be enough to bring overdue success to the club you can't say. But on last season's evidence and from what we've seen already this season, you wouldn't back this current squad to match Manchester United, Chelsea, Manchester City, never mind the Barcelonas of the world. I am reserving judgement until the transfer window is closed and we can see what Wenger does, who he buys.
It's not what you want at the start of a new season, but these next two weeks might just be the most important of Arsene Wenger's time in English football.
Comments (55)
Seb Webster (Nottingham Forest fan) says...
I agree with the article, but I strongly believe Wenger has over 100 million to spend, from player transfers and the backing of 'Silent Stan'. For me, I'd love to see Wenger splash out on Mata/Hazard (or both?), Paulo Henrique Ganso, any of the aforementioned defenders and possible an experienced goal keeper (Buffon?).
Posted 15:58 19th August 2011
D Patel (Arsenal fan) says...
I really wonder, has arsene wenger the genius, fallen trap to unbendable, rigid, my way or highway, we only play through the middle, not adaptive enough, no plan B, refuse to cross the ball enough, not going to spend money in the transfer market - philosophy? Thats what it all comes down to. Has he become that stubborn guy in the party who refuses to dance, like Jamie refers to. In the past we have seen arsenal adapt a little, they are starting to shoot from distance, and cross the ball, BUT are they doing it enough? Or are they still sticking stubbornly to a "style" of play even if it is NOT going to help the team in that specific moment - a classic example is working the ball wonderfully all the way up to the byline, and then, because they refuse to cross, passing it all the way back to the keeper! Where as if you watch barca, they put a whole lot more crosses in and bodies into the box at the same time. I agree with Jamie and others on here. The key question is, has Wenger fallen trap to stubborn thinking, or, is he correct all along. Will we still challenge for the title this season despite being supposedly the 5th best team now? I guess we'll soon find out.
Posted 15:35 19th August 2011
Ben Leffman (Arsenal fan) says...
brilliant article jaime, you really brought up some very interesting and valid points. I myself am a arsenal fan and i completely agree with the majority of this article. Keep them coming!
Posted 13:14 19th August 2011
John Justine (Arsenal fan) says...
I must say that jamie article is objective and reasonable argument which should convince wenger to act now. Arsenal wenger is a good coach and brilliant economist, the only issue I see with Mr Wenger is that he refused to accept the fact that game have changed since the days that he signed Thierry Henry . Even if you discover and develop a talent, with the current football situation as soon as he becomes Know the big spenders will entice him away, look at Nasri and fabrigas . Wenger at the moment is like the Republican tea party movement in the US who when asked if they will accept Tax increase of 1 dollar if the govt agrees to cut spending with 10 dollars for every I dollar tax increase, said no . Its now a question of principle at all cost , instead of common sense, if you look closely its pride and arrogance my way or you hit the highway. I hope Wenger will listen to the cry of arsenal fans and buy ready made players from the UK instead of continuously running to the French league.
Posted 11:53 19th August 2011
Junior Batsa (Manchester United fan) says...
I think what Wenger has to realise is he probably has 50,000 working class people in the stands who are going through a recession and are folking out a good amount of money to help the club become successful. As a Man Utd fan i tend to forget about how much debt we are in when my team is winnning 4 out of 5 leagues and reaching 3 out of 4 Champions league finals. Alex Ferguson knows if he does not win things, he wont have a big transfer kitty, he can not draw top quality players and his own top quality players will want to leave and knowning all of that, drives him on to be sucessful every season. I think because Arsenal are financially secure, Wenger is relaxed knowning he won't lose his job because he has been a part of helping the club remain debt free. Alot of people say Arsenal fans should be wary of what they say because they may lose Wenger but if this carrys on, why will it be such a loss. Its not like Arsenal are the only team that play that silky football. Barcelona play the same way but the key is, they win TROPHIES! so right now playing silky football is not enough without any end product.SAF has always said "success gives you control" and because Wenger is not successful anymore, he's losing his best players because he doesnt have any control. i agree with Jamie when he says we must wait for the transfer window to be closed before judging but right now losing FABREGAS, NASRI, CLICHY, EBOUE and bringing in JENKINSON, OXLADE and GERVIHNO is not a good turnover in quality. p.s sky sports why dont you ever put my comments up?
Posted 11:33 19th August 2011
Graham Jelly (Arsenal fan) says...
I am 63 and have been an Arsenal fan since I first went when I was 4! Having moved to Cornwall I have had to give up my two season tickets but still manage to get there sometimes. I have a lot of time for Wenger and still think he is the best. If there was a time that we needed someone like Scott Parker it has to be now!! It makes such sound financial sense, he will not be expensive and would give us the steel and leadership that we sadly lack. Looking at the squad for this weekend it's frightening woeful, please go and get someone like Parker for starters, it would give us ardent supporters a little confidence for the season.
Posted 11:15 19th August 2011
Akubo Joe (Arsenal fan) says...
Going for a player like hazard would be a great move.he is got age on his side,strength,quality and the ability.a good replacement for nasir and fab.cos relying on song,jack,aaron,won't be wise cos they are young,alhough talented,there is still a long way to go the season has just started.arsen should sign a defender,midfielder and and an attacker to support the guys season has just started.arsen should sign a defender,midfielder and and an attacker to support the guys
Posted 10:50 19th August 2011
Sam Chez (Arsenal fan) says...
Haha call yourself a football pundit, you can't even spell the players names let alone have the right to claim Arsenal's squad is thread bare. You correctly identified numerous players that Wenger has nurtured into being global superstars, and i dont understand why are new young players cannot rise to the same level. Miyaichi already has the nickname of ryo-naldo, and players like chamberlain, wilshere, ramsey, gibbs and Jenkinson look promising. We have a very stable financial structure, since Wenger took over we have made a huge profit out of the transfer window and out of the emirates stadium too. We can attract the best but for me it wouldnt feel the same, for me winning the 'pure' way will feel so much more rewarding than merely buying a trophy, we dont want to be a City, United or Chelsea. You also claim that Arsenal wont make the top four, well that is nonsense, everyone is hailing liverpool because they have paid way over the odds for pieces of turd. For me I think we need to sign three players, but I wouldnt want him to use more than the 60 million he has generated through the sale of players, nor do i believe that he should pay over the odds. I like Mata although 30 million is excessive, personally i think Hazard is a fair shout as we could do with someone dangerous on the left flank. I would buy one of those two, then parker or Jan Vertongen from Ajax (he can play holding midfield or central defence, he works really well with Vermealen as they play for belgium and spent many years at Ajax together, he is also young and tall). Then perhaps Samba as he has premier league experience, leadership, and we need a no nonsense defender and Samba fits that category perfectly. My three would be hazard 20 mil, vertongen 15 mil, samba 10 mil. And by the way Jamie you are sooo anti-arsenal.
Posted 10:49 19th August 2011
Steven Nkwali (Arsenal fan) says...
brilliant article jamie, but we all know that arsene lives on mars and neither of us know what its like there, i would be very suprised if he signs any of the players you mentioned. additions to the squad were promised but we never thought they would be ready in 2015. chamberlain, jenkins,campbell?
Posted 10:47 19th August 2011
F Kalaponga (Arsenal fan) says...
Wel done article. I Cant just understand Mr. Wenger anymore, he cant reinforce but would prefer banking all the transfer monies on the pretext that he can only spend on quality....but who says Mata, Parker, Samba among others is not quality.... Mr. Wenger is really difficult to understand and seriously speaking i have alot of respect for him but i wouldnt mind him leaving the club because he seems to have so much faith in average players like Roscik, Theo, Ramsy, Song, Chamakah among others who cant and just wont get us results this season like the seasons before. He knows clealy how injurry prone Gibbs is..and has decided to stick with him as his first choice, Valencia says 26m for Mata, Blackburn says 10m for Samba...reasonable prices i must say...he decides to keep away....SO DISAPOINTED!
Posted 10:36 19th August 2011
Adrian Jones (Arsenal fan) says...
I agree with Jamie. W e need experience players that play top football, champs league, compete week in week out. no problem with the yougsters but we need tough, hard tackling midfielders. Udinese exposed our midfield and the defense we need aonther Gallas
Posted 10:26 19th August 2011
Nick Gibson (Arsenal fan) says...
Spot on this article we start moaning about our manager. His principles, they way he sees the game and financially should be backed by the f.a then teams wont go in administration also gives home grown players a chance. Arsene can easily go to another team, easily get paid double by someone like P.S.G or Malaga where money is not an issue. We then get a new manager who will spend over the odds on mediocre players double their wages and runs this club into the ground. We need to trust Arsene. Sell Nasri get 20+ use that to buy Mata for a similar price you got someone then on a 5 year contract. Buy cahill, and dann english heart defenders. Also one that has gone unmentioned through injury is Arteta he can replace fabregas and he wll be cheaper plus premier league experience is vital specially when we need direct replacements. Parker on loan, goucuff, hazard and Muller could possible be the closest thing to Dennis Bergkamp. Key players going means we need to replace with key playrs, I hope Arsene buys soon before we fall even shorter from the top.
Posted 09:01 19th August 2011
Alex M (Real Madrid fan) says...
As an Arsenal fan, I admire & respect Wenger's development of young players. However, he must realise now it has failed & that international & top level competition experience, character & leadership should be coupled with this strategy if . Nasri, Squillaci, Bendtner, Almunia, Vela, Rosicky should be sold now. With that money, Mats Hummels of Dortmund, Gary Cahill, Scott Parker, Moussa Sissoko of Toulouse & Oscar Cardozo should be signed before the end of the window. How can Wenger seriously have any trust in this current Arsenal squad? We finished 4th last season with a better squad, we have sold arguably our best player and sold other first teamers and brought in an unknown in Gervinho. How does he seriously think that we will compete with the likes of Man Utd, Man City ... Let alone Barcelona on the European stage when they have all brought in top quality players? He must go at the end of this season if his transfer stance does not change & we do not win any cups.
Posted 07:57 19th August 2011
Michael Sa gunner (Arsenal fan) says...
Everyday I've been hoping that when I check the football gossip there'll be someone we're seriously linked too but it just hasn't been happening. I really do trust Wenger but I honestly dont know what he is thinking at the moment, our squad is actually a joke and we are the laughing stock of english football at the moment. The situation we're in now with so little depth to our squad is ludicrous. I can only imagine that it must be effecting the players in our squad. To look at this squad and compare this squad to the Invincables is really depressing! Come on make a move Wenger - NOW! Get some quality in today!
Posted 07:29 19th August 2011
Mami Moe (Arsenal fan) says...
Arsene lost the plot long long time ago guys. Why you need to spend time unnecessary?? Good luck!
Posted 04:03 19th August 2011
Tim Lg (Arsenal fan) says...
Great words and very much to the point. Spend before it is too late....PLEASE!
Posted 03:59 19th August 2011
Michael Davey (Arsenal fan) says...
Mikel Arteta anyone?
Posted 03:45 19th August 2011
Arsenal fan Youssef (Arsenal fan) says...
I am an arsenal fan for the last year I used to watch every game (sometimes more than once) and I used to enjoy them playing. I watched the last two games and I see a team with no confidence, lack of quality all over the pitch. If Wenger did not buy, arsenal won't be even in the top six this year. He needs to buy experience players. What is the benefit of buying young talented players and give them experience and sell them when they are class players. It seems to me like they don't care about supporters all over the world. They only care about money.
Posted 02:06 19th August 2011
Floyd Brown (Arsenal fan) says...
Jamie Redknapp, once again, is spot on with several points he has made. Wenger MUST spend. The team has lost their best player (Fabregas) and is about to lose Nasri. There is no way Arsenal will be able to compete with Man U, Chelsea or Man City unless they replace Fabregas and bring in a good centre back. I'm amaze that, with 2 weeks of the transfer window left, we haven't bought Cahill. It's not that the guy is unavailable!!! The performance against Udinese shows how much we have fallen off instead of improving. There is now a strong possibility (unless we score first in the 2nd leg) that we may not qualify for the Champions League Group Stage. This present team has far from proven itself to have fighting qualities. I cannot see how Wenger has allowed Inter to sign Ricardo Alvarez (a natural replacement for Fabregas) when he was in the driving seat and end up spending more money for Oxlade-Chamberlain. If the team isn't strengthened, we will struggle to finish in the top 6. In recent years Arsenal have become a feeder club for Barcelona and Man City. Overmars, Petit, Henry, Hleb now Fabregas to Barcelona and more recently Kolo Toure, Adebayor, Clichy and soon Nasri to Man City. Isn't it ironic -Fabregas goes 6 years without a trophy at Arsenal and within 48 hours of being a Barcelona player he picks up a medal. Wenger - now's the time to act....
Posted 01:18 19th August 2011
Woodfaus Codjoe - abeka (Arsenal fan) says...
off all the articles i have read this summer about AW and arsenal, i honestly think this really inspires me the most. perhaps Mr. wenger should take a cue from this peace and for once alter his philosophy, obviously arsenal ought to go for hazard, cahill and an out & out striker. the likes of chamack do not deserve to wear an arsenal shirt.
Posted 00:52 19th August 2011