Losing Luis Suarez for eight matches is a massive blow for Liverpool; that's stating the obvious. But the question is can they cope without him?
I think they can, but the answer lies in Andy Carroll. If they can get him back to the player he was at Newcastle, he can be a success at Liverpool, there's no two ways about it.
But for that to happen two things have to change; Liverpool must start playing to his strengths and Andy has to start showing desire, he has to really want to prove he can play for Liverpool.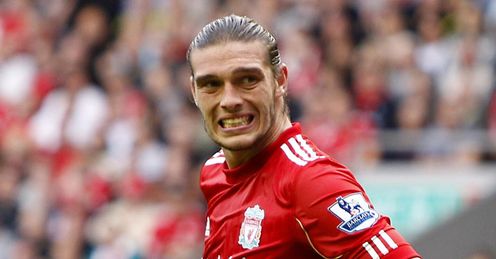 At the moment he doesn't look that up for it and he looks like he's low on confidence. When he was at Newcastle everything was about him in the same way that everything is about Demba Ba up there right now.
He was the focal point of that team, he was the star player and every set-piece was dreamt up with him in mind, but that hasn't been the case since he arrived at Liverpool.
All the focus has been on Luis Suarez and he's gone there and tried to play a game that suits Liverpool rather than playing the game that suits him. He's looked so placid to me and he doesn't seem to want to put himself about.
Jamie Redknapp
Quotes of the week
All the focus has been on Luis Suarez and he's gone there and tried to play a game that suits Liverpool rather than playing the game that suits him. He's looked so placid to me and he doesn't seem to want to put himself about.
Sometimes you go to a big club and you think you've got to change your game, but Liverpool signed him because he was a ferocious centre forward, who was great in the air and who would happily head the back of other players' heads to get on the end of crosses.
See all Jamie's Red Hot FA Cup tips at Sky Bet
Since he's moved I've hardly seen him make an aggressive challenge. He looks as though he's just happy to be at Liverpool and he's trying to play the Liverpool way. If he wants to be a success, he has to go back to playing the Andy Carroll way.
If I was him I would stick on the videos from his Newcastle days and look back at why he was so good, why he scored 31 goals in 57 starts and why Liverpool were happy to spend so much money on him.
Service
That said, he needs to be helped by the service coming into him and Liverpool have to tailor their game to suit him.
At Newcastle he had Joey Barton on the right-hand side of midfield putting crosses into the box at every opportunity and the likes of Jose Enrique, Glen Johnson, Stewart Downing and Steven Gerrard can do the same.
If he's going to be your main man there is no point playing intricate football. You have to hit him in the right areas at the right time like Gerrard did in the game against Newcastle last Friday.
If you don't want to do that, then don't play him. Simple as that. If you want to play free-flowing football with people rotating and constantly moving into different positions, Andy Carroll is not your man.
There's nothing wrong with utilising his strengths. Tottenham did it for a long time with Peter Crouch and now he's doing brilliantly at Stoke, too.
Jamie's FA Cup treble is Man City, Sunderland and Aston Villa all to win - 5/1
The game has changed to a certain extent and we all think we have to play like Barcelona, but you can also benefit from playing a big man up front and there's no shame in that.
Kenny likes to play three in midfield with two wide men and I think that formation can work, even without Suarez.
Against Manchester City he played Jordan Henderson, Jay Spearing and Charlie Adam, but none of them are what I would call particularly dynamic midfielders. You won't see them bursting into the box and feeling comfortable playing off a frontman, but Steven Gerrard will.
He played that link role between midfield and attack when Fernando Torres was at the club and I can't see any reason why he can't do it again. There were a couple of instances against City where Andy pulled off to the back post against Gael Clichy and nodded balls back across the goal and that's where you need someone like Gerrard getting on the end of it.
In the end, City dealt with it fairly well because every time he pulled off to the far post Vincent Kompany would mark him, but that's a lot easier to do when you haven't got another player in the box to worry about.
There's no doubt that Andy Carroll has the ability to succeed at Liverpool and there are a lot worse players than him who have had huge success at the club.
Jamie's backing Man City to beat Man Utd 2-1 - 15/2
But just having the chance and a run in the first team isn't going to be enough, he's got to go and grab hold of it with both hands. That's the key for him and Liverpool.
Comments (27)
David James (Liverpool fan) says...
Carroll has strengths? Could have fooled me. The lad runs like he has lead in his boots, has no technical ability and is a liability to the type of football Liverpool are playing under Daglish. Either send him out on loan or sell him to anyone that is willing to pay over 15 million pounds. Time to move on.
Posted 13:20 12th January 2012
Jamal Twaha (Liverpool fan) says...
lets give carrol time.gerrard makes him look like a striker.
Posted 11:42 12th January 2012
Vish Naidoo (Liverpool fan) says...
Stop and think for a moment. Carrol will prbably play better if liverpool had more creative midfielders. someone who can also make brilliant passes (gerrard, silva). someone to orchestrate the play. currently liverpool is to defensive minded in the midfield (lucas, adams, spearing, henderson). downing has been terrible. Carrol needs to play in a 4-4-2 and he can come right. pair him with craig bellamy and we might see something happen.
Posted 10:03 12th January 2012
Nick Butler (Liverpool fan) says...
I am sick and tired of these so called Liverpool supporters continuosly whinging. Go the Liverpool website. ¨When we stand together as a family we can achieve great things` Get behind our manager and team or go and support someone else
Posted 22:00 10th January 2012
Shannan Marvin (Liverpool fan) says...
When Carroll was at Newcastle he was immense, reason being they delivered balls into that he could attack. What has downing, adam and henderson done to give the big lad a chance? Nothing. Hopeless balls into the box. Andy definitely needs to start looking like he wants the ball more, that aggressiveness back in his game which he had at the toon, he was feared by every team when he was up there. I can remember when he played us at st james park, he ran carragher and skrtel ragged, looked like a world class future player now he just seems happy to be at us and not prove hes good enough. Yeah he scored against Oldham but then missed a sitter... He's got the potential, he just needs to have that extra desire he had at newcastle and ball into him need to be alot better... YNWA!
Posted 16:08 10th January 2012
Dave Fan (Liverpool fan) says...
Good read Jamie, I keep saying to myself Andy would come good as soon as gerrard got back into the team so will see if i was right soon enough. Downing and Adam were bought for their creative play and to be honest both have been very poor since arriving their crossing and dead ball skills have been no where near as good as with previous teams. The only player bar Gerrard that ive seen whip a ball with pace and precision into the box is Bellamy, he definatly needs to play more if fit and between himself and gerrard they can supply the balls Andy needs. As for replacing him with kuyt , dont make me laugh, kuyt is a worker but his creativity and finishing are shocking, Give Andy the run of games he craves now suarez is out and if he fails to deliver then maybe its time to cut the losses and replace him
Posted 12:39 10th January 2012
Beau Senior (Manchester United fan) says...
i think liverpool could have spent what they paid for carrol a lot better
Posted 11:19 10th January 2012
Jack Fenwick (Newcastle United fan) says...
Andy carroll will never be successful at liverpool if they don't use his strengths as he was very good at relieving pressure at newcastle when barton use to play diagnal balls for him to run onto and bully defenders. However, his attitude needs to change as he is not attacking the ball like he was at Newcastle where he was even our best defender of corners. We'll happily take him back for £10 mil. Him and Ba up front could be quite an attack!
Posted 10:39 10th January 2012
Adam Renton (Liverpool fan) says...
i'd rather have ngog back at the moment, Andy suits hoof ball and crosses yet downing cant cross - our only out n out winger!
Posted 21:58 9th January 2012
Alex Pool (Liverpool fan) says...
Carroll is lucky that Torres is a bigger name and has been equally as rubbish. £35million for Carroll!!!! JOKE. Torres' loss of form has completely disguised Carroll's poor form since both there transfers. But at least Torres has been world class in his career at some point. And what makes it worse is that he doesnt even try, least Torres runs abit and puts in effort. Carroll = even worst buy that Chelsea's purchase of Torres. Absolute rubbish!
Posted 15:53 9th January 2012
Luke Webber (Newcastle United fan) says...
Andy Carroll at Liverpool looks very different from the Andy Carroll that was playing for us. All these Liverpool fans knocking Carroll and calling him overpriced... he didn't ask for that price tag, your owners threw the money at Newcastle for him. I remember when Rooney was sold to Utd, he was "overpriced" too. Carroll doesn't seem to show the desire that he did at Newcastle, maybe it's the pressure among a combination of other factors. One of those factors is definitely Liverpool not playing to his strengths. Average header of the ball? I don't think so. Carroll has to adapt, but with players like Downing, Adam, Enrique and Gerard... they should be able to mix the play up and still provide him with the balls that Carroll thrives on. Out of all the signings Suarez and Enrique have been the best so far, the rest have been lacking. So why knock Carroll all the time? Suarez hasn't exactly scored that many goals this season in the premier league either. I do hope Liverpool qualify for Champions league. They should be able to beat chelsea and Arsenal for 4th spot with the team they have.
Posted 13:54 9th January 2012
Scott Cornwell (Bolton Wanderers fan) says...
Good shout Jamie. Not sure Liverpool need to play through Suarez as much as they do, he'll get 10-15 through his own talent but I can't see him ever getting 25-30, whatever the approach. In theory, Carroll could if the right service is provided so then you're looking at approx 40 between the pair. One telling fact, Downing had zero FF assists going into the Christmas period - more crosses, more goals. Either or both Gerrard and Bellamy could play off him quite easily and further increase the goal count.
Posted 11:12 9th January 2012
Richard Lem (West Bromwich Albion fan) says...
i know that carroll was liverpools big signing last season but that was all hyped up because of torres going chelsea and liverpool needed to replace torres and how fast liverpool got carroll as well on the last day of transfer window made for a really good transfer story but when you look at his goal scoring record is he really worth 35 Million when a player like bellamy who i think is the better replacement. he has speed, he can hold the ball up and assist really well so i think we are over shadowing him. every team nearly every team he has played for including manchester city who he played for two seasons ago so they had a good enough team was in the starting 11 most matches and made a massive impact like his match against manchester untied when man city lost 3 - 2 scored a terrific goal. bellamy can still do a job and a better job compared to carroll
Posted 10:49 9th January 2012
Jules Willis (Liverpool fan) says...
What are these strenghts? Definitly not ball control, desire, clinical finishing, link up play, dribble, crossing, tackling, passing accuracy, goals, hard work, tream mate support and the list can go on. Good left foot and above average ball heading ability is not really enough to lead the Liverpool line.
Posted 15:23 8th January 2012
Adam Norman (Liverpool fan) says...
Good article and I know Andy WILL make it but he needs service as was said above but FOR me he does not try hard enough
Posted 23:58 7th January 2012
Hoppy John hopwood (Newcastle United fan) says...
Everything Jamie says in this article makes total sense. So why has Dalglish failed to realise this and instead has totally wasted the most expensive purchase in English football ?
Posted 18:33 7th January 2012
Sarah Prior (Liverpool fan) says...
I disagree about Carroll. He is just an overhyped English player with little talent. Yes, he's big but he has a poor heading technique which is why he misses so many open goals. Liverpool play much better without him because when he is in the side they just pump the ball high hoping he will do something. Liverpool need to find a better striker or they will miss out of the Champions League again.
Posted 14:40 7th January 2012
Luke Hili (Liverpool fan) says...
Spot on Jamie! The lad's got the goods but I'm afraid our wide men need to take a long hard look at themselves. Too many crosses have been easily cleared by opposition defenders this season and hence it's no wonder we've been subject to so many stalemates. Andy needs to also focus on his positioning. One can easily notice that he seems uncertain as to where he should be playing at certain times. He needs to pop up at the right places at the right times and I believe it is Kenny's job to make sure that adequate training sessions take place for that to happen.
Posted 12:59 7th January 2012
Ryan Nolan (Newcastle United fan) says...
As a toon fan, it's been easy to see what the problem is and I think it is no coincedence that Gerrard got injured only a matter of days after Suarez and Carroll signed. Gerrard came on in the game against Newcastle and put three balls on Carroll's head. I haven't seen anyone do that all season!
Posted 04:03 7th January 2012
Paul Brady (Liverpool fan) says...
Andy carroll will come good at liverpool. Remember this is a new team Kenny is putting together. It does take time for everyone to get to know each other. i believe in Kenny and his team.
Posted 00:29 7th January 2012