Two of the candidates for Player of the Season meet at Anfield on Sunday.
Luis Suarez, who has been Liverpool's talisman throughout this campaign, and Tottenham's Gareth Bale, who is on an incredible run, will go head-to-head live on Sky Sports and it should be fantastic to see the pair of them on the same pitch, with their two in-form sides battling it out.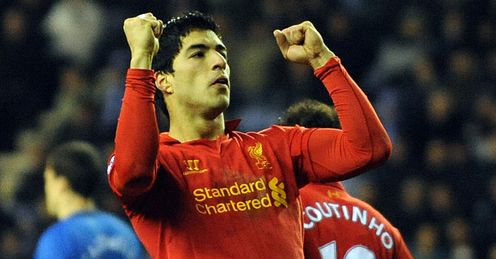 In the past ten games Wales international Bale has been making all the headlines. He's scored 11 in his last nine for club and country, including winners against West Ham, Lyon, Newcastle and West Brom, plus a last gasp equaliser at Norwich.
After their win in the North London derby last weekend Tottenham have strengthened their hold on third, but there's no doubt they owe a lot to Bale for their league position.
The threat of Coutinho, Suarez and Sturridge will worry any team - and that trio can certainly cause Tottenham problems on Sunday.
Jamie Redknapp
Quotes of the week
Live on Sky Sports
Liverpool v Tottenham
3.30pm, Sun, Sky Sports 1 HD
Meanwhile, Suarez has continued to perform at a high level all season and has bagged 21 goals - including a hat-trick last weekend - which makes him the top scorer in the league. For his consistency he just edges the contest against Bale, for me. Remember, Bale had only netted six times at Christmas, before he went on this superb run of form.
Whilst Liverpool have been relying on Suarez for most of this term, January signings Daniel Sturridge and Philippe Coutinho have lightened the load on the Uruguayan in recent weeks.
Brazilian Coutinho has hit the ground running, which is a real bonus as usually players from South America need a little more time to settle.
He looks like a fantastic dribbler who can run at people and make things happen and in the last few years Liverpool have not had enough players like him. Steve McManaman was the last player who really got the Liverpool fans out of their seats with the way he took on his marker.
So Coutinho will be a real asset for Brendan Rodgers and the 20-year-old, combined with the pace and threat of Suarez and Sturridge, will worry any team - and that trio can certainly cause Tottenham problems on Sunday.
Luis Suarez to score first - 4/1
Test
But this will be a good test for Liverpool. We've seen them score nine without reply in their last two games but that was against Wigan and Swansea, who were preparing for their Capital One Cup final.
Now is their chance to show they can not only demolish sides in the bottom half of the table, such as Wigan, but also do it against the sides pushing for the Champions League places.
As well as home advantage, Liverpool should also be fresher come kick-off. Tottenham hosted Inter Milan in the Europa League on Thursday night while the Reds have been able to have a solid week of training, focussing on this game.
Tottenham are of course well-suited to playing fast, counter-attacking football away from home with the likes of Bale and Aaron Lennon in their side and fit-again Jermain Defoe will always cause defenders problems.
But Spurs, despite getting some magnificent results, have not been playing great football recently. They've been playing well, but not at the very top of their game. And that's why I've got a feeling Liverpool will win this one.
Unless there's a massive capitulation by the likes of Tottenham, Chelsea or Arsenal this season, it's going to be tough for Liverpool to overturn their 10 point gap to fourth with ten to play. But they can at least show they are able to live with the league's best sides on Sunday.
And I reckon they'll do just that, win 2-1 and lay down a marker for what they can achieve next season.
Click here for all Jamie's Red Hot Tips at Sky Bet
Comments (40)
Jared Byrd (Stoke City fan) says...
Jamie, if Suarez is so good why are Liverpool not third? You are going to be wrong for the third week in a row.
Posted 05:02 9th March 2013
Ed Uwazie-inechi (Arsenal fan) says...
Suarez is top scorer and has more assists than Bale. What is Bale better at?? Hype!! Bale will soon stop scoring goals as regularly and once this happens we will see him as the diving scum that he is. Suarez has definitely changed following the racism and all the negative publicity and behaviour. Bale is having a good moment and good luck to him.
Posted 01:21 9th March 2013
Gary Black (Manchester United fan) says...
Why this touting for Suarez to be player of the year. He has helped his team to win what precisely ???? Player of the year has to be RVP...the table does not lie
Posted 21:33 8th March 2013
Grahame Turnbull (Tottenham Hotspur fan) says...
Are you kidding me Mr Redknapp !!!! We are full of confidence, haven't lost a game this year, are looking to cement ourselves as 3rd in the league and you are going for Liverpool ??? Sure the red have won their last three games congratulations you continue for your pursuit of Europa league next year, Good luck to you ..... Seriously though !!!! There is no way you are going to beat us this Sunday, a draw maybe, but a win NO WAY !!!! We have a better all round squad (except striker wise sure no doubt Squares is top 3 in the league), a better manager and more confidence and motivation for this game ! COYS Lets prove to the doubters (which i can't believe there are) we can stay strong and get into the champions league next season !!! starting with a win Anfield !!!
Posted 21:29 8th March 2013
Mikey B (Liverpool fan) says...
Tottenham are nothing without Bale, yes they have good players but no 15+ goals a season man whereas 'Pool have Stuuridge. Also yes Bale has been playing fantastic but that was against weakRB's, on Sunday Glen will make a fool of Bale and everyone can finally see he's the world's best RB
Posted 21:26 8th March 2013
Paul Murphy (Tottenham Hotspur fan) says...
Interesting points to note to a few people. Those being critical of Bale before christmas should note that before christmas he was blaying on the left of midfield or on the wing. To say he was having an average at best season; tell me how many goals Downing scored in the same period? Or Sterling? Since they are similar positions. Sure, after christmas the boy has license to do what he wants, since he can't stop scoring, which is handy since Adebayor seems to have forgotten how to score and Defoe ran into a dry patch/got injured. But we were already in and out of the top 3/4/5 throughout the first half of the season. Where would Liverpool be without Suarez's goals though? My point is that all teams have their talismans, Liverpool fans should know this having had more than their fair share of legends over the years that pop up and save the day when need be, Gerrard has led by example and dragged you out of situations before and now you have a striker that can seemingly do anything. This leads us to sunday, which as I spurs fan I can see as a massive banana skin. You have been playing so much better since the turn of the year, and under Rodgers you have a young coach who has taken a while to get his methods across but seems to be taking off now. Sound familiar? Sunday should be a great game, and whilst I hope we win, it has the hallmarks of a great tie.
Posted 21:20 8th March 2013
Jeff Hyde (Tottenham Hotspur fan) says...
As an American and fairly new fan to the premiership (12 years,& I'm 28) I have always liked lfc as a club and really enjoyed the crouchy years,...still mad rafa didn't start him in the cl final, BUT good Lord are (most) Liverpool fans jaded! This board has turned into a Suarez love affair!!!! Everytime lfc is mentioned their fans turn out in numbers saying they are the greatest team in the world, nobody can beat them, and Suarez is better than messi and cr7 combined. Looking forward to a great game on Sunday. Hopefully a spurs win, but even if its the other way around, please lfc supports, come back down to earth.
Posted 21:10 8th March 2013
James Morrow (Fulham fan) says...
Talking about player of the year I think it should be RVP, Suarez then Bale. The reason why I have chosen RVP over the other two is not because of the amount of goals he has scored but who he has scored against. Correct me if i'm wrong but RVP has scored against City, Tottenham, Chelsea, Arsenal, Everton and Liverpool. I think its the goal you score in the big games that count. I'm not taking anything away from Suarez or Bale as they have been absolutely brilliant this season.
Posted 19:31 8th March 2013
Mark L (Celtic fan) says...
Suarez has been better than Bale this season. Bale has been good the last few months but Suarez has been very good the whole season. Personally i think Michu should get player of the year. He has scored goals in his first season in the league and won a cup with Swansea, a team you wouldn't expect to win a trophy!
Posted 19:29 8th March 2013
Damien Dean (Tottenham Hotspur fan) says...
@Paul Taylor - "smash them" - man, you are deluded. Seriously, you dont realise how ridiculous you sound. We have one of the best defences in the league and are how many points ahead of you? 12, already, with ten games left to play. That is a fair reflection of the gap in quality between our teams. Lets see if you show your face on here on Sunday shall we, once we've dispelled these myths about Liverpool being anywhere near Spurs this season
Posted 19:22 8th March 2013
Perry Sheldrick (Tottenham Hotspur fan) says...
Before last nights game against Inter, I was thinking that our encounter with Liverpool at Anfield could be something of a Banana skin for us. But having watched Spurs completely control Milan and outplay them in every area of the pitch I am a little less concerned. There's no doubt that Liverpool will be a stern test, and there form has increased dramatically of late. We have to be very wary of that and the threat they pose, but if Tottenham play anywhere near as well and work as hard as they did against Inter then they stand a great chance of getting the result, and if you look at Spurs momentum of late it would be hard to bet against them, COYS.
Posted 18:26 8th March 2013
Leighton Fry (Cardiff City fan) says...
No Jamie! You can't use the fact bale only scored 6 goals up until Xmas because bale was playing on the wing as a midfielder!! Thats pretty good for a midfielder! i wouldn't call that inconsistent! Suarez is and has been playing striker all season so he is bound to of got more goals! Anyway besides all that they have both been amazing for the premiership! It's going to be a close call who wins it!
Posted 18:03 8th March 2013
Lord Nash (Liverpool fan) says...
Let's face it....been a while since LFC beat Spurs . Suarez can be on fire but Football is a team effort. If Spurs are confident this week end, they will win again . Liverpool this season have failed to spark when it counted the most. Thrashing lesser opposition 4 or 5 goals is not called superb form.
Posted 17:58 8th March 2013
Jack Moran (Manchester United fan) says...
Both players are world class, something else really. Out of the two Suarez is my pick at the minute, the man is a genius. On another note Tottenham are going to be title contenders in a few years, top manager, top players, a tight fisted owner and Bale. Liverpool looking good to,not top 4 this year though.
Posted 17:42 8th March 2013
Joe Disley (Liverpool fan) says...
Suarez has been good all season and think Suarez might score against Spurs. Liverpool to win!
Posted 17:36 8th March 2013
Conor Gray (Arsenal fan) says...
i really dont mind suarez being the "best" player in the premier league(which i dont think he is imo) he plays for a useless team and more than likely wont have any affect on wer the premier league or any other major trophy lies... he can score hat tricks against wigan all day long, i dont mind at all....
Posted 17:12 8th March 2013
Roberto Riccioni (Manchester United fan) says...
If this gets published you will see that I am a United fan. I agree with the majority of Liverpool fans on here Luis Suarez has been better over the course of the season than Gareth Bale. Lets not forget the horrid 1st season Luis encountered in England. For him to respond how he has on pitch sums the guy up, if he played like he did against Wigan & the last Europa League game (forget the team) with his heart on his sleeve so to speak. None of the antics that he previously displayed he was kicked, blocked you name it but he got on with it. Respect to the guy!!
Posted 17:06 8th March 2013
Lee Blackburn (Liverpool fan) says...
Course he's better than Bale and deserves the award, hope he does cos he deserves it 100%
Posted 17:02 8th March 2013
Matthew Jackson (Tottenham Hotspur fan) says...
Cant say i agree with you either Jamie, not just because im a spurs fan. I agree Bale has helped us along in some games, but no different to Suarez, or RVP for united.. Look at the spurs team yesterday, it was a TEAM game. And we tottally tore Inter apart. Dont get me wrong, it will be a tough game im sure, but hopefully we can nick it. 3-2 tottenham.
Posted 16:40 8th March 2013
Rune M. jensen (Tottenham Hotspur fan) says...
"Remember, Bale had only netted six times at Christmas, before he went on this superb run of form" hmmmmm Remember Jamie, Bale is a midfielder, as wasn't pushed in central before after christmas so what you are saying makes no sense, Suarez is a striker s should get more goals than Bale. 6 goals in 17 before christmas is a pretty good return for a midfielder in any season, so that reasoning is just plain silly. Let's look at another fact. Bales goals have won Spurs 17 points. Suarez' goals have won Liverpool 8 points. Suarez have scored 17 against teams placed lower than l'pool, with 14 against the bottom 8, against Bales 9. And again remeber Bale is a midfielder, and not a sriker, and like Suarez have had no penaltys to baulk up his total. And finally Bale have played 24 to Suarez' 27 games. So no Suarez haven't been the better player of the two
Posted 16:30 8th March 2013