Anybody that knows me or has followed my career will be aware of how much I get a kick out of hyping a fight. I never deliberately try and get in spats with my opponents, but sometimes it happens and, more often than not, a bit of bad blood ultimately sells the fight better anyway.
Many of my recent fights contained a bit of needle between my opponent and I, but that run stopped with my last opponent, Dan Miller. Dan was a decent guy and neither of us really had anything bad to say about the other. In the end it didn't really matter, as I still went out there, put on a show and won the fight.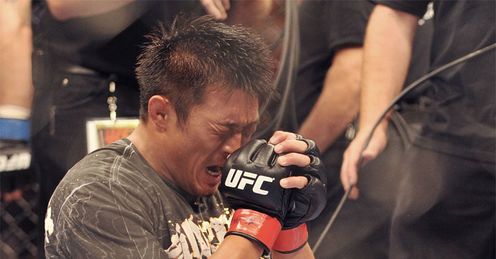 I don't fight any better or worse with a bit of feeling towards my opponent. Even if I strongly dislike someone going into a fight, I will still be able to remain calm and composed once I step inside the Octagon. It's very important you don't become too wrapped up in your emotions as a fighter. This is something you learn to control through years of experience.
Akiyama is not giving me much ammunition and seems to be a very quiet and respectful guy. I can't just decide to start slagging him off and taking shots at him. That would be very unfair on the guy and wouldn't really reflect on me very well.
Michael Bisping
Quotes of the week
BISPING v AKIYAMA
UFC 120 - O2 Arena, London
Saturday, October 16
It also looks like my next fight will follow a similar pattern to the Miller one. I fight Yoshihiro Akiyama on Saturday, October 16 at the O2 Arena and, as of today, haven't heard so much as a whisper from the Japanese fighter. Usually by this point in preparation my opponent would have called me every name under the sun, but not Akiyama.
Respectful
I'm not sure whether it's because he's a genuinely friendly character or simply because he can't speak English, but either way I've not heard a peep from him yet!
I want to really sell this fight and hype it up with a bit of needle and bad blood, but there's really nothing I can do or say to instigate it. Akiyama is not giving me much ammunition and seems to be a very quiet and respectful guy. I can't just decide to start slagging him off and taking shots at him. That would be very unfair on the guy and wouldn't really reflect on me very well.
Believe me, if there was something I could claw on to, I'd grab it. Having a bit of 'needle' doesn't alter how I fight, but it certainly is a motivation to get out of bed and go run in the rain.
All I can say is that I believe I'll knock him out when we meet on October 16. I'm allowed to say that as it's something I strongly believe will happen. In fact, I'm not just hoping for a knockout, I'm getting one on October 16. I also think I'm the better fighter.
As for the reasons for the silence, Akiyama's obviously just knuckling down to training and getting on with it. He realises what a tough test this is for him and he doesn't need to be told that he can't afford another loss.
I know he's training been with Greg Jackson and his camp, so he's obviously taking it very seriously and realises what kind of threat I present him with. He's taken himself out of his comfort zone and moved to America to challenge himself.
It is a little frustrating for me, though, because I want to generate even more interest in the fight and get involved in a bit of pre-fight talk. Sometimes it just isn't meant to be, though.
For me, I am knocking him out, in devastating fashion and then I want another top name - the best there is available. I am the finished article now; I've been in the UFC for almost five years, I've learned on the job, made the improvements and learned from my wins and losses, and it is time for me to deliver on my potential.
Comments (6)
Calum King says...
Good luck, Michael. I have followed your career ever since you burst on the scene on TUF. I''ll be at the O2 to cheer you and the other UK fighters on.
Posted 16:57 30th September 2010
Connor Walton says...
I think it''s silly for people to be saying it''s time for him to have a title shot. Yes if he wins agains akiyama it does move him up into the top ten maybe, but vitor belforts next for silva. i think if bisping deserves a shot he will need to fight , wanderlei silva again (personally i thought he won the first fight ) and then you have hte fighter like sonnen,, franklin,,marquadt,,okami,,paulares,,and maia. so if he can beat at least two from that list once he beats akiyama then i think he deserves a shit. but i do hope he beats akiyama !!
Posted 04:19 30th September 2010
Derek Larner says...
I hope Michael wins in style against Akiyama, The Japanese warrior has only lost twice himself and does have knockout power as well as being a former Japanese Judo champion. If Michael does win this in dominating fashion, then there cannot be many ahead of him for a shot at Anderson Silva, the Middleweight Champion. Good luck Michael "the Count" Bisping and if you get a shot, take a good luck at what Chael Sonnen did against Silva.
Posted 23:55 28th September 2010
Paul Pou says...
Mike good luck. What you think of Nate M getting title shot before you? Hes already had a go and lost in 1 round! WAR Mike
Posted 09:27 28th September 2010
Col Pemberton says...
I dont see the knock out coming i''m afraid... Sexyama is a bettter fighter than most r giving credit for. The chris Leben fight was merely a blip, and bisping aint got the power to be knocking this guy out.
Posted 17:23 27th September 2010
Gazza Ellis says...
bisping i think your one of the most dominant fighters at middle weight and i think you will win by KO against AKIYAMA plus i also think its about time dana gives you a title shot. i mean you have 2 defeates but you have lost too the 3 best fighters in the world and dana takes your fighting ability in the UFC for granted. good luck in london in a few weeks alll of us in the UK are routing for you
Posted 12:43 27th September 2010