For me the most inspirational sporting story of 2012 has been the boxing comeback of Jamie Wood.
For those that don't know, aspiring amateur Jamie was diagnosed with Ewing's sarcoma, a rare form of bone cancer at just 17.
Jamie had a 3.5cm tumour wrapped around the bones in his face. Soon after diagnosis he started intensive chemotherapy but the prognosis wasn't good.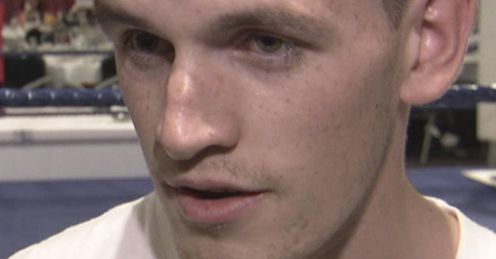 In February 2011 Jamie had major surgery to remove the tumour. They had to take the roof of his mouth and eight teeth away plus the bone attached to his right sinuses.
He came out the next day and never had any pain relief, much to the doctors amazement. He then had a further operation to take away the bones in the back of his face - again with no pain relief. Throughout his treatment Jamie talked of boxing again.
Jamie's still boxing too, hoping to stay amateur for a couple more years and then, maybe, turn professional. That is his dream and I wouldn't dare bet against him...
Ed Robinson
Quotes of the week
I first met Jamie last summer at the Indy Rose charity football tournament organised by boxing trainer Johnny Eames. Our paths kept on crossing, at a seminar held by legendary trainer Emanuel Steward, a session with the Olympic boxing coach Richie Woodhall up in Sheffield and then, at the TKO gym in Canning Town earlier this year.
By then, Jamie's eyebrows, eyelashes and hair had grown back and he was beginning to look fighting fit again, working the pads with East End coach Mark Tibbs. I must admit that it's first time that I really took his ambition to box again seriously.
When I interviewed Jamie for Ringside he played down all that he'd been through. On that occasion Mark was left to explain exactly why Jamie was being labelled 'The Miracle Boy' of boxing. Away from the gym it was Jamie's mum Tracey who had become his unofficial spokesperson - fighting to gain attention for her son's quest. They appeared together on Sky News, Sky Sports News HDand in the papers.
Comeback
Early this summer I drove down to a Pinewood Starr ABC dinner show to see Jamie get back in the ring for real. There are no gimme's in the unpaid ranks and Jamie was matched just as tough as anyone else. The only clue to what he'd been through was in his support.
David Haye broke training camp to be there, Michael Sprott was also on hand, Tim Witherspoon, Adam Booth, Kevin Mitchell... and of course Tracey, battling her nerves at the back of the hall, stood not far from two of the surgeons who had helped to save Jamie's life.
After a hard fought bout Jamie won his comeback fight on points. It was a tough match but nothing compared to Jamie's journey just to get to the first bell. After the decision, the opposing corner from Double Jab A.B.C. made a £100 donation to Jamie's cancer charity. It capped a special night but is not the end to the feel good story.
Now Jamie is preparing to enter the London Parks Half-Marathon on October 7th and Tracey will be running along side him. They are working to raise awareness and funds for the Bone Cancer Research Trust, who receive no government funding. I'm sure that he will do well.
Jamie's still boxing too, hoping to stay amateur for a couple more years and then, maybe, turn professional. That is his dream and I wouldn't dare bet against him...