England head coach Mark Sampson is ready for a tough test against Scotland when they kick off their Euro 2017 campaign in the Netherlands on Wednesday.
The two sides are in Group D alongside Spain and Portugal and although Sampson is confident in his side's ability, he knows they will face a tough test in Utrecht against the Scots.
"We will have to be at our best to beat Scotland. You feel they should have qualified for a major championship while ago, so they are not really novices in terms of their quality," Sampson told Sky Sports News HQ.
"We will pick the right players to suit our gameplan and the players have given me a real problem.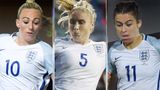 "They have been training really well and training really hard off the field. I have 23 fit and strong players to select from which is really pleasing.
"Scotland are a team who are very strong organisationally, they work hard and fight for each other.
"We go into the game as favourites, which is something we are embracing,"
Sampson believes his players are fitter than they were for the 2015 World Cup, when an impressive run in the tournament saw them reach the semi-finals before they lost 2-1 to Japan.
"I have got to give huge credit to the staff and players, they have really bought into the work we have been doing off the field," he added.
"You can put the programmes in place but what it comes down to is the effort intent and how much they [players] want to get better.
"This group of women want to get better and be the best in the world, so we go into this tournament in a far better place than we did in 2015.
"In 2015 we probably didn't compete physically with the very best teams in the world, whereas now we absolutely are. If it goes to extra-time or a 90 minutes full of intensity, we feel we will be ready for those challenges."
As for the tournament as a whole, Sampson feels there will be some close matches between the 16 teams involved.
"We have full belief in our ability to go on and win this event but we are hugely respectful of our opponents and the quality of teams we are going to face," he said.
"The margins are going to be so small in this event. It wouldn't be a surprise if the majority of games, be they group games or knockout, are decided by a [single] goal, extra-time or penalty shootouts.
"Any type of game that's tight, we normally come out on top. We are excited by the challenge and feel confident we can get the job done."