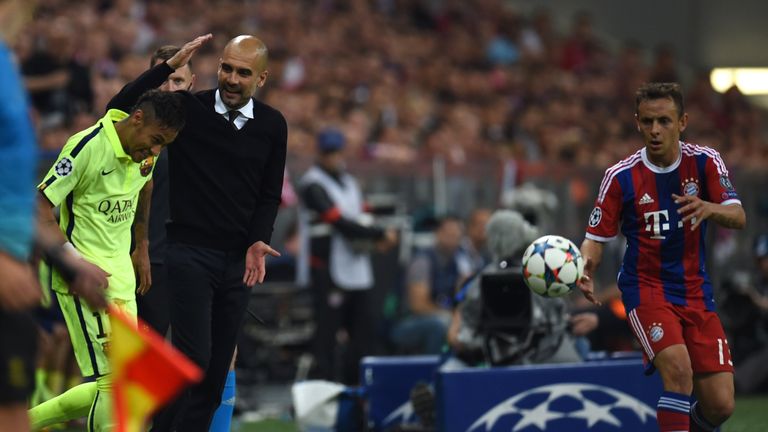 Barcelona forward Neymar says he "admires" Pep Guardiola and would love to play for the manager.
Neymar and Guardiola never shared a dressing room at the Nou Camp, with the Brazilian arriving from Santos in 2013, a year after the coach had left for his 12-month sabbatical.
After his year out, Guardiola took charge at Bayern Munich but has confirmed he will leave the German club this summer and has stated he wants to work in England.
The 44-year-old has since been linked with Chelsea after Jose Mourinho was sacked, and also with Manchester City and Manchester United.
(Pep) Guardiola is a guy that I really admire and who I would love to work with.
Neymar
"Guardiola is a guy that I really admire and who I would love to work with," said Neymar.
And he added: "It's tough to say if I want to play in other countries. Nobody knows tomorrow, but I'm very happy where I am right now, at Barcelona.
"I have the will to go back to Brazil some day and I also would like to play in the USA, those two countries are two where I want to play later on my career."
Meanwhile it has been confirmed that Neymar has lost an appeal against an $112,000 (£78,000) fine given to him for tax evasion during his years with Santos in 2007 and 2008.
The appeal decision confirmed the Brazilian financial authorities' sanction handed down originally in 2012 for irregularities in his income tax declaration, the tax service said.
The case also involved the player's father although the fine is unlikely to perturb the Brazilian star too much as he reportedly earns around $215,000 (£150,000) a week at European champions Barcelona.