It's not enough just to be Barcelona in big games, says Terry Gibson
By Simeon Gholam
Last Updated: 29/11/16 4:27pm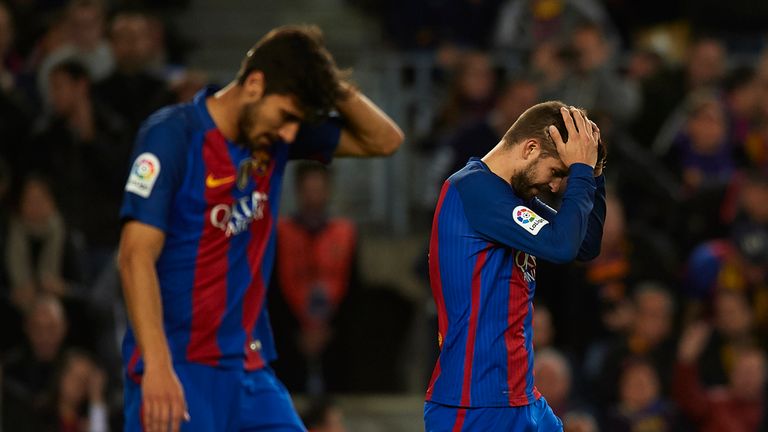 Terry Gibson believes "it is just not enough now to be Barcelona in big games" following their latest setback against Real Sociedad.
The Catalan club were held to a 1-1 draw on Sunday night in La Liga that left them six points off Real Madrid at the top of the table.
And speaking on the La Liga Weekly podcast, Sky Sports' Spanish football expert Gibson believes that Luis Enrique also must improve his management in order to help them catch their rivals, especially ahead of El Clasico this weekend.
"It is just not enough now to be Barcelona in big games and not have to worry and have a care in the world about tactics," said Gibson. 
"I think he [Luis Enrique] perhaps needs to be a little bit more clued in with substitutions as well, he is a manager that does not use them as much as he should and he was criticised for that [against Real Sociedad], particularly Andre Gomes staying on for the whole game."
Gibson also believes that Barcelona are far too reliant on key midfielder Andres Iniesta, who has been absent for more than a month with injury.
"[Luis Enrique] appears to be losing faith in Ivan Rakitic, but I think the big issue at the moment is Andres Iniesta, and how much they rely on him. 
"I think Iniesta is so key for them because he is the one player who will make himself available at every opportunity in dangerous situations to get the ball from the back two.
"And also get himself out of trouble, break through the line from midfield into attack and get the ball to [Lionel] Messi from then on. 
"I saw too many times [against Sociedad] Barcelona trying to get the ball out from the back, but they were static and no one really wanted the ball. Even [Sergio] Busquets, who I think is suffering from a lack of confidence and a belief that even if he does get the ball off the back, he has no one to pass to.
"So I think the midfield is a major issue, it puts the back four under too much pressure, but there were so many things wrong with Barcelona."
Follow our Facebook Live from the La liga studios with Roberto Martinez, Phil Neville and Guillem Balague from 3pm on Saturday and then El Clasico via our live blog from 2pm and the match in full from 5.15pm on Sky Sports 2 HD