Manchester United's Henrikh Mkhitaryan keen to improve to keep starting place
By Michael Kelleher
Last Updated: 26/09/17 7:06pm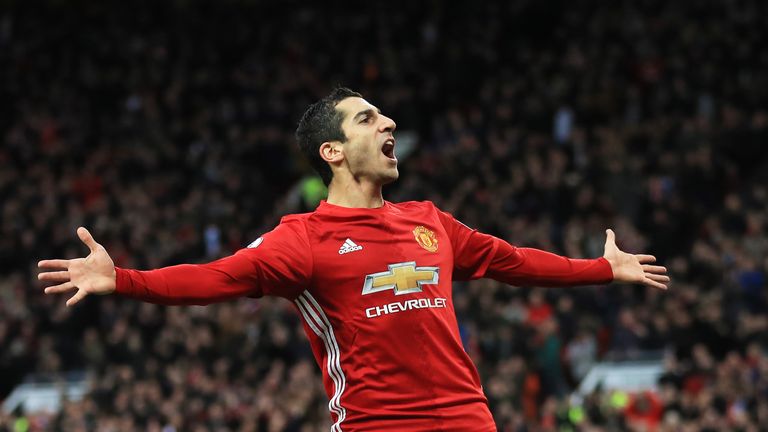 Henrikh Mkhitaryan feels much more comfortable in his second season at Manchester United but says he must keep improving to stay in Jose Mourinho's starting lineup.
The Armenian midfielder has started all six games for United in the Premier League this season, scoring once and adding five assists.
His bright start is in contrast to last season when he struggled to adapt to the demands of English football.
"I can say last season I started not good as I had lots of injuries and I didn't feel good playing games," Mkhitaryan said.
"But this season is different because I started playing well and the connection and understanding with other players, especially [Romelu] Lukaku, is great and I hope we can score many goals in the coming games.
"I've worked very hard to get a place in the Premier League games and I must continue to train hard to convince the manager he can trust me to play Premier League games.
"I know there is no limit to the work I can do and I just want to provide as many assists and goals as I can."
Mkhitaryan is currently in Russia with United as they prepare for their Champions League game against CSKA Moscow on Wednesday night.
United sit top of Group A after a comfortable 3-0 victory over Basel in their opening match.
Mourinho criticised his squad for playing "Playstation" football after that win and Mkhitaryan admits the United boss sets very high standards.
"Of course everyone knows that Jose Mourinho is very demanding and what he said after the Basel game was right," Mkhitaryan said.
"He didn't exactly name names but everyone thinks they have done something bad or made a mistake and we are trying to improve that aspect and stay more focused during the whole game and not be doing fantasy football or, as he said, PlayStation for the last 25 minutes."
Mkhitaryan was speaking at United's pre-match press conference, where traditionally the player who talks to the media goes on to start the upcoming game.
However, Mourinho was keen to emphasise Mkhitaryan is not a guaranteed starter at Arena CSKA.
"First of all, let me make it clear, that normally we bring here players that are starting the match the next day," said Mourinho.
"Mkhitaryan is coming because he speaks Russian. I try to make life easier for all of you especially the Russian media.
"I'm not saying that Mkhitaryan starts tomorrow. Maybe he does, maybe he doesn't.
"The reason he comes because I want to make life easier for you. You are right, he played well last season in the Europa League but last season was last season.
"This season is another story and we need him to perform. Champions League is a different level, the quality is better, difficulties are higher.
"Matches away from home are even more difficult. Of course we need the best of our players."