England Women mock Phil Neville's 'dad clothes' amid high spirits
Neville believes that winning a trophy with England Women will earn him the players' full "trust"
By Calum Wilson
Last Updated: 07/03/18 8:30am
England Women's manager Phil Neville says his players have mocked his "dad clothes" amid high spirits ahead of their crucial SheBelieves Cup match against the USA.
England will lift the trophy if they avoid defeat in their final game of the tournament on Wednesday, just three matches into Neville's first senior managerial role.
After beating France 4-1 in the first round of matches, the Lionesses earned a hard-fought 2-2 draw with Germany to put themselves in the driving seat to triumph in the annual friendly competition.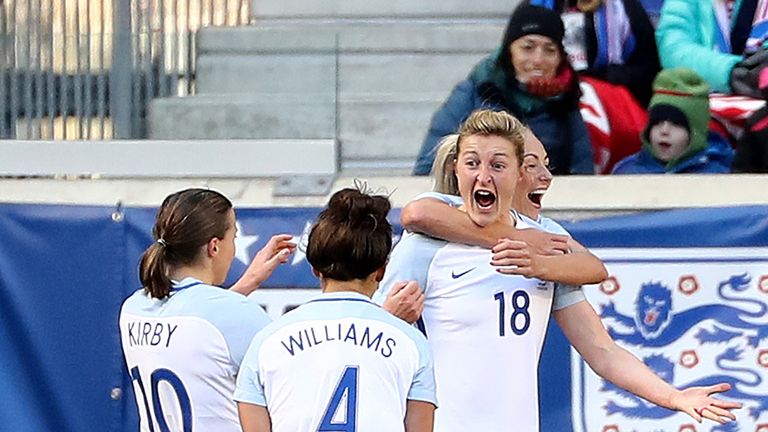 Speaking ahead of the game in Orlando, Neville told Sky Sports News that there is a good atmosphere in the dressing room.
"I came down because it was the first time that I was out of my tracksuit as we were going out for something to eat and there was a bit of banter about the dad clothes that I was wearing," he said.
"They said: 'Which disco are you going to tonight?' We were only going to the hotel's American restaurant because we all fancied a burger.
"The spirit and togetherness within the camp has been great."
The squad were visited by David Beckham earlier this week, and Neville says his former Manchester United team-mate commented on the spirit of the group.
"It is something that David Beckham said the other day. He said we played well but the thing that struck him the most was the spirit of the team when he went in the dressing room and the smiles on the faces. That pleased me a lot," Neville added.
"This team has had a really difficult 12 months and they have suffered. It is nice to see them with a smiles on their faces."
Neville's appointment in January was met with criticism for both his lack of experience and for historical tweets sent from his account but the former defender believes that winning a trophy will earn him the full trust of the players.
"If you can get your hands on a medal and a trophy, that is the most important thing," Neville said.
"For me personally, it would give the players more trust in me. I say to them every single day: 'Trust me. You need to start trusting me more' because I don't think they do yet.
"I think they are enjoying what we are trying to do but I think they need to start trusting me more. If we win a trophy I think they will trust me even more."