Jurgen Klopp and Louis van Gaal to renew their Bundesliga rivalry
By Adam Bate
Last Updated: 17/01/16 10:57am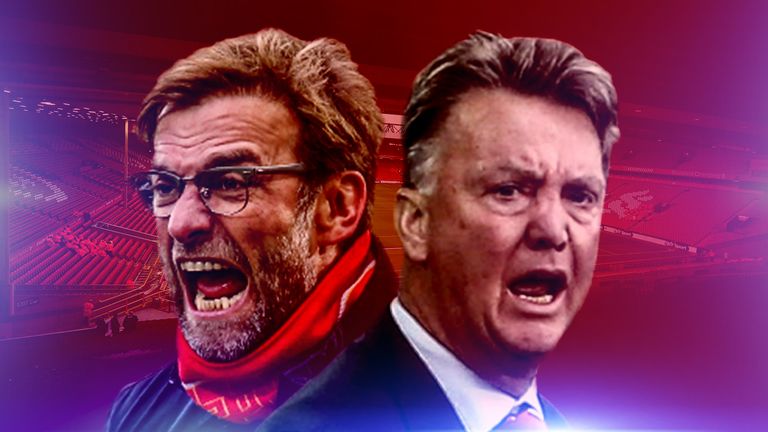 On Sunday, Jurgen Klopp will get his first taste of the special Anfield atmosphere that's reserved for the visits of Manchester United. But it won't be his first time up against a Louis van Gaal side. Adam Bate examines their rivalry and what it could mean for the weekend…
They've each had their moments. For Van Gaal, there was the thrill of going to Dortmund and winning 5-1 with Bayern Munich; a demolition that turned his team's season around and would eventually take them to within one game of a treble.
For Klopp, the key moment came the following season when Dortmund blitzed Bayern in their own backyard. It was described by Munich-based journalist Christian Eichler as "a masterpiece", and one that confirmed Dortmund's rise. They went on to win the double. Van Gaal was gone within weeks.
Here's the tale of their four previous matches against each other…
Dortmund 1 Bayern 5 - Sep 12 2009
"We have to work hard in midfield and not allow them too much space," said Klopp beforehand, but while Mats Hummels opened the scoring, goals from Mario Gomez, Bastian Schweinsteiger, Ribery and a Thomas Muller brace ensured an emphatic win for the visitors.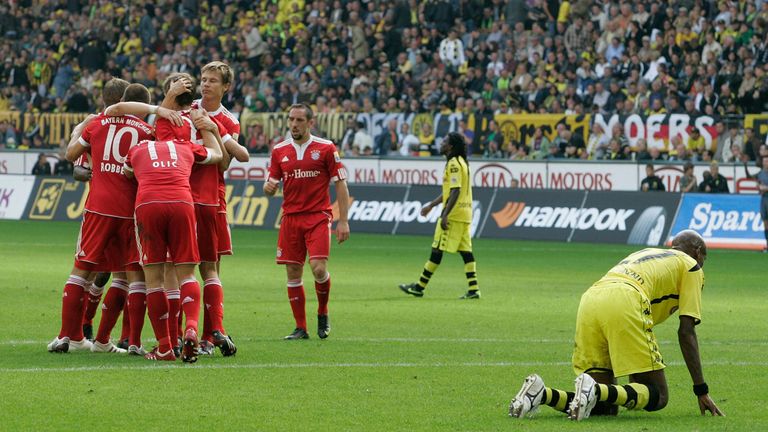 The goal by Ribery was particularly significant as the Frenchman pointedly sprinted to celebrate with Van Gaal, ending speculation about a rift between the two men. "I am always pleased when a player wants to celebrate his goal with me," said Van Gaal. "Franck has shown that he loves his coach."
Bayern 3 Dortmund 1 - Feb 13 2010
Dortmund competed for much of the match in Munich but the game ended in defeat for the visitors - a tenth in a row for Klopp against Bayern. Mohamed Zidan gave Dortmund the lead but goals from Marc van Bommel, Arjen Robben and Gomez took the game away from them.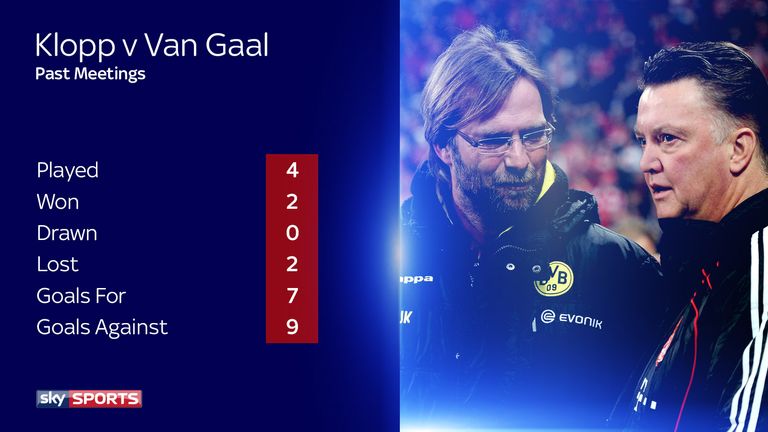 Klopp put some of the blame on referee Knut Kircher - "these mistakes do not make it more fun" - but also pointed to his team's missed chances. "We had several huge opportunities," he said afterwards. "Still, it was a strong performance by my boys."
Dortmund 2 Bayern 0 - Oct 3 2010
Klopp finally got a win over Bayern and his team's sixth in a row as they punished Van Gaal's men at the Westfalenstadion. Goals from Lucas Barrios and Nuri Sahin heaped the pressure on the Dutchman after a difficult start to the season.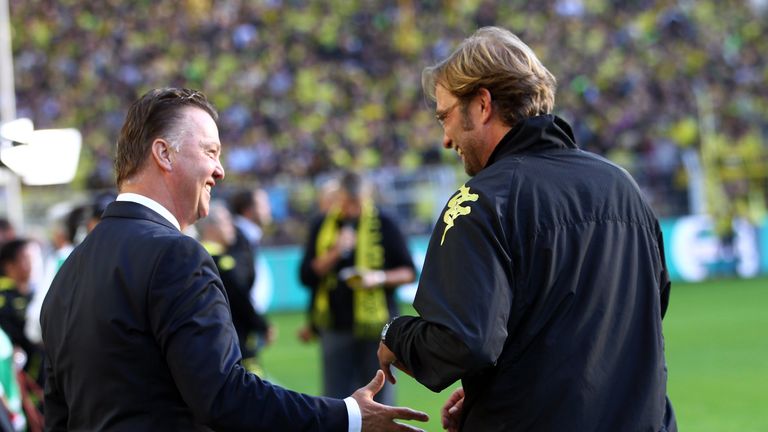 "It's high time everybody woke up," said Uli Hoeness after seeing Bayern succumb to a third defeat in seven games. Van Gaal, meanwhile, urged calm. "The season is still very long," he said. "It is difficult, but we must have faith." Even so, Bayern's Oktoberfest celebrations were cancelled.
Bayern 1 Dortmund 3 - Feb 26 2011
Dortmund chief executive Hans-Joachim Watzke had called the title talk "totally unrealistic" after the first match against Bayern but by February it was a very different situation. A 3-1 win in Munich, their first Bundesliga victory there in two decades, ended Bayern's hopes and put BVB on the brink.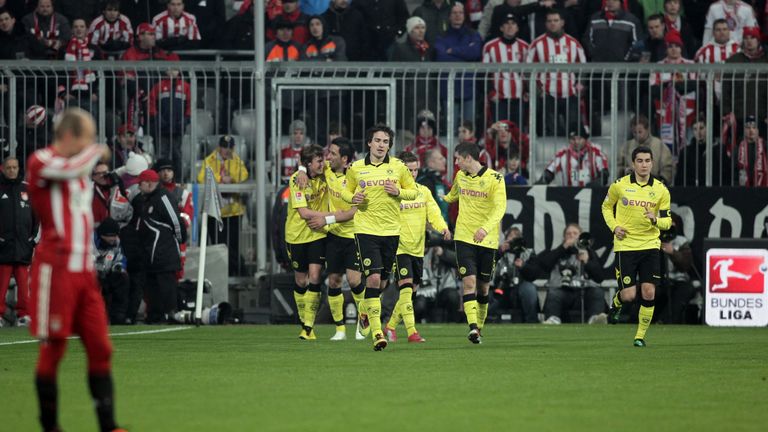 Barrios scored early and while Luiz Gustavo levelled things up, goals by Sahin and Hummels earned Dortmund the points - taking them 16 clear of Bayern. This was the youngest Dortmund side in Bundesliga history with an average age of 22 and even Van Gaal admitted they "deserved to win".
What does this tell us about Klopp?
For Klopp, games against Van Gaal offer the contrast between chaos and control; the importance of pressing versus possession. He'll be encouraged by the knowledge that it can work but has also experienced what can happen when his team doesn't get it right.
The German has had particular joy early on against his Dutch counterpart. His sides have scored within the first 10 minutes in three of their four matches against each other and the sort of aggressive pressing witnessed in the 4-1 win over Manchester City in October could be the template.
"The first 30 or 35 minutes was as good as anything I can remember, not from Klopp or any Liverpool team, but in the Premier League," said Sky Sports pundit Jamie Carragher after that game. "It was like the Red Arrows watching Liverpool, they were just running through people all the time."
Klopp won't be too worried if Schweinsteiger is fit. The former Germany captain was robbed by Kevin Grosskreutz deep in his own half in the build-up to the opening goal the last time Klopp and Van Gaal met in that February 2011 clash at the Allianz Arena.
Schweinsteiger has had problems when pressed and Klopp will surely have noted Manchester United's early capitulation against Arsenal in October. Gary Neville said United looked "shell-shocked" that day and, just as they did against Arsenal on Wednesday, intensity early on is something Liverpool could look to utilise on Sunday too.
What does this tell us about Van Gaal?
In a sense, the series of Bundesliga games against Klopp's Dortmund are a microcosm of Van Gaal's problems at United. There were signs of control in the first season but what was once perceived as clinical soon came to be seen as sterile.
In the season prior to Van Gaal's arrival, Bayern's game against Dortmund made Bundesliga history. There were 48 shots, the most since records began, with 35 of them coming from Bayern. In the first meeting between the sides in 2010, Bayern had only 11 shots to Dortmund's 17 but won 3-1.
The next time that the teams met, Bayern once again controlled possession, enjoying 62 per cent of the ball, but by this stage they couldn't find the net. The reduction in the number of chances was not seen as a factor by Van Gaal, and yet his words will feel familiar to United fans.
We dominate and create four, five chances and we don't score. Dortmund don't have any chances but the first shot on goal goes in.
Louis van Gaal on his last meeting with Jurgen Klopp
"We dominate and create four, five chances and we don't score," said Van Gaal. "Dortmund don't have any chances but the first shot on goal goes in." Bayern chairman Karl-Heinz Rummenigge put it slightly differently. "We have concerns," he said. "We have to start to score."
Conclusion
Styles make fights and if history is a clue then Klopp versus Van Gaal promises to entertain. Klopp's gegenpressing or Van Gaal's control? Either way, the words of Ivica Olic, the last time a Van Gaal side visited a Klopp team continue to ring true today. "If we lose," said Olic, "all hell will break loose."