Zlatan Ibrahimovic says Anthony Martial is 'very professional' at Manchester United
By James Dale
Last Updated: 14/02/17 2:59pm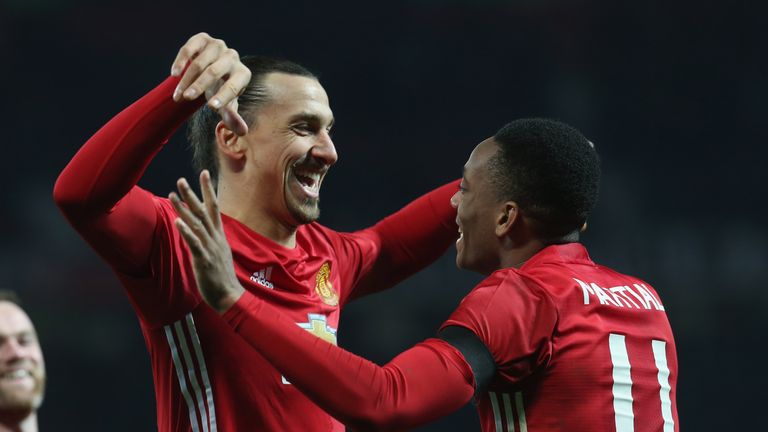 Zlatan Ibrahimovic insists Anthony Martial remained professional during a lack of game time and his quiet hard work paid off.
Manchester United manager Jose Mourinho told Martial to improve his performances if he wanted to earn a regular starting place in his side, and the forward responded with a goal and an assist in an impressive all-round showing in the 2-0 win over Watford on Saturday.
Martial, 21, has started just 10 of United's 25 Premier League games this season, but 35-year-old striker Ibrahimovic - who has commanded the central role in Mourinho's attack - has explained why he felt no need to put an arm around his young team-mate.
"When he plays, he is playing well," Ibrahimovic told reporters. "He isn't a guy that speaks a lot, he is quiet and very professional. He always tries to do his best, trains hard and that is paying off, just like in this match.
"I think it depends on every individual and what kind of person they are and their approach, how open he is. It is different for every person.
"He is not going around with his head down. He is training hard, he gives a lot of energy and he wants to play, which is normal.
"When we eat breakfast and he is beside me or if he passes me, we talk. I think everyone talks to everyone. It is not like you try to cheer him up; it is a good atmosphere and the guys are all good guys, very professional."
One more goal from Martial would cost United £8.5m (€10m) due to a clause in the deal with Monaco to sign him, but the forward is desperate to add another against his old Ligue 1 foes St Etienne in United's Europa League tie on Thursday.
Martial has completed the full 90 minutes in just one top-flight game for United this season though, and Ibrahimovic admits his team-mate's lack of playing time did begin to show against Watford.
"He was creating good chances," Ibrahimovic added. "I felt he tired in the second half because he was running a lot and he hasn't played every game, but he played well. He scored a nice goal and it's good for him and his confidence and the team."