Manchester United defender Luke Shaw vows to prove Jose Mourinho wrong after public criticism
By Jack Wilkinson
Last Updated: 14/04/17 5:01pm
Luke Shaw has vowed to prove Jose Mourinho wrong following the Manchester United manager's public criticism of him.
In early April, Mourinho voiced his concerns with Shaw's "focus and ambition", claiming the 21-year-old was "a long way behind" some of his team-mates at Old Trafford.
The criticism came after the left-back, who suffered a double-leg fracture in September 2015, made just one appearance for United since the end of January, with Mourinho opting to select Under-21 squad players over the England international.
Shaw has since returned to the United squad following a frank discussion with Mourinho, featuring in their last two Premier League fixtures Everton and Sunderland.
And, speaking exclusively to Sky Sports' Geoff Shreeves, the defender revealed Mourinho's criticism has galvanised him like never before.
"The criticism was very hard but I've had it before," Shaw said. "But this time around I dealt with it better.
"When I first came to United there was a lot of discussion about me and that was hard, it was something that was new to me. I was used to positive feedback and comments in the media but coming to United everything changed, there was negativity.
"I took that badly and it knocked me down a bit but this time I've come back wanting to fight and I want to prove everyone wrong.
I said to the manager 'I'm going to prove you wrong'. I believe and want to do that, not just for myself but for the fans that have been behind me and supported me through this time.
Manchester United defender Luke Shaw
"At the end of my meeting with the manager I said 'I'm going to prove you wrong'. I believe and want to do that, not just for myself but for the fans that have been behind me and supported me through this time.
"I can see the light at the end of the tunnel and I want to push for the best from me.
"I wished the season wasn't coming to an end, I wish it was the start, because I want to play games and games and hopefully I can keep giving good performances and keep my spot in the team and push for the Europa League and top four."
Shaw was handed his first start in five weeks in United's 3-0 victory at Sunderland last weekend, playing 61 minutes on Wearside.
His display prompted a public show of approval from Mourinho, who put his arm around him as he left the field.
Shaw stopped short of describing his performance at the Stadium of Light as the turning point of his recent troubles but claimed it was the start.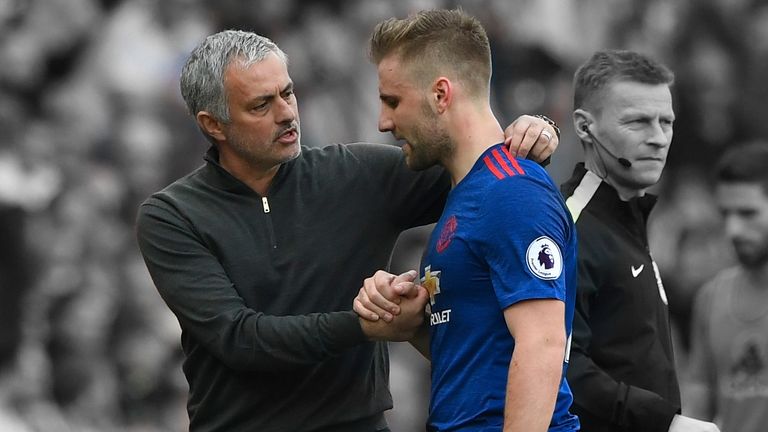 "You could say I've turned the corner but I'd say I'm at the start of turning the corner," he added.
"It was what I needed after what the manager had said over the last couple of weeks, although I took it positively.
"When he said 'good performance' when I came off the pitch it made me feel better as a person and more confident than I already was.
"It was very important for me to get those minutes, they were a good 60 minutes. I was disappointed not to have played the full 90 but the manager was positive with me and it was lovely to see.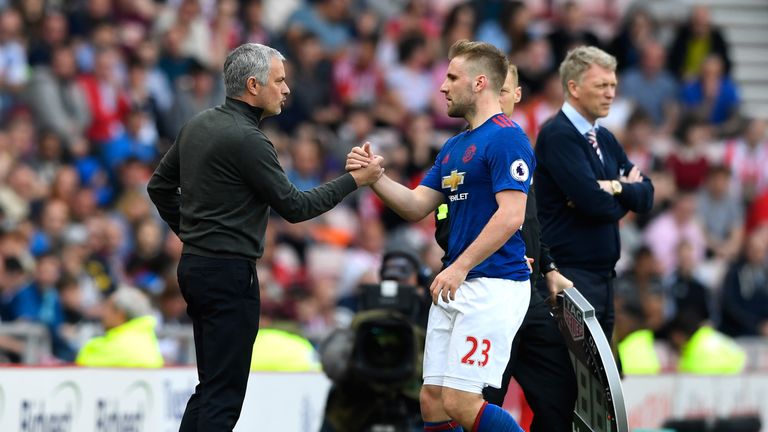 "I had a really good chat with him (after the criticism) and I totally agree with him - I will do whatever he wants.
"I've always been a hard worker but maybe, if I look back, maybe I wasn't working as hard as he likes.
"We had a really good talk and he discussed what he wanted from me and even in a week-and-a-half I've seen a massive change in myself, not just on the pitch but off it as well.
"Now it's my time to fight until the end of the season and show the boss what I can bring to help his team."
Watch Manchester United v Chelsea live on Nissan Super Sunday, 3.30pm, Sky Sports 1 HD
New NOW TV customers: Grab a Sky Sports Month Pass and watch the race for silverware hot up, kicking off this Easter Sunday with Man Utd v Chelsea. All for just £25.