Football Expert & Columnist
Jamie Carragher on the importance of Liverpool v Manchester United
Last Updated: 16/01/16 8:15pm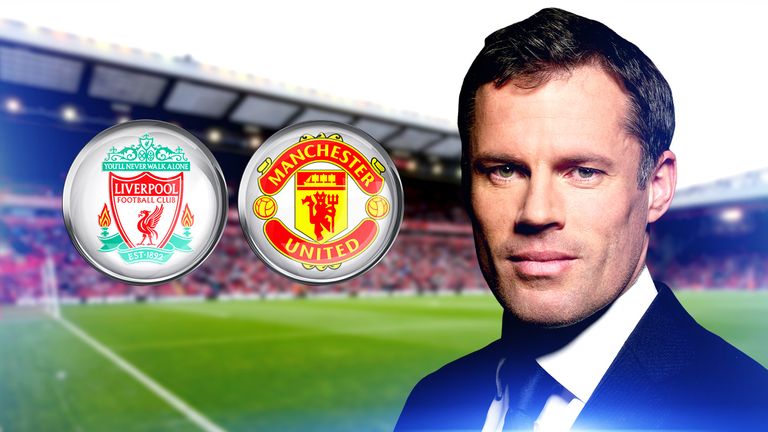 Who's under the most pressure going into the Super Sunday showdown between Liverpool and Manchester United at Anfield?
That was the question debated by Sky Sports pundit Jamie Carragher ahead of the match, which you can see live from 1pm on Sky Sports 1.
A win for sixth-placed Manchester United would see them open up a six-point gap on their opponents and Liverpool legend Carragher fears defeat would seriously damage the top-four hopes of his former club.
But he insists the result will have a greater impact on United boss Louis van Gaal than it will on Jurgen Klopp.
"If Liverpool win, it doesn't mean United are out of the top-four race," Carragher told Sky Sports News HQ.
"But I think if United win and maybe if the other teams around United get a good result it will put a bit of a gap between themselves and Liverpool.
"It may make it very difficult then for Liverpool to get into the top four.
"So you could say that, in terms of top-four positions, there's more pressure on Liverpool in terms of the game, but not the situation both managers find themselves in.
"Jurgen Klopp's new to the job, but Louis van Gaal is 18 months in and has spent a lot of money so I think there will be more eyes on Man United and Louis van Gaal and what that result will mean for him, whether he gets the victory or the defeat."
Klopp will take charge of Liverpool against Manchester United for the first time after taking over from Brendan Rodgers in October.
The Reds scored a 90th-minute equaliser against Premier League leaders Arsenal on Wednesday night and Carragher says the German's enthusiasm will have an important impact on Sunday's outcome.
"Every manager's personality is normally shown in his team," he added.
"He likes his team to play full of energy and running. You see him on the touchline and he's not a manager who will sit in the stands or on the bench.  He is very active and very enthusiastic.
"That's what he wants from his team and if you can provide that enthusiasm that he shows on the touchline - as they did against Arsenal in midweek searching for the equaliser - I think that's what you need in those games.
"The crowd will feed off that and the players pray that the crowd will feed off that and they can lift them. When you're at home in big games like that the atmosphere and the crowd are massively important.
Liverpool have conceded seven goals in their last four games, while United striker Wayne Rooney has ended a lean spell with four goals in three matches.
And Carragher expects a close, high-scoring game on Sunday.
"I'd love to see Liverpool win the game, obviously, but I actually think it will be a draw," he said.
"I can see a 2-2. Rooney is coming back into form and I think Anthony Martial is a fantastic player.
"The problems Liverpool have at the moment, conceding goals with their goalkeeper and back four, you can't see Liverpool keeping United out."
Tune in to watch Liverpool v Manchester United live on Super Sunday from 1pm on Sky Sports 1.