Arsene Wenger says decision to sign Petr Cech was far from easy
By Michael Kelleher
Last Updated: 23/01/16 9:17am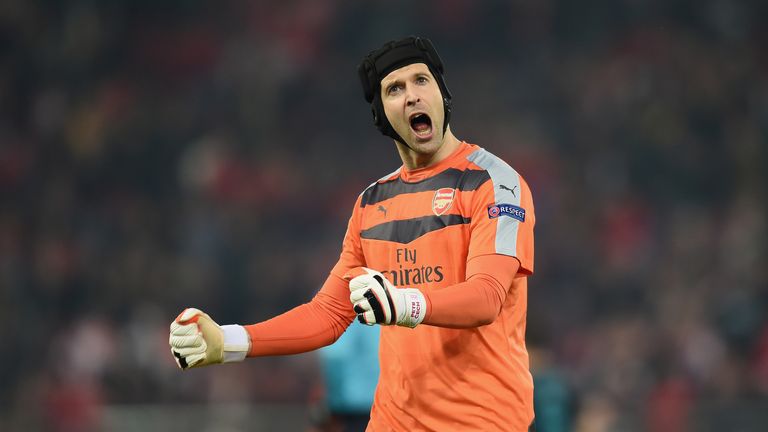 Arsene Wenger says signing Petr Cech was a "very, very difficult" decision due to doubts about his physical condition and a reluctance to dislodge David Ospina.
Cech, who will face his former side Chelsea on Super Sunday, joined the Gunners last summer in a £10m deal after 11 hugely successful seasons at Stamford Bridge and has been instrumental in helping Arsenal climb to the top of the Premier League.
Although the move to sign Cech appeared to be a no-brainer for most Arsenal fans, Wenger says he was hugely torn because of how much faith he has in last season's No 1 Ospina.
"Look, it was a very, very difficult decision for me because I highly rate Ospina," he said.
"I have a high opinion of him. Ospina is a goalkeeper who, in my opinion, is underrated, especially in England.
"But [signing Cech] was maybe one of the few opportunities to say, 'OK, this is obvious'. It was more to say, 'If I don't do this, it would have been a mistake' I think."
Since his arrival, Cech has claimed the record for Premier League clean sheets and Wenger feels his defence has benefited from having such an experienced player behind them.
"He has a calming presence, he communicates well, anticipates well, sees what is coming," he said.
"He is a kind of coach. The best position to be a coach is the goalkeeper - because he doesn't move, and he sees everything. He is the camera behind the team."
He doesn't move, and he sees everything. He is the camera behind the team.
Arsene Wenger on Petr Cech
Wenger admits he initially had doubts over Cech after he spent a season warming the bench behind Thibaut Courtois at Chelsea, but he says those quickly vanished.
"I didn't know what kind of shape he was in physically because he hadn't played," he said.
"When I met him I was quickly reassured of his desire to do well and his motivation. I didn't know how much he could still produce physically.
"He hadn't played and was battling a drop in physical aptitude. But I knew the potential was exceptional having played against him [for] 11 years in the Premier League. It was a question of, 'Physically, can he still do it?"'
Watch Arsenal host Chelsea live on Sky Sports 1 HD on Sunday, with coverage from 3.30pm.