Arsenal face test of mental strength against Diego Costa's Chelsea
By Nick Wright
Last Updated: 24/01/16 2:45pm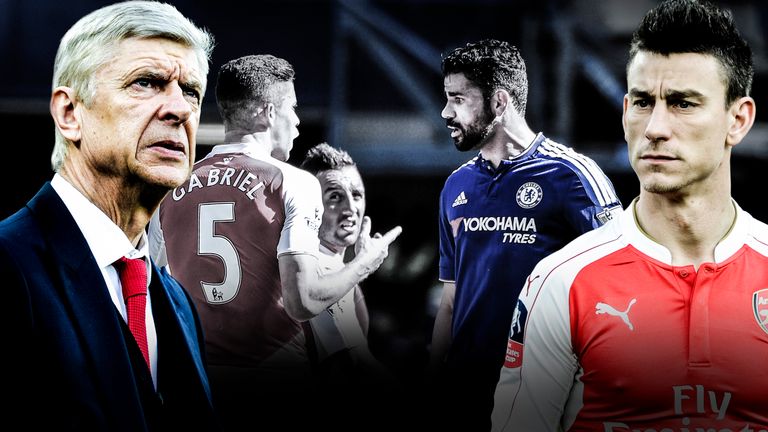 Arsenal let Diego Costa get under their skin the last time they faced Chelsea, but how will they cope at the Emirates Stadium on Super Sunday? It's an opportunity for Arsene Wenger's men to show the maturity of true title contenders…
Jose Mourinho and Arsene Wenger don't agree on many things and in the aftermath of Chelsea's 2-0 win over Arsenal in September they offered typically contrasting assessments of Diego Costa's controversial performance.
In a stormy first half at Stamford Bridge, Costa had been involved in a string of off-the-ball clashes with Arsenal defenders which culminated in a furious Gabriel Paulista being sent off for kicking out at the Spanish striker. "Man of the match for sure was Diego Costa," said a defiant Mourinho in his post-match press conference. "He played the game like the game has to be played."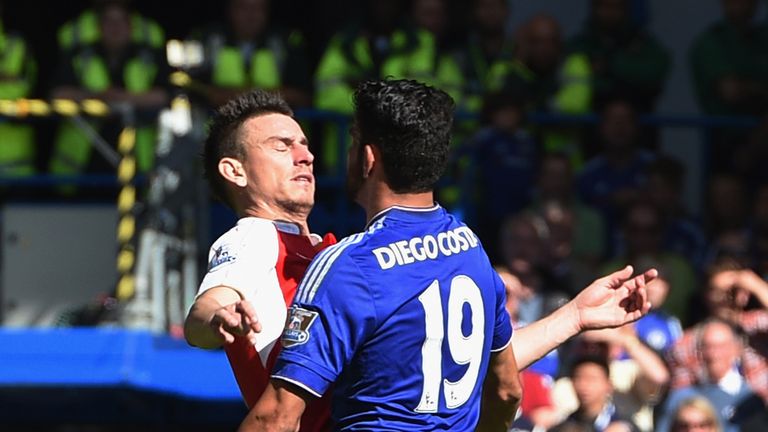 Wenger, though, described it as "unacceptable". "He will do the same next week and the week after and he will get away with it," said the Arsenal manager. "He can do what he wants and everyone else gets sent off. He always gets away with it. Quite honestly, it's surprising. Why does Diego Costa stay on the pitch?"
Arsenal's Chelsea blues
Arsenal have not won any of their last eight Premier League meetings with Chelsea, a run which dates back to a 5-3 victory at Stamford Bridge in October 2011.
Chelsea made the extra man count when Kurt Zouma put them in front after the break, and Santi Cazorla also saw red before Calum Chambers' late own goal. The game fuelled the debate over Costa's controversial playing style, but it also raised familiar questions of Arsenal's mentality. Do they still lack the resilience of a title-winning side?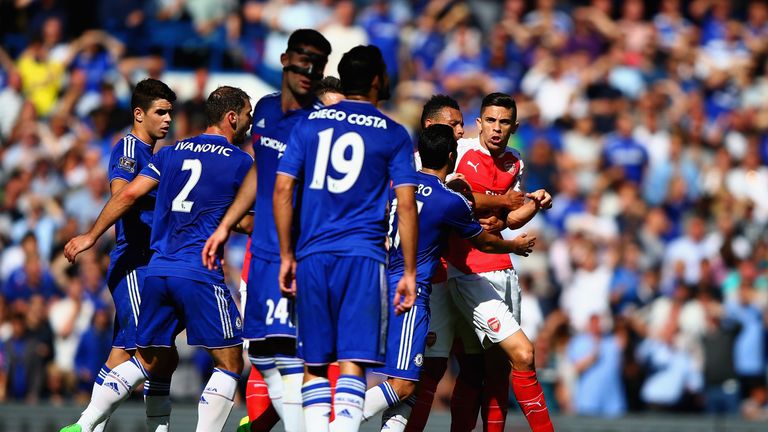 After all, even Wenger bemoaned Arsenal's "naivety" in the wake of that game, and it was not the first time in recent years that they have lost their composure against Chelsea. In their chastening 6-0 defeat in March 2014, four months before Costa had even arrived at Stamford Bridge, Arsenal had to play with 10 men for 75 minutes after Kieran Gibbs was mistakenly sent off instead of Alex Oxlade-Chamberlain.
A lot has changed for Chelsea since the two sides last met, but their visit to the Emirates Stadium on Super Sunday gives Arsenal the chance to prove their doubters wrong. And with Costa expected to recover from injury in time to feature, it will provide another serious test of the "mental strength" Wenger so frequently references.  
"Arsenal should have learnt from the last game," says Sky Sports pundit and former Arsenal striker Alan Smith. "Gabriel got sucked into it last time but they can't afford for that to happen again. No doubt Costa will try to wind-up his opponents, that's a part of who he is, but I'm sure Wenger will speak to his defenders to emphasise that they cannot afford to get involved in another spat because it takes away from their concentration."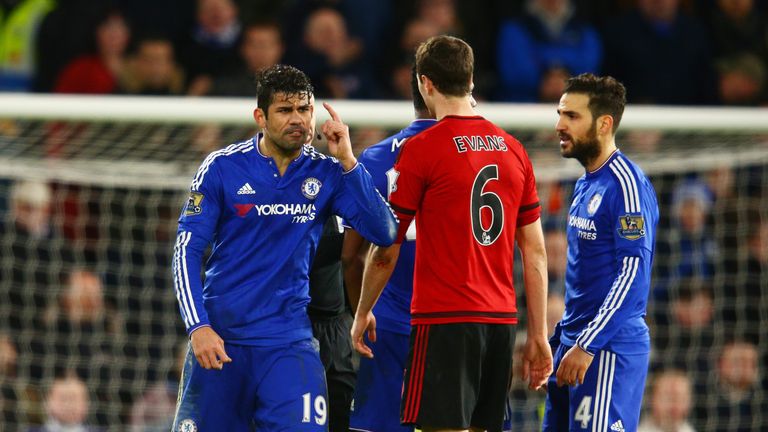 Costa, for his part, is unlikely to change his approach. The 27-year-old repeatedly clashed with Jonas Olsson and Boaz Myhill in Chelsea's recent draw with West Brom, becoming so incensed he punched a hole in the wall of the Stamford Bridge tunnel as he stormed off the pitch at half-time. "Costa tends to feed off it," adds Smith. "The defenders need to show a bit of experience and not get sucked in."
But while Costa will relish another chance to get under Arsenal's skin, there has been evidence of a growing maturity about the Gunners since their last meeting. They showed steeliness to win vital games against Manchester United, Bayern Munich and Olympiakos, and in recent months they have survived an injury crisis to remain top of the Premier League.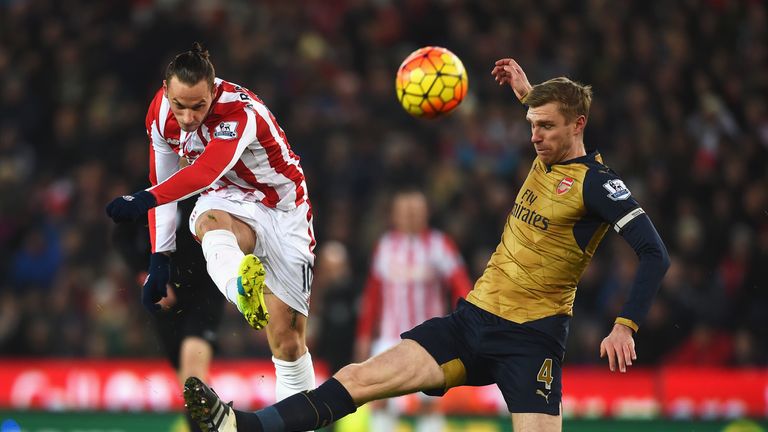 The goalless draw with Stoke City was another example. Arsenal have endured plenty of suffering in the bracing surroundings of the Britannia Stadium in recent years, but they held firm on Sunday to keep a clean sheet away to the Potters for the first time in the Premier League era.
Theo Walcott feels the addition of Petr Cech has made a vital difference. "The mental strength in our dressing room is the strongest it has ever been," he said after the Stoke game. "When you have the likes of Petr Cech coming in, he only enhances that. We just have to look at him because he has been at the top level and won many things so if we have the belief that he has got, we can push on."
Smith sees it too. "I think Arsenal are a different proposition these days," he says. "The game at Stoke, without Alexis Sanchez and Mesut Ozil and not playing at their best, was one they easily might have lost in the past, through a goalkeeping or defensive error or something like that.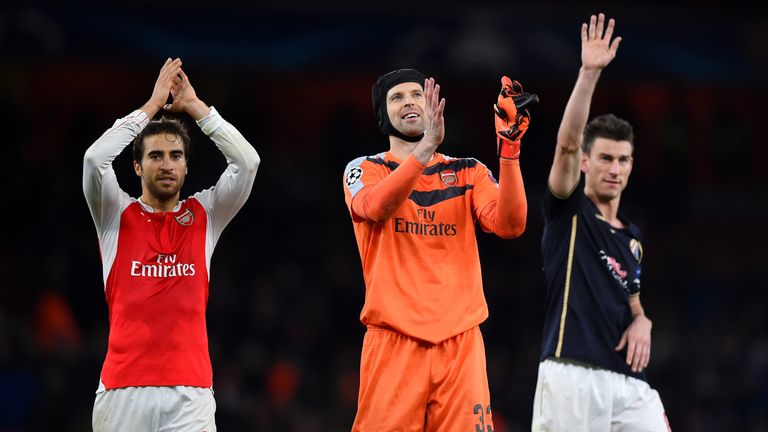 "Petr Cech made some good saves and he has made a huge difference, but the team as a whole, when they are not at full strength or on top form, are making sure they don't lose. That's an important quality to have for title challengers."
Costa and Chelsea will seek to undo their good work on Sunday. It's up to Arsenal to show their mettle.
Watch Arsenal v Chelsea live on Sky Sports 1 HD from 3.30pm on Sunday.