Harry Kane in need of a rest at Tottenham? We look at the stats
By Adam Bate
Last Updated: 07/01/16 9:53am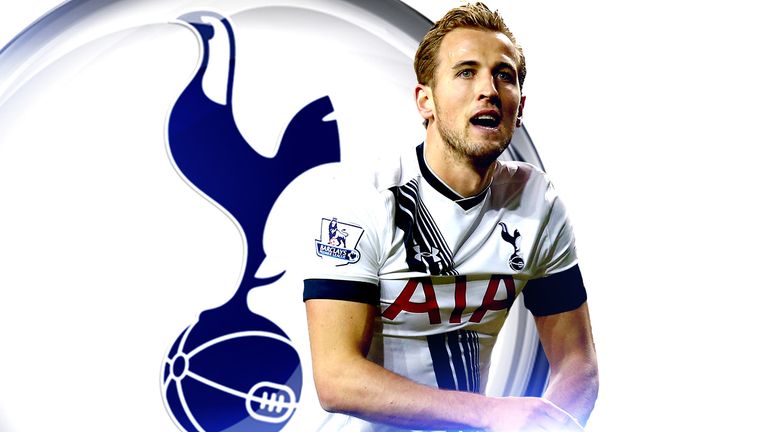 With Harry Kane shouldering the striker burden at Tottenham this season, some are suggesting that the England man needs a rest. Adam Bate examines the stats...
Sometimes stats strike a chord and find their way into the mainstream. That's precisely what happened after Harry Kane's performance against Everton last season. The Tottenham forward didn't score but did pretty much everything else. Covering the game for Sky Sports, Jamie Carragher said his performance "lifted everyone", while Gary Neville simply called him, "the difference".
One stat summed it up. Kane covered 13 kilometres in the game. At the time in late November, it was the greatest distance covered by a Tottenham player that season and the most by any Premier League striker. Mauricio Pochettino referenced it in his press conference before the next game, while Alan Pardew implored Roy Hodgson not to ignore a man "who can do 13km at pace".
Kane produced many moments of quality in his breakthrough season and the sheer volume of goals earned him the plaudits that came his way. But what made the young forward stand out was his industry. His high-energy performances became an emblem for Pochettino's new Tottenham, standing in stark contrast to the efforts of predecessors such as Emmanuel Adebayor.
Premier League goals in 2015
| Player | Team | Goals |
| --- | --- | --- |
| Harry Kane | Tottenham | 27 |
| Sergio Aguero | Man City | 19 |
| Olivier Giroud | Arsenal | 19 |
| Romelu Lukaku | Everton | 19 |
| Jamie Vardy | Leicester | 19 |
Kane produced 64 high-intensity sprints in that win at Everton, too. "That's what we've been working on," he told Sky Sports afterwards. "Pressing high and winning the ball high up the pitch to create opportunities." A fortnight later, he ran even further, chucking in an extra 100 metres to go with the 13km, against Swansea.
By the end of the season, Carragher was using the word "genius" and Neville was calling him "a monster" - but Kane was no super-human. He was a young man pushing himself to the limit, and the demands on his time and body increased significantly in 2015. There was a goalscoring debut for England in March and obligations at the European U21 Championship in the summer.
Hodgson, who admits he's "not a great lover of the burnout argument", claimed that "I do not think it will even feature in their minds" but it's fair to assume it wasn't far from Pochettino's thoughts after a season in which Kane featured more than 50 times for Tottenham alone. "Maybe I'd prefer that Harry has a month's holiday after the season to rest and recover," he said.
As a result of all this, Kane found himself playing catch-up from the outset this season. Forced into doing his 'pre-season' work after the football had commenced, he failed to find the net in his first eight appearances for Tottenham in 2015/16. With Adebayor frozen out and Roberto Soldado sold, Pochettino left himself with only makeshift options up front. Kane had to play.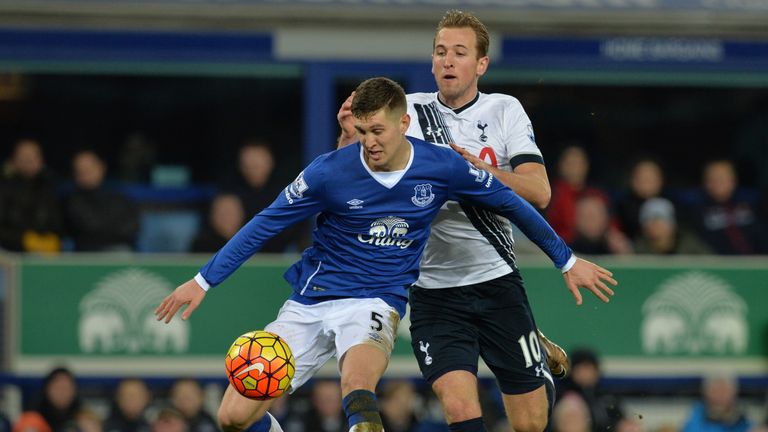 After making the decision to substitute his striker in the August draw against Stoke, Pochettino offered an explanation. "He was tired," said the Argentine. "He came later into pre-season but this is normal. He needs time. Last season we spoke a lot about Harry Kane and the consequence you can see now." With the player still struggling for goals in September, Pochettino expanded on his theory.
"He went to the Euros and he didn't score at the Euros in three games," he added. "He came back late for pre-season and then you need to recover the time. Sometimes, you are not in the best scoring condition when you start to play and you don't score and your confidence goes down. This is probably what has happened."
The biggest thing is keeping Harry Kane fit and fresh because beyond that I don't see who is going to get the goals that Kane can get.
Graeme Souness
Fortunately, Kane has found a way to be successful since then. He has now scored 13 goals for Tottenham in all competitions and finished 2015 with eight more Premier League goals than any other player in the calendar year. And yet, some Spurs supporters are still concerned. They recognise the signs of fatigue that have manifested themselves in more muted performances.
Despite the goals continuing to go in, the EA Player Performance Index shows that Kane has not been able to come close to those 13km heroics this season. Kane has only reached the 11km mark in three of his 20 Premier League appearances this term. Last season's average mark of 11.5km has been reached just once.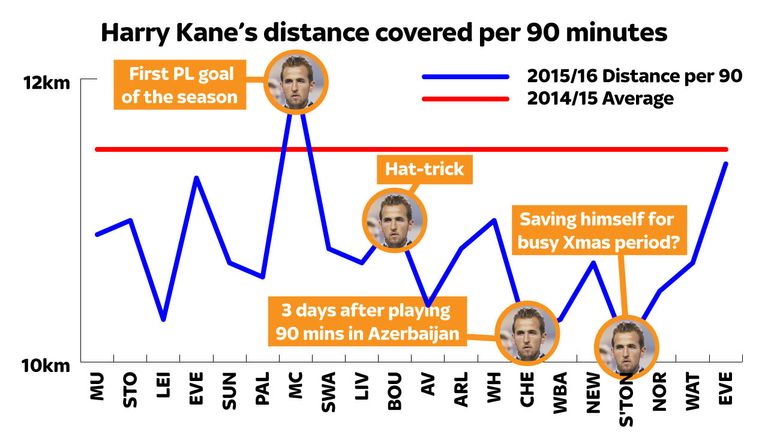 Is this worth worrying about? Surely there is more to being a top-class striker than merely running around, even in a system as reliant on work-rate as Pochettino's? Well, up to a point. For some strikers, perhaps there is no obvious link between the two. But in Kane's case, the correspondence between energy and end-product is remarkably clear.
The three matches in which Kane has produced at least 60 high-intensity sprints this season have yielded six goals with him scoring once against Manchester City, twice against Norwich and bagging a hat-trick against Bournemouth. In contrast, Kane has failed to find the net in any of the 11 matches in which he's not come up with at least 50 such sprints. There's a link between sharpness and goals.
Harry Kane - Most sprints in 2015/16
| Date | Opponent | Sprints | Goals |
| --- | --- | --- | --- |
| Sep 26th 2015 | Man City | 68 | 1 |
| Oct 25th 2015 | Norwich | 62 | 2 |
| Dec 26th 2015 | Bournemouth | 60 | 3 |
Kane has not scored in any of the 11 Premier League games this season in which he has failed to make 50 sprints.
That performance against Manchester City, in which the then Premier League leaders were seen off 4-1 at White Hart Lane, was arguably the team's standout effort so far this season and the intensity started from the front. Kane covered 12km, produced 68 sprints and was clocked at a top speed of 33.8km/h - all of which are season-best figures for him.
Given that Kane had played the full 90 minutes in a north London derby only 65 hours prior to that game, what's intriguing is the possibility that the striker is feeling the need to hold back. While a game against City necessitated everything he had, for other games Kane is likely to be acutely aware of the lack of alternatives available to Spurs. In short, he may be managing his way through matches.
Harry Kane - Top speeds in 2015/16
| Rank | Date | Opponent | Top speed | Detail |
| --- | --- | --- | --- | --- |
| 1 | Sep 26th 2015 | Man City | 33.81 km/h | First goal in nine games |
| 2 | Nov 8th 2015 | Arsenal | 33.45 km/h | Scored opener in the derby |
| -- | -- | -- | -- | -- |
| 19 | Nov 29th 2015 | Chelsea | 28.88 km/h | Three days after Azerbaijan |
| 20 | Jan 3rd 2016 | Everton | 28.83 km/h | Third game in eight days |
In a sense, that would be both a frustration and a source of encouragement for Tottenham. With the opportunity to rest Kane during an FA Cup weekend and the prospect of getting some longer-term help via the January transfer window, Spurs fans could be treated to the marauding version of Kane in the second half of the season.
The signing of an additional striker would give Pochettino the option of substituting Kane or perhaps even allowing him to sit out the occasional midweek fixture. He could be allowed to play to his optimum once more. And as the statistics show, when Kane is free to run hard and run often, Tottenham's 13km man becomes an altogether more dangerous proposition.