Pep Guardiola will adapt at Man City, says Andres Iniesta
By Jefferson Lake
Last Updated: 07/09/16 10:17am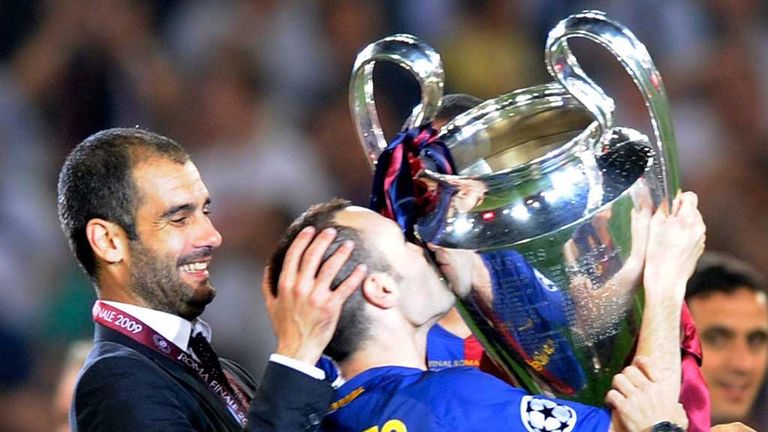 Andres Iniesta is fully confident his former manager Pep Guardiola will adapt to life in the Premier League at Manchester City.
The Barcelona midfielder - who played under Guardiola from 2008 to 2012 at the Nou Camp - believes the appointment of Mikel Arteta to the backroom staff at City, combined with several key transfer signings, will stand the club in good stead under their new manager.
Guardiola bought Ilkan Gundogan, Nolito, Leroy Sane, John Stones and Claudio Bravo in a round of summer spending which totalled more than £174m.
That recruitment, Iniesta feels, will make City "competitive in all departments" as they bid for a third Premier League title in six seasons.
"Pep knows how to adapt and he'll adapt to the Premier League," Iniesta told the Daily Mail. "He has made sure to get people on his staff who are going to help him do that. Mikel Arteta is only going to speed up that process.
"And they have strengthened the squad very well over the summer. City are competitive in all departments. I know Nolito very well because he was with me at Barcelona and he's a team-mate with Spain. He's made a great start. I hope that everything goes well for him and that he continues to play as well as he has so far.
"And David Silva was already there. I have admired him throughout my career. He is exceptional."
Iniesta feels the City squad will have to get used to a "different way of understanding" how they are supposed to play under Guardiola, who is renowned for his preference for possession-based football.
"We passed from one era to the next and suddenly there was a different way of playing and a different way of understanding what we were trying to do and how we would go about trying to hurt the opposition," said Iniesta.
"There was coming out with the ball using the centre backs or with the full backs, then there was the tactic of dropping the holding midfielder between the central defenders. I had never experienced such a definitive style of play.
"We always played a midfield three with one holding player flanked by two more attacking players. I was one of the attacking midfielders and I used to have to come back to receive the ball. But Pep changed that; he told me to be much higher up the pitch to be ready for the next phase of play."
Watch Sky Sports' derby day extravaganza on Sep 10 - Man Utd v Man City and Celtic v Rangers - as part of our three months half price offer.