Barcelona 4-0 Manchester City: Champions League talking points
Last Updated: 19/10/16 11:18pm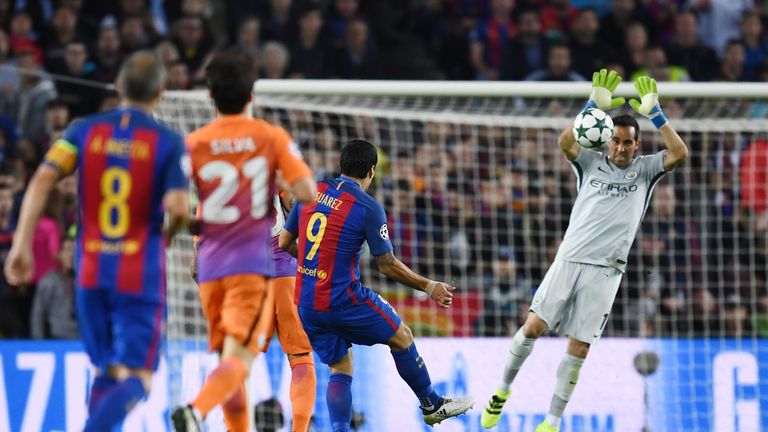 Pep Guardiola's return to Barcelona with Manchester City in the Champions League didn't go well as his side were beaten 4-0 in the Nou Camp.
Lionel Messi opened the scoring with a fine finish and then added two more after Claudio Bravo was sent off for handball following an error by the goalkeeper with the ball at his feet.
Neymar scored to put the seal on a successful night for Barca and leave City well beaten. Here, we pick out five of the talking points from the game.
Vulnerability exposed
There's nothing new about Manchester City making costly defensive mistakes in the Champions League. Joe Hart and Fernando contrived to come up with a classic of the genre against Paris Saint-Germain in April. The worry is that they keep making them.
Against Barcelona, there was Fernandinho's slip for the first goal, Bravo's error that led to his red card, sloppiness from Ilkay Gundogan and John Stones for the third as well as Aleksandar Kolarov's lunge to concede a penalty. And they were just the edited lowlights.
City are currently conceding a goal a game in the Premier League. Only one of the last 16 title winners have done that. While current champions Leicester are yet to concede in the Champions League, City have now let in seven in two games. It could yet cost them.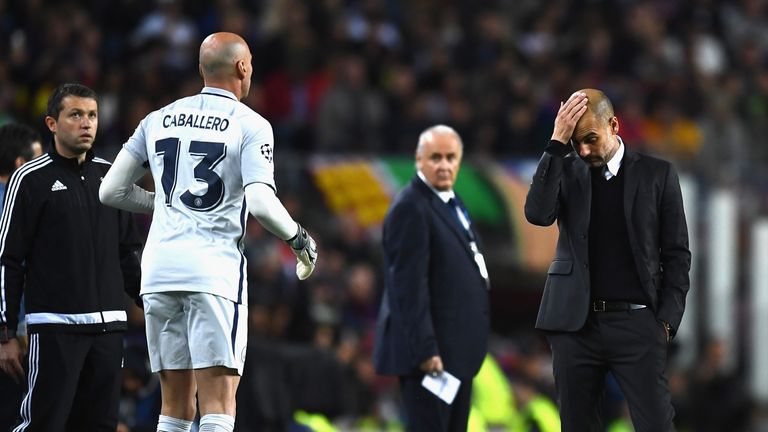 Bravo's bad mistake
"It's going to happen when you use the goalkeeper that he makes a wrong pass and you receive a goal," Pep Guardiola told Sky Sports reporter Geoff Shreeves earlier this season. "People will say, 'Why don't you hit the ball [long]?' but we have to insist on that."
Guardiola understands that when the goalkeeper is encouraged to play football then mistakes are inevitable, but that doesn't mean he'll be impressed with Bravo's efforts on their joint return to the Nou Camp.
Bravo is already under pressure to show he has qualities that his popular predecessor does not, but he's now made bad errors in his two biggest games. Some will question Guardiola's principles, but the man himself will just be demanding that Bravo does his job a lot better.
Where was Aguero?
Sergio Aguero didn't even get the chance to do what he does best. City's star striker was omitted from the starting line-up despite being fully fit with Guardiola explaining that he wanted to include one more midfielder for tactical reasons.
Guardiola didn't even turn to Aguero when 1-0 down in the second half and with Barca having lost Jordi Alba and Gerard Pique to injury. Instead, the striker was brought on with a little over 10 minutes remaining and with City already three goals behind.
It's difficult to argue that the decision was decisive given the 4-0 scoreline but it's certainly an intriguing one for Aguero to ponder. It's a clue that when the games are toughest - as they surely will be if City hope to progress in the competition - he cannot expect to start.
Some positive signs
The really strange thing is that Guardiola's plan wasn't that far away from working. In the end, he equalled the worst defeat of his managerial career and is in an unfamiliar sequence of four winless games, but this was a 4-0 defeat that wasn't without some encouragement.
City tried to press Barcelona and forced them to go long at times. They restricted the home side's possession to 53 per cent despite being a man down for 20 minutes. No team has kept Barca's possession so low there since Guardiola's Bayern the season before last.
City's front three had more touches of the ball and completed more passes than Barca's famous forward trio in the first half, with Raheem Sterling particularly threatening. It didn't work in the end but that does not necessarily mean Guardiola's plan wasn't the right one.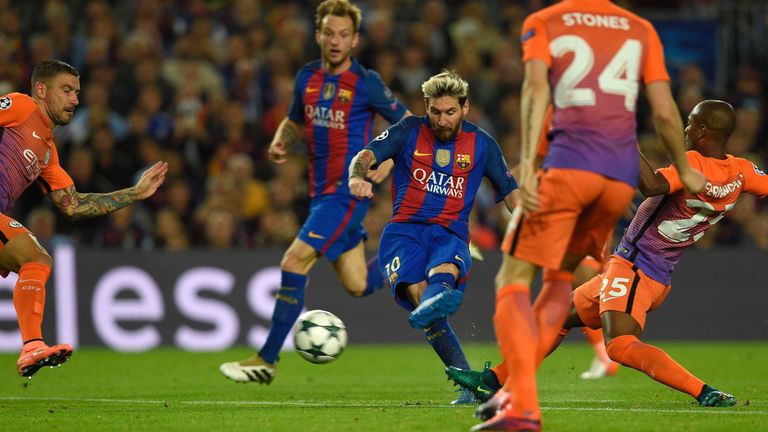 The Messi factor
Ultimately, while City missed their chances - in particular Gundogan's shot that was well saved by Marc-Andre ter Stegen and Stones' header that went wide of the post - Barcelona had Messi. Not as young as he was, not as mobile and not as involved. But still Messi.
So he wasn't at his imperious best. He netted three goals, made the run that won the penalty that Neymar spurned and assisted for Neymar's subsequent goal. It was Messi's second hat-trick of the Champions League season in his second appearance.
Guardiola had said in the build-up that he is open to bringing Messi to City in the future. If that's stating the obvious, what's equally apparent is that the coach needs to find a solution without him. On this evidence, while there are positives, there's still some way to go.
You can watch Premier League football, plus England's tour of Bangladesh and the US Grand Prix on Sky Sports. Upgrade now and enjoy six months at half price!