Manchester City's Raheem Sterling: I'm enjoying football and 'keeping away from certain stuff'
By Geoff Shreeves
Last Updated: 03/12/16 1:19pm
As Manchester City prepare to face title rivals Chelsea, live on Sky Sports, the England international opens up to Geoff Shreeves about his quest for consistency and how a change in lifestyle is paying dividends...
It's not exactly a surprise that Raheem Sterling is pleased Gareth Southgate has got the England job, but his reasoning sounds more thoughtful than someone trying to get on the right side of a new boss.
"It's really pleasing to hear he got the job...he has come up to the senior team and played some really good football," says the 21-year-old.
"The game against Spain [2-2 friendly draw] really said a lot. Most managers would probably think let's sit back and try and catch them on the counter, but he wanted to make sure we knew that he thinks we can play from the beginning.
"That was really pleasing to hear from the England manager. To be really focused and wanting to be the dominant team in the game."
For his club, Manchester City, Sterling has already completed as many games this season as he did in the whole of the last, and is now finding the consistency and contentment he's been searching for.
When I ask him what he has done to achieve it he says it is more of a case of what he's not doing.
"The environment is really good and I am keeping myself to myself, keeping away from certain stuff I was doing last year," he said. 
"It's doing me the world of good so that's what I need to keep doing. I am enjoying my football."
The environment is really good and I am keeping myself to myself, keeping away from certain stuff I was doing last year. It's doing me the world of good.
Raheem Sterling
Sterling smiles when reflecting that he now realises his football was suffering because of wrong decisions he was making.
He knows that if he wants to become the top player he says he does, this is the path he must stay on.
His wears his newfound happiness openly, laughs more and is more confident in interviews. I've sat down with him a few times; I'd say he is a different person to last season.
But he's not happy with his goal tally so far - especially because he has had more touches (111) in the opposition penalty area than any other player in the Premier League.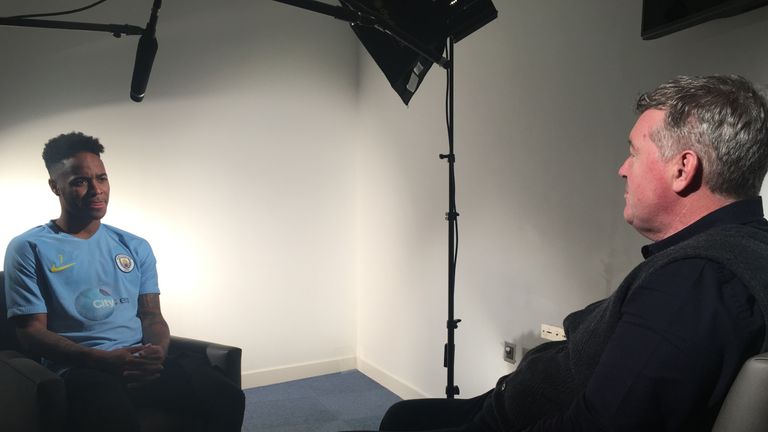 "I need to be a player who helps the team on a regular basis, not just once every few months," he says. "That's what I am trying to do, it will take time but I will get there."
Although City are unbeaten at home they have drawn their last three league games at the Etihad. Sterling, though, is positive about their resilience ahead of Saturday's home match with league leaders Chelsea, live on Sky Sports.
"We probably haven't played the football we would have liked in certain games, but what matters is getting the three points," he says.
"For us to stay in the game against Crystal Palace and then come from behind against Burnley is a massive statement to show we are not giving up. If teams make it hard for us we will keep on fighting."
Chelsea will be their first opponent so far this term from current top four and the City star acknowledges Antonio Conte's men are a top team seemingly coming good at the start of a crunch time in the campaign.
"We want to be competing with teams like Chelsea at the end of the season so this game is a massive one for us," he comments.
"It's a game we know we have to compete in from the first minute and we can't let slip. We will be fully focused and ready to challenge and not give them an easy game.
"It's a game we need to win to be taken even more seriously and make a statement. They are playing great football, scoring lots of goals and conceding very few, but we are fully focused and the manager is getting us ready and prepared.
"Christmas every year seems to be the most important period and this time around it is massive. We have some of the big teams so it's a period where we need to be fully focused and know exactly what we need to do to come out in good shape after Christmas."
As the interview draws to a close Sterling laughs when I point out that unlike most of his previous media engagements there is now no need to raise the subjects of online abuse, trolling or criticism of his personal life.
It's been good to see this talented young man lose some of the weight of the world he was carrying on his shoulders; even more so that he recognises he put some of it there himself.
Watch Geoff Shreeves' full interview with Raheem Sterling in the build-up to Manchester City v Chelsea. Coverage starts on Sky Sports 1 HD from 11.30am on Saturday.
Upgrade to Sky Sports now and get 12 months half price. Hurry, offer ends December 4th!