Harry Redknapp admits he has not signed a Birmingham contract
By Michael Cantillon and Matthew Treadwell
Last Updated: 19/04/17 4:22pm
New Birmingham City manager Harry Redknapp has revealed he has not signed any official contract with the club, and that it was not a move motivated by money.
The 70-year-old agreed to take over from Gianfranco Zola - who resigned on Easter Monday night - until the end of the current season, with the Blues three points outside of the relegation places after a run of just two wins in 22 league games under the Italian.
Former Tottenham, West Ham and Portsmouth boss Redknapp admitted on Tuesday that he had not seen Birmingham play this year, but would not reveal what incentives were agreed should he keep the club in the Championship.
"I got a phone call about 7 o'clock at night and was asked if I'd come and have a meeting with representatives from Birmingham," Redknapp said at his first official news conference.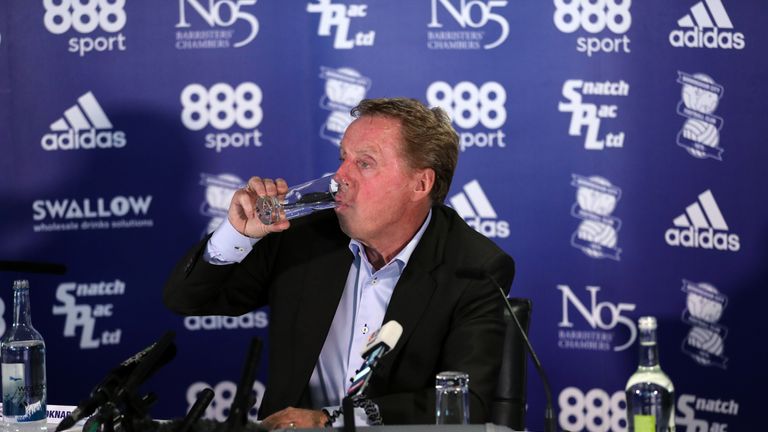 "I said, 'I'm at home at the moment', and they said, 'can you get to London?' So I drove up two and a half hours to London, met up at half nine and by quarter to ten, ten o'clock I had no hesitation.
"I haven't signed a contract or anything for the three weeks, or couple weeks I'm here even. I just shook hands with them and said I'd do it, no problem.
"It's not that nice [his incentive to keep Birmingham up]. It wasn't a money deal for me, it was just a little challenge and getting me back in doing something I enjoy doing, being around footballers. It's something I'm looking forward to."
But Redknapp is not convinced it will be possible to have an immediate impact in the way many pundits would have you believe.
"I've seen people on TV say all season, when a new manager has come in and after two days they've said - 'ah, look at the difference in the team; look at he's got them pressing'. It's a load of rubbish," he added.
"No one can walk into a football club and turn it round like that - why weren't they running around like that before?"
Redknapp's tenure at the club gets underway on Sunday with a trip to local rivals Aston Villa in the second city derby and he is looking forward to going up against an experienced opposite number in Steve Bruce.
"[It will be a] tough game, but players will be up for it," he said. "Brucey will do a great job at Villa in the long term, but Birmingham should be challenging for the Premier League.
"Owners are ambitious. If we survive, the future is good."
After the Villa game, the Blues then host Huddersfield Town before finishing off the season away at relegation rivals Bristol City.