Leicester ponder CAS appeal as FIFA rejects Adrien Silva transfer
By Sky Sports News
Last Updated: 04/10/17 7:36pm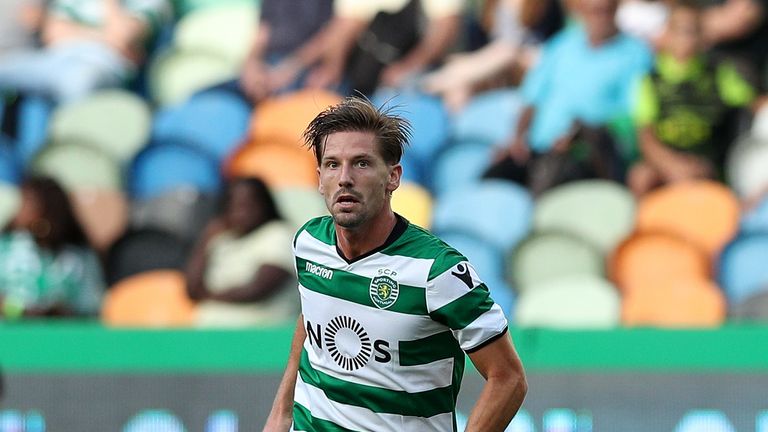 Leicester are considering whether to take their case to the Court of Arbitration for Sport (CAS) after FIFA rejected the registration of midfielder Adrien Silva.
The £25million Deadline Day deal with Sporting Lisbon arrived onto FIFA's Transfer Matching System (TMS) 14 seconds after the transfer deadline passed on August 31.
After an investigation that has left Silva in limbo in the Midlands and unable to train, a FIFA spokesman confirmed on Wednesday that "the decision of the Single Judge of the Players' Status Committee ... is rejected".
Leicester have no further grounds for appeal with FIFA and they are now considering whether to appeal to CAS in order to force through his registration, accept Silva as a Leicester player even though he cannot play until January, or cancel the transfer altogether.
But Sky Sports News understands that Sporting Lisbon consider the deal done, are expecting payment from the Foxes, and are prepared to fight the Premier League club legally if they try to return the player.
No payments have yet been made in relation to the deal, Sky Sports News has been told.
Leicester officials were confident the papers were sent before the midnight deadline, with a one-hour extension having been granted by FIFA for the international transfer, but the TMS showed the documents were late in arriving.
FIFA's full statement following the probe read: "We can confirm the following decision of the Single Judge of the Players' Status Committee:
"The petition made by the Football Association for permission to request the International Transfer Certificate for the player Adrien Silva and subsequently register the player for its affiliated club, Leicester City FC, is rejected."