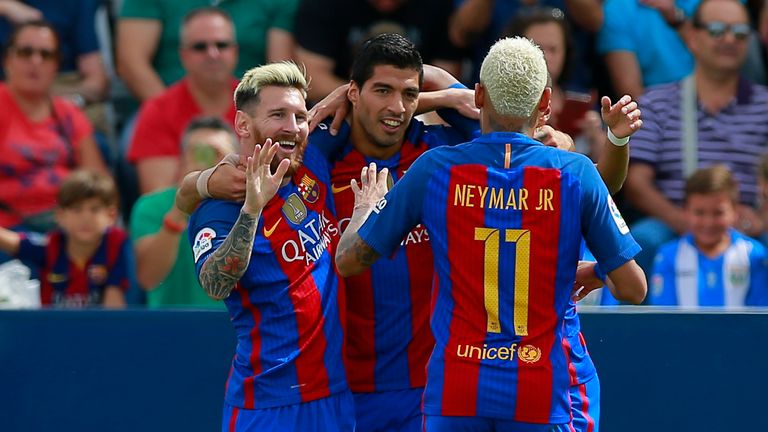 Barcelona have opposed the re-opening of Neymar's transfer case and denied claims of a Uruguay "pact" over Luis Suarez.
A Madrid court announced on Friday it has re-opened a case into alleged irregularities regarding the transfer of Neymar to Barcelona from Brazilian club Santos, less than three months after National Court judge Jose de la Mata shelved the complaint. 
Barcelona have responded to the decision, insisting they still retain the same position over the investigation and expressing their disagreement with the reasoning for the decision of the High Court to continue the process.
"FC Barcelona has always maintained the innocence of all investigated," a statement on the club's website read. 
After Barcelona came under scrutiny regarding the handling of Lionel Messi earlier this week, the club have also reacted to reports of an agreement with the Uruguay national team to limit Suarez's involvement for his country. 
"These rumours are completely false; there is absolutely no pact involving Suarez. If his national team manager calls him up and he is fit to play, he will do so as normal," Barcelona spokesperson Josep Vives said.
Argentina manager Eduardo Bauza criticised Barcelona for their handling of Messi after the 29-year-old was ruled out for three weeks with a groin strain. 
However, Barcelona say they have received communication from the Argentine Football Association insisting Bauza had "no bad intention" and expressing their desire to work together so that Messi recovers quickly.
"The AFA has contacted Barcelona to express its apology for the comments made by the manager in relation to the injury of Leo Messi," said Vives. 
Watch Man Utd v Leicester, the Ryder Cup and the EFL Cup as part of our three months' half-price offer.