Can Ousmane Dembele replace Neymar for Barcelona?
By Guillem Balague, Nick Wright & Adam Smith
Last Updated: 11/09/17 2:36pm
With Neymar gone, Barcelona need new signing Ousmane Dembele to step up. Guillem Balague takes a look at his potential...
It is no secret that Barcelona endured a frustrating summer in the transfer window. Neymar's departure to Paris Saint-Germain was a major blow, and it was hardly surprising that their misguided pursuit of Liverpool's Philippe Coutinho ended in failure.
Technical secretary Robert Fernandez and director of sport Albert Soler attempted to defend their transfer activity in a press conference after the deadline, claiming Liverpool demanded 200 million euros for Coutinho, but their comments did not appease Barcelona's angry supporters.
The 200 million euros was allegedly mentioned by someone acting as an intermediate to try to rescue the deal but never by Liverpool, who did not want to sell.
With Neymar gone though and Coutinho still at Anfield, the spotlight now falls on Ousmane Dembele.
Barcelona paid £97m plus add-ons to sign the 20-year-old from Borussia Dortmund, but can he really be expected to step into Neymar's shoes straight away?
There was a glimpse of his huge potential with his assist for Luis Suarez on his debut against Espanyol on Saturday, but replacing someone like Neymar is a massive responsibility for such a young and relatively inexperienced player.
This time two years ago, remember, Dembele was a little-known teenager who had not even made a senior appearance for his boyhood club Rennes.
He earned a £13m transfer to Borussia Dortmund after a brilliant breakthrough campaign with the French club, but few expected a club-record move to Barcelona to follow so soon after that.
Dembele arrives at the Nou Camp with fewer than 80 senior appearances under his belt, but Barcelona have high expectations.
"He's a player who guarantees an attacking threat, which is something we had lost and we badly need," said Ernesto Valverde. "We expect a lot from him and we're very excited about him."
Dembele has already been given instructions to increase his muscle mass and stamina, but Valverde's comments suggest he will not be given too much time to bed in.
Barcelona need him to hit the ground running, and he certainly has his work cut out to match Neymar's output.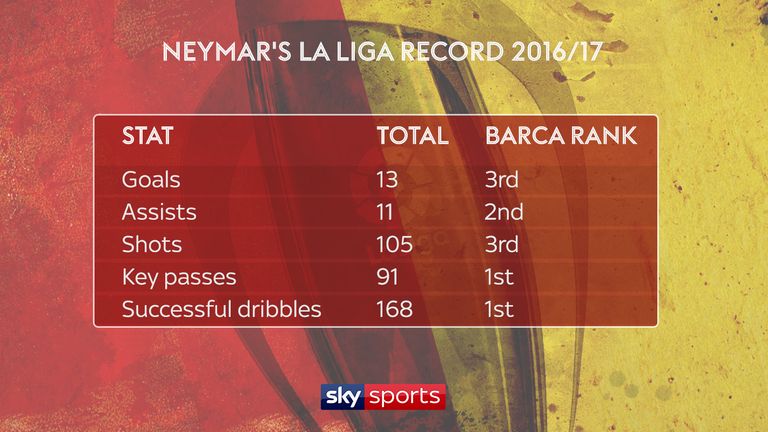 Last season was by no means Neymar's most prolific at Barcelona, in fact he scored more goals in each of the previous two, but he was still fundamental to the way they played.
Only Lionel Messi registered more assists, and a closer look at the stats shows Neymar actually created more chances than the Argentina international. In fact, he created the most of any player in La Liga. He also completed the most successful dribbles.
So, how do Dembele's stats compare?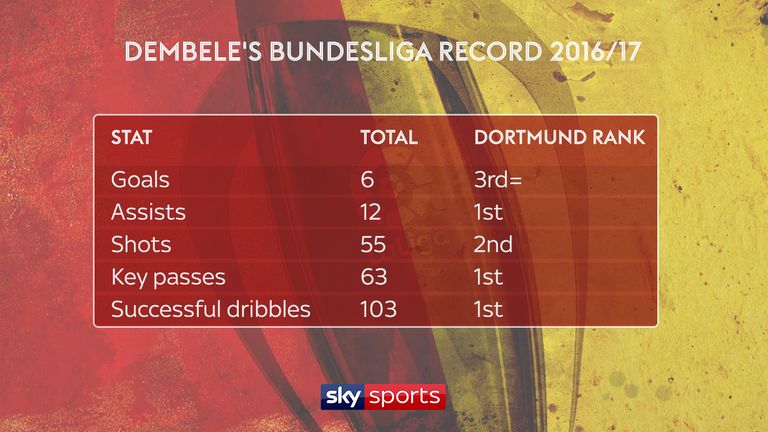 The first thing you will notice is that he scored less than half the number of goals as Neymar, but his numbers were impressive overall. Dembele provided more assists than Neymar. He also played more key passes and completed more dribbles than any of his Dortmund team-mates.
The dribbling is particularly appealing for Barcelona. Neymar's one-on-one ability was a vital component of Barcelona's attacking play under Luis Enrique, and Dembele possesses the same kind of speed and skill.
The overall stats show that Neymar made 168 successful dribbles to Dembele's 104 last season, but the difference is not so great when you break it down on a per 90 minute basis.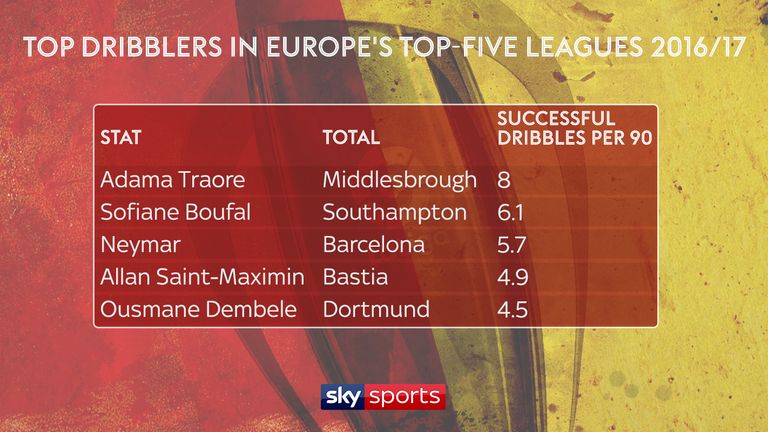 Neymar ranked third in Europe's top leagues with 5.7 successful dribbles per 90 minutes last season, but Dembele was not far behind in fifth, with 4.5 per 90 minutes.
Those stats suggest Dembele could provide a similar outlet to Neymar at Barcelona, and his ability to play either on the flank or through the middle gives Barcelona options in attack as well.
There are, however, plenty of areas he needs to improve. Dembele needs to learn when to curb his desire to carry the ball forward. Like many young players, he also needs to work on his decision-making.
Barcelona will hope his rapid progress over the last two years continues in Catalonia, but replacing Neymar is about as tough as it gets. How he copes could be crucial to their season.