Joe Hart needs more nastiness as England goalkeeper, says Stuart Pearce
Last Updated: 05/10/17 10:28am
Joe Hart needs more nastiness when playing in goal for England and should shout at his defenders like Peter Shilton did, says Stuart Pearce.
Questions still remain over Hart's status as England's first choice goalkeeper after two seasons on loan from Manchester City and a poor showing at Euro 2016.
And former England U21 manager Pearce - who won 78 caps for the national team - believes Hart needs a bit more bite with his game, and should emulate one of England's greatest ever stoppers.
"I spoke to Joe a while back and I said to him that at the Euros last summer, the ball went into the back of the net against Iceland and he didn't get up and berate his back line," he said on The Debate.
"I played in front of Peter Shilton and for 90 minutes, he would rip your head off for a clean sheet. Even when you were 5-0 up, he'd be at you all the time and I think Joe needs more nastiness in his game that says to his defenders 'you've got to get me a clean sheet and to do that, I'm going to get onto you a little bit more because I want to stay in this team'.
"It [criticism of Hart] comes with the scrutiny of playing for England. His form has dropped and it was poor in the European Championships, and he admits that. He's a very honest guy.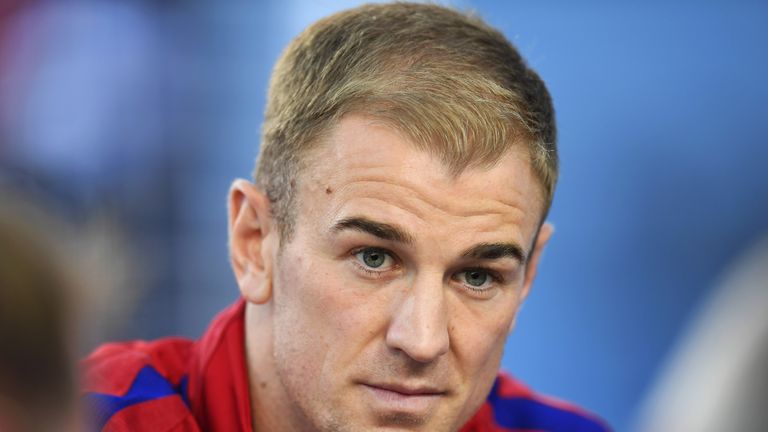 "The challenge is coming from Jack Butland and if he didn't have those injuries and was out of Stoke's team for a while, it might be a little bit closer at the moment in time. The emergence of Jordan Pickford and Tom Heaton as well means he's under a bit of pressure, but he's got to rise to that challenge."
Tim Sherwood also joined Pearce on The Debate and points to Pep Guardiola's arrival at Man City as the start of doubts over Hart but does not believe he should be the only player under the spotlight for his Euro 2016 performance.
"I can't remember Joe getting questioned too much until Pep went into Man City and started questioning if he could play on the floor. I think that was highlighted and put him in the spotlight a lot more," he added.
"The defence at West Ham are keeping busy, let's be honest. He's used to playing in front of that back four at Man City where he's had one, two, three shots per game and has pulled off big saves at good times which is crucial.
"I don't think he gets too busy as an England goalkeeper, certainly not in qualifying but I think he's got the concentration levels to pull off the big saves at the right times.
"Yes, he didn't have a good Euros, but nor did quite a number of that England team so I think it's quite harsh if we just point the finger at Joe Hart."