What's happened to Mario Gotze? The journey of the 'German Messi'
By James Walker-Roberts
Last Updated: 21/03/17 10:13pm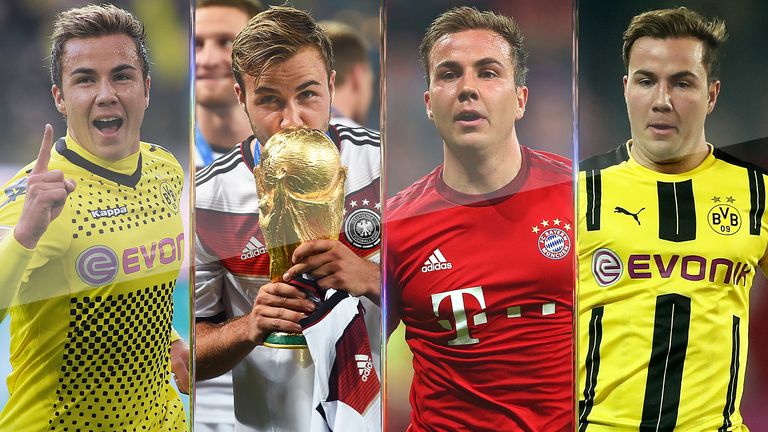 It is likely that, when Germany face England in a friendly in Dortmund on Wednesday, there will be several World Cup winners lining up for the home side. But not the World Cup winner.
Mario Gotze netted the decisive goal as Germany beat Argentina in the World Cup final in 2014, but will not feature against England after being ruled out for the rest of the season with a metabolic disorder.
Once labelled the "German Messi", we reflect on Gotze's career to date and look at what's next…
From Dortmund to Bayern
Having come up through the academy, Gotze played a starring role in one of the most successful periods in Borussia Dortmund's history.
As well as winning the Bundesliga twice, Gotze was part of Jurgen Klopp's team that lifted the German Cup in 2012 and reached the Champions League final the following season.
He was named Bundesliga Young Player of the Year in 2010/11 and twice made it into Kicker's Team of the Season.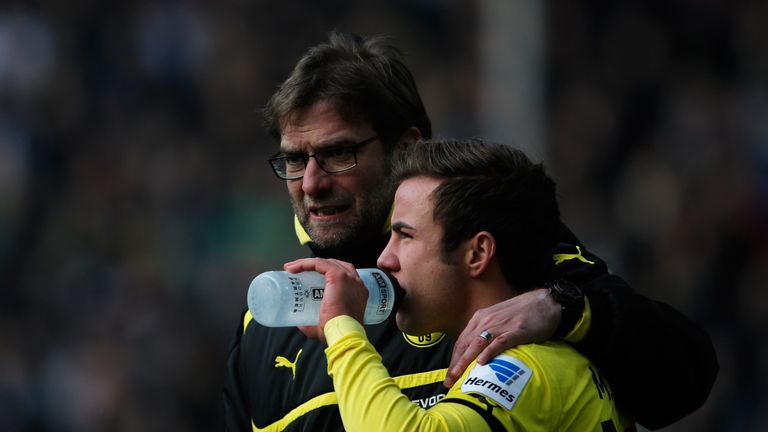 Germany legend Franz Beckenbauer even compared him to Lionel Messi.
"There is no-one playing better than him," he said in the summer of 2011. "He runs through opponents as though they aren't there. He is an instinctive footballer, just like Messi."
Gotze's impressive displays did not go unnoticed and he became the most expensive German player of all time when he was signed by Bayern Munich in the summer of 2013.
Dortmund chief executive Hans-Joachim Watzke said he was "disappointed beyond measure" at the move while Klopp revealed "Gotze wants to work with this extraordinary coach that is Pep Guardiola".
I love Mario Gotze. I have said it a million times and I will say it a million times. He is a super guy and a super character with a great attitude.
Guardiola on Gotze
Klopp also revealed that he had advised Gotze to stay with Dortmund.
"Bayern told Mario: 'It's now or never'. I told him they will come next year. They will come in two years, and then three years. But he is 20 and he thought: 'I must go'," he said.
Playing under Pep
Hopes were high for Gotze after joining Bayern. In a Bundesliga vote titled 'which new signing will have the biggest impact', it was Gotze who won with 40% of the votes.
Three Bundesliga titles, two German Super Cups, one UEFA Super Cup and 59 league starts over three seasons does not sound like a bad return from his time in Bavaria.
But he struggled to have the same impact on games as he did at Dortmund, and frustration started to creep in.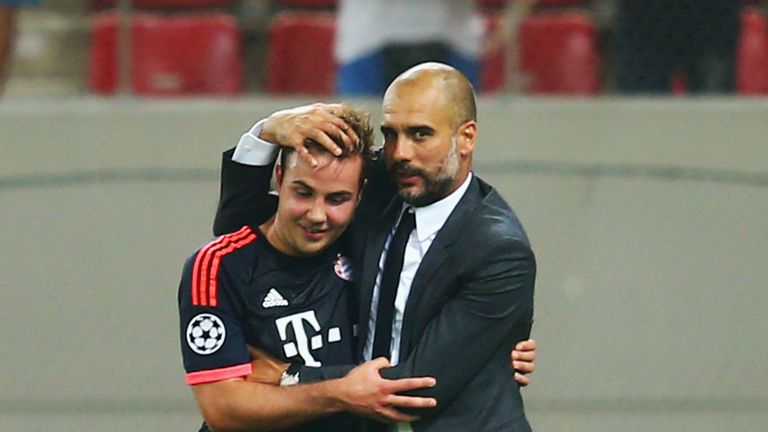 "Of course I am not happy with my current situation," he said in May 2014, having completed just eight Bundesliga matches.
A year later, Beckenbauer had gone from comparing Gotze to Messi to telling him to "grow up".
"He sometimes looks like a youth player to me, the way he loses the ball and stops playing," he said. "That behaviour is a little bit juvenile.
"It just doesn't fit at FC Bayern. It's time for him to finally grow up. We of course know that he is an outstanding talent, but he has yet to translate it into consistent performances."
World Cup winner
Amid his struggles at Bayern, Gotze was the hero at the 2014 World Cup.
"He is a miracle boy, a boy wonder," said Germany head coach Joachim Lowe after Gotze came off the bench to score the winner in the final against Argentina.
"I said to Gotze: 'OK, show the world you are better than Messi and can decide the World Cup'. I know he's always able to decide a match, and it was a great winner he scored."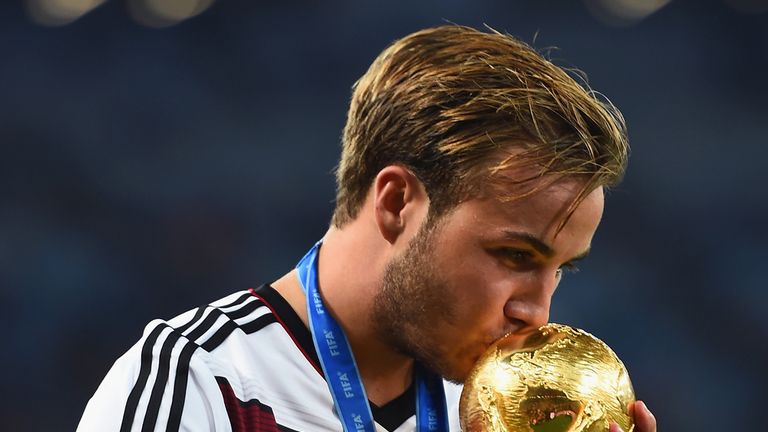 Although he played the starring role in the final, Gotze's contribution at the rest of the tournament was limited.
"It hasn't been a simple tournament, or year, for me," he said following the final.
After starting the opening games against Portugal and Ghana, Gotze was a substitute against USA and then taken off at half-time against Algeria.
He played a combined seven minutes in the quarter-finals and semi-finals, before scoring the winner in the final.
From Bayern back to Dortmund
Gotze would later say that he wished Lowe did not mention his name along with Messi - "in retrospect, silence about it would have been better" - and it was not a moment that brought about an upturn in his club form.
That is, seemingly, despite the best efforts of Guardiola.
Marti Perarnau wrote in Pep Guardiola: The Evolution that the Bayern boss was constantly "picking the brain" of Gotze to see how he could get the best out of him.
"He did not devote as much time to any other player as he did to Gotze," he added.
Gotze himself said Guardiola made him improve "in a tactical sense more than anything" and he became a "better player" at Bayern.
Under Guardiola, I've improved in a tactical sense more than anything. The detailed way in which Pep Guardiola thinks is really impressive. He's made me a better player.
Gotze on Guardiola
But after missing more than three months with injury, Gotze played just 14 Bundesliga matches in his final season at the Allianz Arena.
Although he said he intended to stay and fight for a first-team place under new head coach Carlo Ancelotti, in July 2016 he re-joined Dortmund, admitting his regret at leaving when he did.
"With the experience I have now, I would make the decision at a later stage, but I wanted to take the risk at the time and make the next step," he said. "Looking back at it, I would have made a different decision now."
Welcome return?
With some fans still unhappy about his departure in 2013, Gotze said he would try to convert those that "do not welcome me with open arms".
But things have not gone according to plan this season.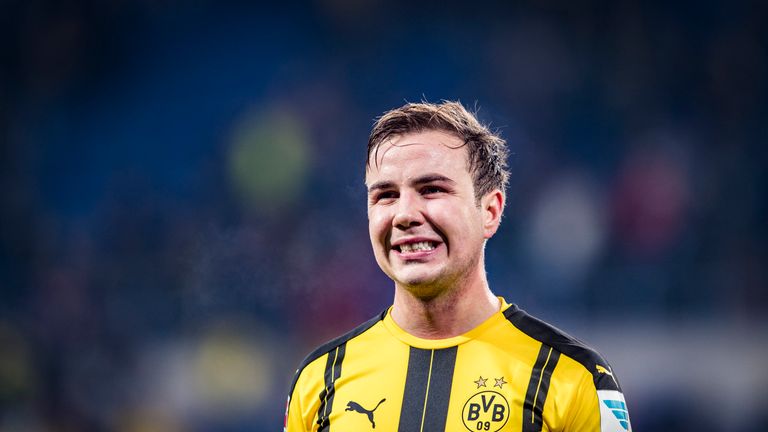 Having seen his starts limited due to "muscular problems", it was then confirmed that he will miss the rest of the season after the discovery of a metabolic disorder in early March.
"The long-term target for the player is to be fully fit and ready to play for the start of next season," said the club in a statement.
What next?
Dortmund head coach Thomas Tuchel has said he expects Gotze to be a key figure for the club again.
"We need peace, calm and tranquility for Mario," he said. "He needs rest, understanding and support - all of which he will get here.
"It takes time for the best treatment. Then he will be an important part of the team again."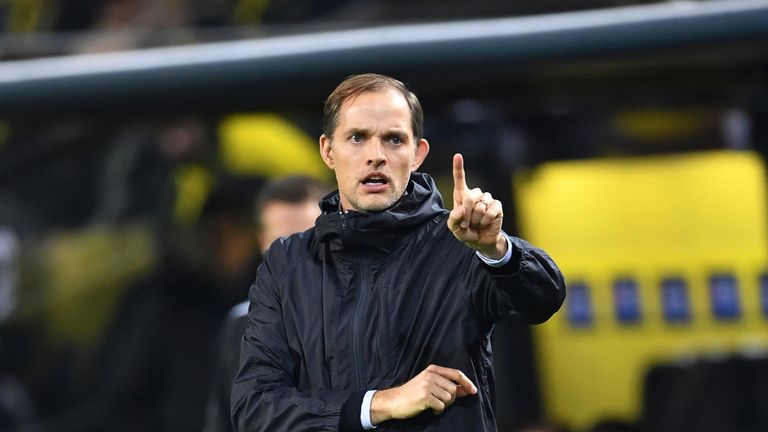 Gotze himself has said he will not be the same player he was when he first rose to prominence with Dortmund.
"Every player develops over time, as does every team and every opponent. I will never be the old Mario Gotze again," he said.
"Every chapter in life helps you move forward. I learned a lot in Munich. I played with world-class players, matured and learned from any setbacks."
This latest setback might be his toughest yet.
Follow updates from Germany v England on www.skysports.com on Wednesday evening.