Bastian Schweinsteiger pens farewell to retiring Lukas Podolski
By James Dale
Last Updated: 19/03/17 6:15pm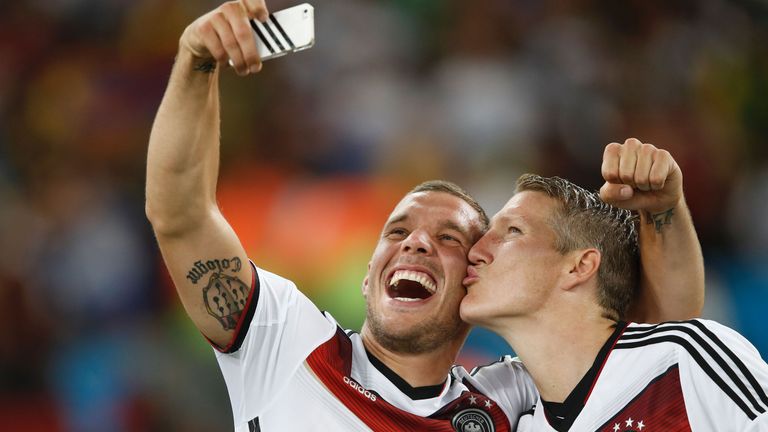 Bastian Schweinsteiger has written a goodbye letter to Lukas Podolski, whose final Germany appearance will be against England.
Former Arsenal forward Podolski, 31, will play his last game for the current world champions in his 130th appearance for the national team when they take on Gareth Southgate's England on March 22 at Signal Iduna Park.
Schweinsteiger retired from international football in August 2016, and echoed the sentiments Podolski gave upon his own announcement, saying "for years we've shared a friendship, one that does not often occur in life".
Manchester United midfielder Schweinsteiger hailed Podolski's "hammer" left foot, which he claimed has impressed English football fans as much as supporters in their native Germany.
Addressing '"Lukas" directly, Schweinsteiger wrote in German newspaper Welt Am Sonntag: "'For years we've shared a friendship, one that does not often occur in life' - that's how your letter for my farewell from the national team started back then in the Welt am Sonntag. And I wouldn't know how better to start mine.
"I still clearly remember the moment of my substitution in my final international game, and when I saw you sitting in the stands amongst my family, in the midst of those people who hold a special place in my life - and you are one of those people as well.
"With your positive attitude, open-minded manner and not least your inimitable hammer of a left foot, you not only delighted me, but also the English, German and Turkish audiences equally. Therefore I have no doubt, that you will quickly turn the Japanese fans into Poldi-fans as well, as you're now heading towards the Far East.
"Goodbye, Poldi my friend. See you soon!
"Your Basti."