Football Expert & Columnist
Jamie Carragher still believes Liverpool won't sell Philippe Coutinho
Last Updated: 12/08/17 7:04pm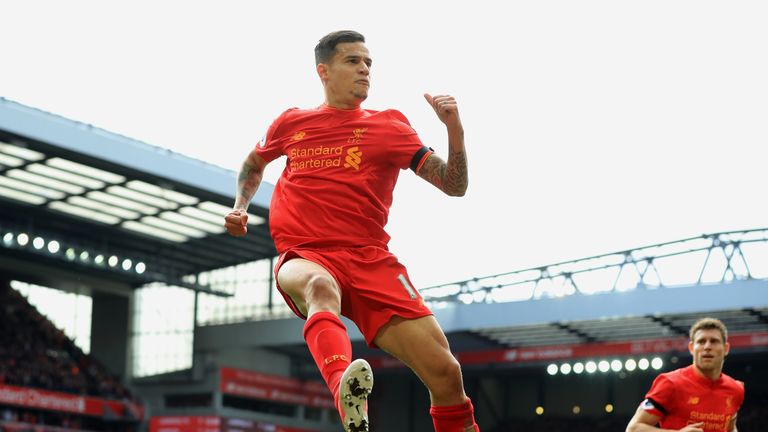 Jamie Carragher still insists there's no way Liverpool will let Philippe Coutinho leave this summer, even though he has handed in a transfer request.
The Brazil playmaker formally declared his desire to move to Barcelona on Friday, just hours after club owners Fenway Sports Group issued a statement saying they would not consider any offers for the player.
Carragher said earlier this week he expected Coutinho to stay for another year and there would be a riot among supporters if he left - and he stands by that statement despite Friday's events.
"I didn't think he would put in a transfer request, if I'm being honest," he said on Friday Night Football.
"I said he's not that type of player - but I don't know what that means when you say that. We're all that type at different times.
"I was surprised by it. I don't know if it was a reaction to the club coming out and making a statement earlier in the day.
"It's a similar situation to Luis Suarez, where he put in a transfer request and was made to stay by FSG at that time, but you always felt he'd only be at the club for 12 months.
I don't see any way the club would let Coutinho go. I said there'd be a riot if he went and I still stand by that.
Jamie Carragher
"Before Coutinho put in this request I thought Liverpool would keep him and he'd probably go in 12 months.
"If this bid had come in at the end of May, someone offered over £100m and you had potential targets lined up, you could understand it.
"But Liverpool have got no time to replace him. They can't get players in at the moment anyway and they've got a lot of money to spend.
"I don't see any way the club would let Coutinho go. I said there'd be a riot if he went and I still stand by that.
"And I'll be part of that riot!"
Fellow Sky Sports expert Gary Neville disagrees, suggesting the lure of Barcelona could prove to be too strong.
But he says it's unfair that Liverpool have been put in this situation on the eve of their opening game against Watford - and argued the transfer window should close before the season starts.
Neville said: "You are talking about 18 or 19 days of distraction and disruption to clubs who have worked hard all summer to try and get the pre-season correct.
"All the questions we're asking now is about players leaving, bit the ones at the club. It's the worst-case scenario for managers, coaches and the board.
In terms of Coutinho… it's Barcelona. Quite often when Barcelona and Real Madrid come knocking there's an inevitability about it and they end up going.
"That's where I slightly differ from Jamie. If he's saying there'll be a riot, you'd better get some police ready."