Can Eden Hazard get back on track under Guus Hiddink at Chelsea?
Last Updated: 08/01/16 1:57pm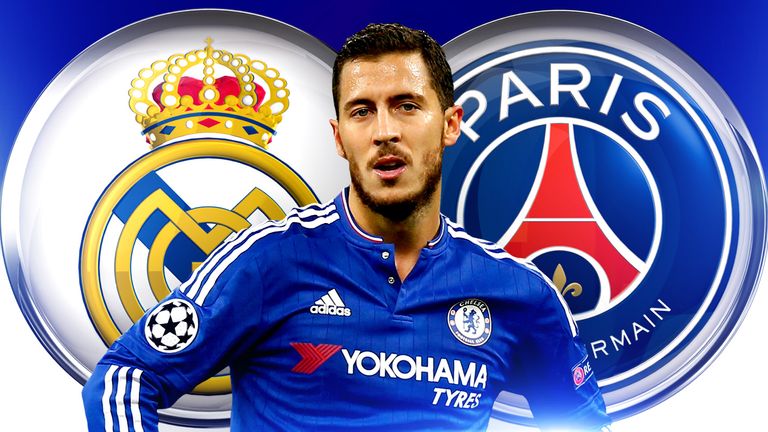 Eden Hazard's loss of form has been alarming and Real Madrid and Paris St Germain are hovering, but can he get back on track under Guus Hiddink at Chelsea?
Eight months. 30 matches. 2289 minutes. There are many ways to measure Eden Hazard's remarkable Chelsea goal drought, but none of them make the reality any easier to stomach for last season's PFA Player of the Year.
Hazard has not scored since capping a brilliant individual campaign with the goal that clinched Chelsea's Premier League title against Crystal Palace in May. As recently as July, before the new season had unravelled so spectacularly, Jose Mourinho said the Belgian's performances in 2014/15 ranked ahead of Cristiano Ronaldo's and second only to Lionel Messi's in Europe.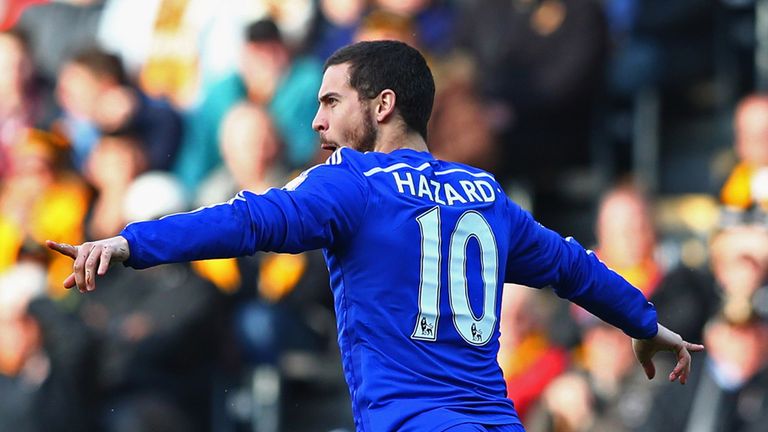 It was high praise - but Mourinho had a strong case. Hazard had started every one of Chelsea's Premier League fixtures on their way to the title, scoring 14 goals, adding nine assists and dragging them over the finish line almost single-handedly as team-mates faded all around him.
Hazard went into the summer as one of Messi's strongest rivals for the 2015 Ballon d'Or, but by the time the three-man shortlist was announced in November, his challenge had faded completely. One statistic circulating on social media summed it up: Barcelona's Neymar has won five trophies since Hazard last scored a goal.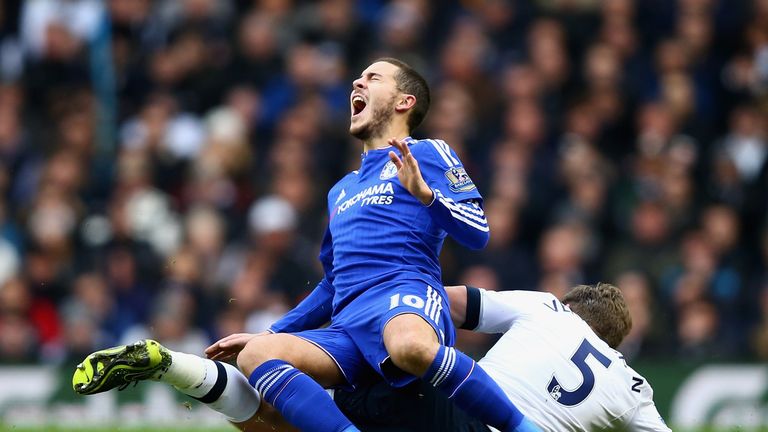 Hazard, of course, is not the only Chelsea player to have struggled this season, but the heights he scaled in 2014/15 mean his decline has felt particularly steep. And while Diego Costa and Cesc Fabregas have shown signs of resurgence in recent weeks, the same cannot be said of their No 10, who still looks a long way short of his best, with niggling injuries also hampering his progress.
Hazard's Premier League dip
| Season | Dribbles per game | Chances created per game | Shots per game | Passes per game |
| --- | --- | --- | --- | --- |
| 2014/15 | 4.8 | 2.6 | 2.1 | 58.4 |
| 2015/16 | 2.8 | 2.4 | 1.2 | 45.6 |
It's not just the goals that have dried up, either. Hazard is attempting fewer dribbles, having fewer shots and creating fewer chances than last season. And despite the fact that Chelsea have actually averaged fractionally more possession than in 2014/15, his involvement has dropped off dramatically, with his average number of passes per game falling from 58.4 to 45.6.
Those numbers left Mourinho scratching his head, and Guus Hiddink now finds himself in a similar situation, albeit with the considerable advantage that his relationship with Hazard is not strained beyond repair. The Dutchman has been pressed on the 25-year-old repeatedly in recent press conferences, and despite overtures from Real Madrid and Paris St Germain, he says he has been struck by his hunger.
If a player comes back from an injury then normally they like to take some time to get in good physical and mental shape, but he was eager to play in the Watford game already.
Guus Hiddink on Eden Hazard
"As a coach I haven't experienced him in the past and now I have had him for just a few days because he was injured," Hiddink said last week. "If a player comes back from an injury then normally they like to take some time to get in good physical and mental shape, but he was eager to play in the Watford game already. When he was warming up, he said: 'Please, bring me on, bring me on'."
Some of Chelsea's senior players were accused of downing tools in the final weeks of Mourinho's tenure, but Premier League tracking data proves Hazard's struggles have not been down to a lack of effort. Indeed, the Belgian is covering more distance per 90 minutes than last season, and he is also averaging more high-intensity sprints.
Hazard's running stats
| Season | Distance covered per 90 mins | Average sprints per 90 mins |
| --- | --- | --- |
| 2014/15 | 10.35km | 56.37 |
| 2015/16 | 10.54km | 59.98 |
It's a cause for optimism for Hiddink, and Ray Wilkins, the 69-year-old's assistant during his first stint at Stamford Bridge, believes he is the perfect man to bring Hazard back to his usual standards. "Guus is a tremendous man motivator," Wilkins told Sky Sports. "These big players all have the talent, but it's just getting the man management right and getting these young men to run around for you. Guus will do that.
"Mourinho did a fantastic job, but I think a lot of the players were struggling. Now a new manager comes in and they seem to pick their game up a touch, so long may that continue. Guus will bring joy to training. He'll bring a fun environment in which to work, and he'll be like a dad to them. That's what he was like the last time he was there. They loved him."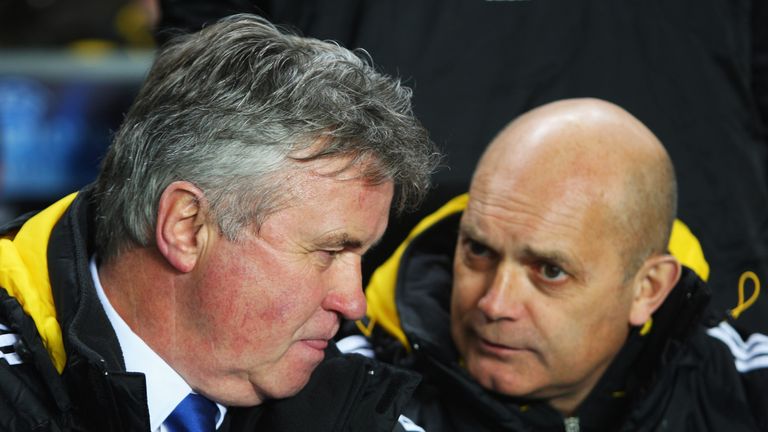 Diego Costa's confrontation with Oscar on Thursday shows training will be as competitive as ever, but the image of Hiddink with an arm around Hazard contrasts sharply with that of the Belgian pushing Mourinho's hand away as he came off the pitch against Porto last month, and he could be set for more special attention from Didier Drogba, who is being linked with a return to the club as a coach.
Hazard has looked up to Drogba throughout his career, and it was the Ivorian who convinced him to join Chelsea back in 2012. "Back in the summer of 2012, just as I was leaving Chelsea, I'd persuaded him to sign for the club," Drogba wrote in his recently-published autobiography, Commitment.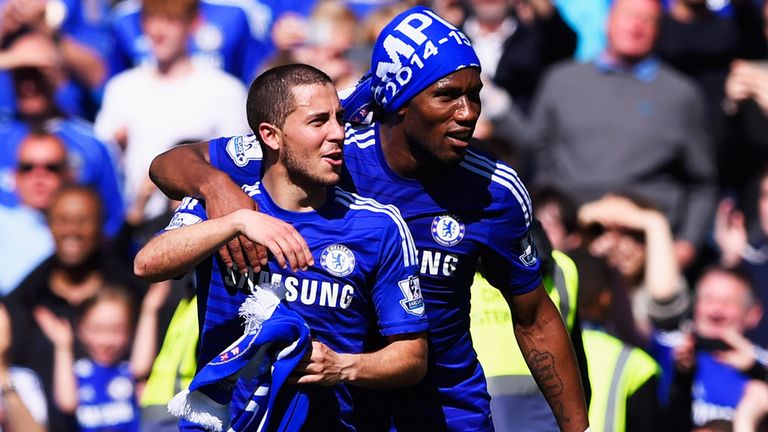 "After we won the Champions League, I got [his former Lille team-mate] Gervinho to call Eden and I persuaded him that Chelsea would be the right place for him. He told me afterwards that he was amazed I had made that call and that it had been a big reason why he'd come to Chelsea."
Suddenly, Chelsea looks like the kind of environment in which Hazard could thrive once again, but Wilkins insists it's up to him to raise his game too. "You've also got to put [his dip in form] down to the defenders he's playing against, because they're not going to allow him to do what he did last year," he said.
"He just wrecked them last year, everybody. But now they're getting tighter, they're bringing him down more, they're not allowing him to get on those dribbles and they're doubling up on him."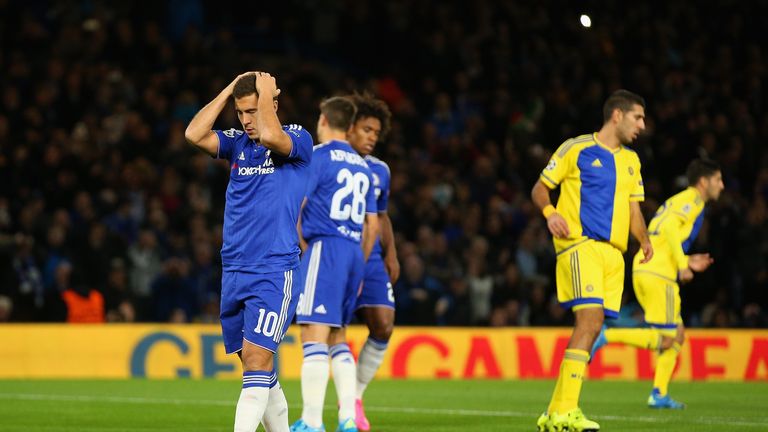 Hazard's reduced numbers of dribbles and passes per game certainly tally with Wilkins' assertion that he is receiving closer attention than ever from defenders, and Hiddink eluded to it too in the wake of the goalless draw against Manchester United after Christmas: "At Old Trafford they were searching for him all over the pitch and he reacted very well - he has a very strong character."
"They've made it tough for him," added Wilkins. "Now it's up to Hazard to start thinking: 'I need to be doing something different to hurt these guys'. Let's hope that evolves under Hiddink."
Chelsea might face a battle to keep hold of Hazard in the summer if they miss out on Champions League qualification, but in the meantime, his and Hiddink's task is to find a way to make it work in west London. After eight arduous months, the Belgian's prospects are starting to look a little brighter.