Spurs boss Mauricio Pochettino says Harry Kane is tiring of receiving praise from him
Last Updated: 12/08/17 2:57pm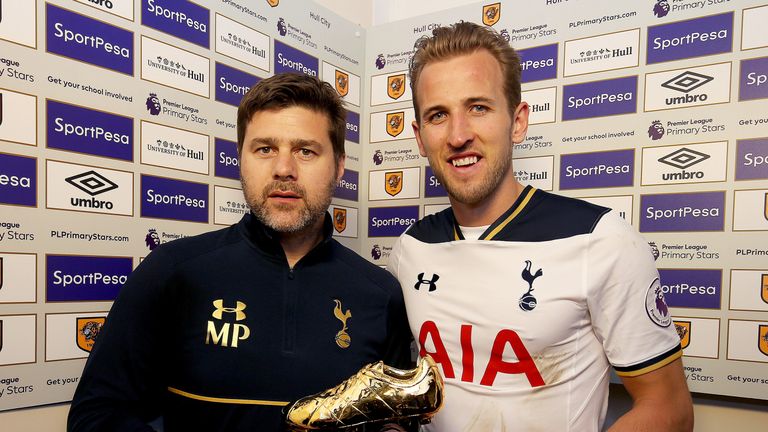 Mauricio Pochettino has joked that Harry Kane is tiring of being hailed as one of the best strikers in the world by his Tottenham boss.
Kane will register his 100th goal for the club if he scores in Super Sunday's Premier League match at Newcastle, a milestone he will have reached in 166 games.
The England striker, who claimed the top-flight's golden boot last term for the second straight year with 29 goals, has yet to hit the target in August in the top flight but Pochettino believes he remains a special player.
"It's a massive achievement. I think Harry is one of the best strikers in the world. It gets boring because I repeat it," Pochettino said.
"Harry finds it boring sometimes and says 'please gaffer, move on because always you say the same thing'. He's a fantastic professional. We hope that on Sunday he'll score."
Tottenham's season opener will be played against a backdrop of Danny Rose's criticism of the club's pay structure and transfer strategy.
Rose apologised for his comments on Friday and Pochettino has sought to move on, forgiving the England full-back.
Pochettino insisted Tottenham could keep on improving, despite failing to add to the squad that finished second in the Premier League last season and selling Kyle Walker to Manchester City for £50m.
"Always in my life I try to win. When I play with my son or my wife, I try to win. I am so competitive. We are so competitive and ambitious," Pochettino said.
"It's a big challenge for us to make Tottenham a winning team, to build a strong mentality to challenge the big sides like Manchester United and Manchester City who are spending a lot of money.
"When you see our philosophy and the way we work, it's so exciting. We try to win in a different way to other clubs.
"We are unique and try to be strong and have no doubt when people are doubting us.
"We are so calm and relaxed. We will assess at the end of the season if we are right or not."
Kick-off the Premier League and only pay for the games that matter to you with a NOW TV Sky Sports Day Pass. One off payment, just £6.99.