Supporters of Chapecoense gathered at the club's stadium on Wednesday to honour the players killed in Monday's plane crash.
Thousands of fans dressed in club colours convened at the time Chapecoense were supposed to kick off the first leg of their Copa Sudamerica final against Colombia's Atletico Nacional.
A chartered plane carrying players, staff and Brazilian journalists came down outside the city of Medellin, killing 19 squad members and 71 people in total.
Three other players were among just six survivors and remain in hospital with serious injuries.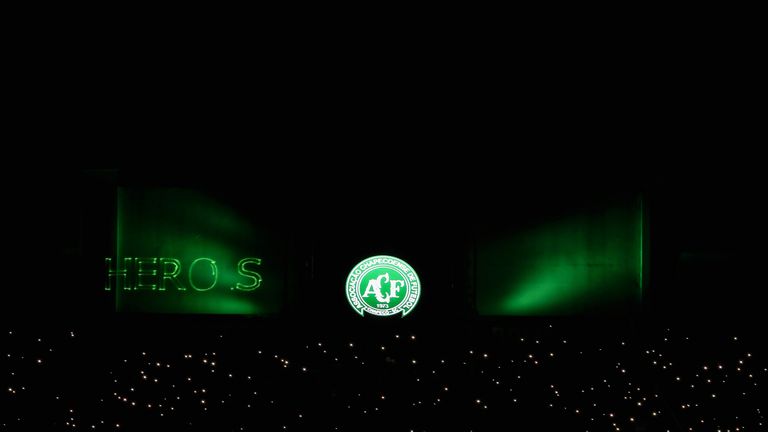 Atletico supporters paid their own tribute in Medellin, while back in Brazil supporters and remaining officials watched a video honouring the players, and vice-president Ivan Tozzo was among those left attempting to articulate the weight of grief in the club and the city.
"It was very difficult on entering the meeting room in the morning and seeing all the empty seats of our companions," Tozzo said.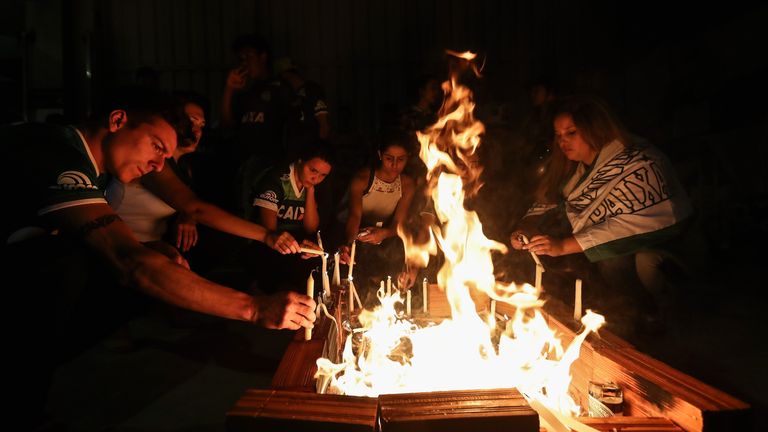 One supporter, Aline Fonseca said: "Chapeco is not a big city. We would meet the players in the street, anywhere. It's hard to keep going."
"I think this transcends football," another mourner, Daniel Augusto Barrera, said: "It has become something human.
"This is why I decided to come and pay my respects for the players who left Chapeco with a dream and who will never be forgotten."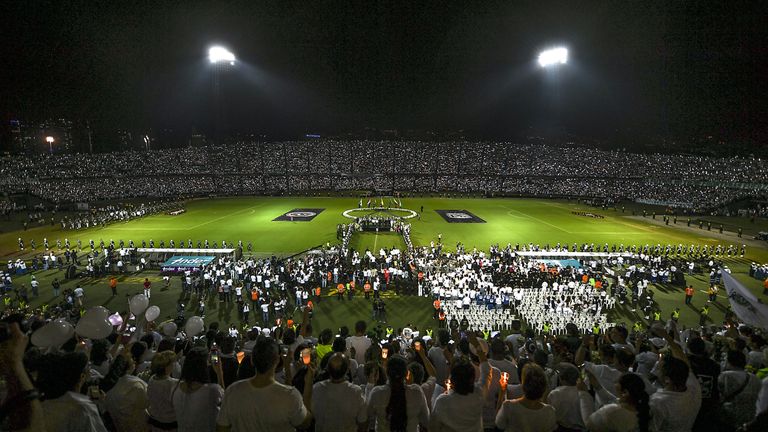 Chapecoense could play the final game of their domestic season next week, Tozzo earlier revealed, while other Brazilian clubs have pledged to loan players for free.
Tributes have come in from across the football world, with Old Trafford paying its respects ahead of Wednesday night's game between West Ham and Manchester United, who lost eight players in the Munich air disaster of 1958.
UEFA has also announced that a minute's silence will be held ahead of all of next week's Champions League and Europa League matches as a mark of respect to those who died in the crash.
Some 59 bodies have been identified, including 52 Brazilians, five Bolivians, a Paraguayan and a Venezuelan.
In an update on those who survived the crash on the club's official website, Chapecoense confirmed reserve goalkeeper Jackson Ragnar Follmann remained in a "serious condition" after having one leg amputated, while
defender Helio Hermito Zampier Neto was in a critical but stable condition, and was now "providing good prospects for improvement".
Defender Alan Luciano Ruschel had undergone "surgery of the spine, but has normal movements in his arms and legs", while journalist Rafael Valmorbidal, of Radio Oeste Capital, had a "thoracic (chest) trauma and a leg fracture" and was "also critical, but the outlook is optimistic".
Meanwhile, the head of Colombia's civil aviation authority, Alfredo Bocanegra, has said the Chapecoense plane "did not have fuel at the time of impact" following "an inspection of all the remains and parts of the plane".
According to Colombian civil aviation rules, all planes should have 30 minutes of extra fuel to allow them to land at an alternative airport in an emergency.  
A full investigation into the crash is expected to take months and will review everything from the 17-year-old British Aerospace aircraft's flight and maintenance history to the voice and instruments data in the black boxes.