Pele, Neymar lead global tributes to Brazilian side Chapecoense, while English football pays respects
By Chris MacRae
Last Updated: 01/12/16 6:18pm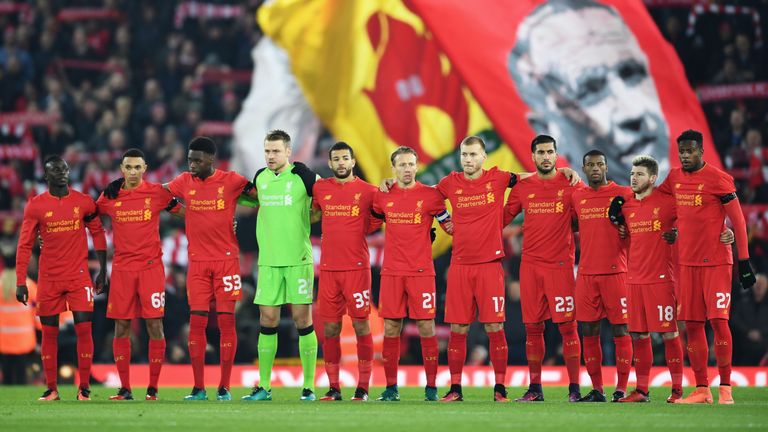 Pele and Neymar led tributes to Brazilian side Chapecoense after a plane carrying members of the club crashed in Colombia, while English football also paid its respects on Tuesday.
The team were travelling to Medellin to play Atletico Nacional in the first leg of the Copa Sudamericana final - the equivalent of the Europa League - on Wednesday night.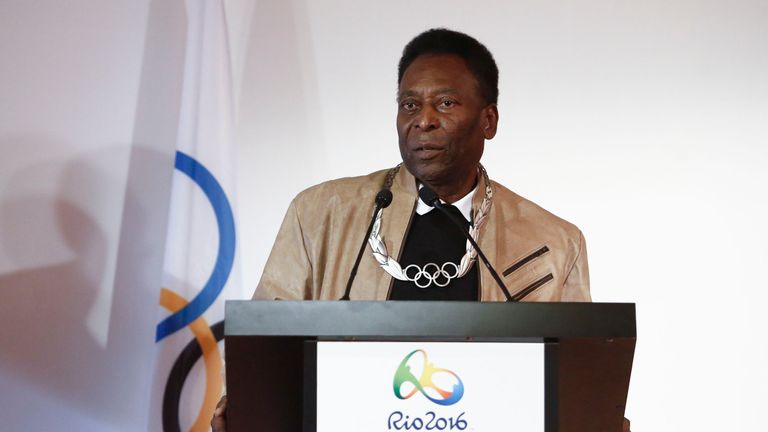 They were accompanied by journalists, club officials and crew when their charter flight went down in a mountainous area on Monday night, killing 71 people according to the Colombian aviation authorities. Six others survived, including three players, two crew members and one journalist. 
Pele said: "Brazilian football is in mourning. It is such a tragic loss. My sincere condolences to the families of the deceased. Rest in peace."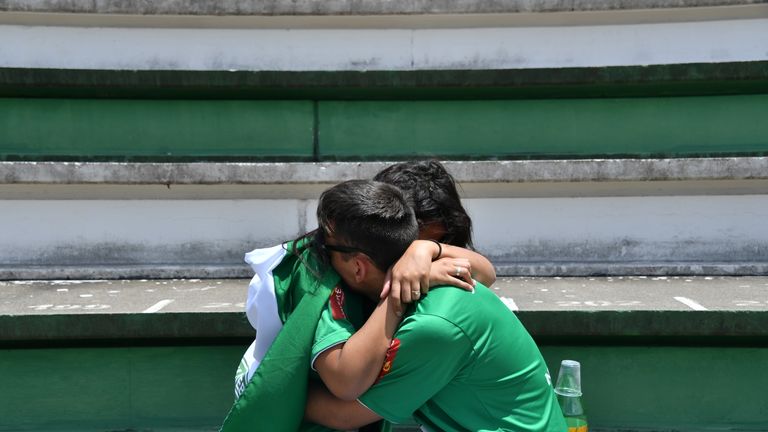 Current Brazil international Neymar, the Barcelona forward, said the news was "impossible to believe".
A post on his official Instagram account read: "It's impossible to believe this tragedy, impossible to believe what happened, impossible to believe that the plane crashed, impossible to believe that athletes, human beings were on this plane, impossible to believe that these people left their families... Today the world cries, but heaven rejoices in receiving Champions."
Neymar's Barcelona club-mate and Argentina forward Lionel Messi added on his Facebook page: "My deepest condolences go to all of the families, friends and supporters of the Associacao Chapecoense de Futebol squad."
There were tributes at both of Tuesday night's EFL Cup matches involving Hull and Newcastle plus Liverpool and Leeds with minute's silence at both the KCOM stadium and Anfield with players also wearing black armbands.
Minute's silences will be held at Premier League games this weekend, with black armbands also being worn.
The Real Madrid squad had earlier held a minute's silence before their training session on Tuesday morning and their captain Sergio Ramos said: "Our thoughts are with Chapecoense and everyone affected by this tragedy and their families. We are speechless."
Barcelona also paused for reflection at their training ground and a spokesman said: "All our support and solidarity is with the victims and the families affected by the Chapecoense Real tragedy in Colombia."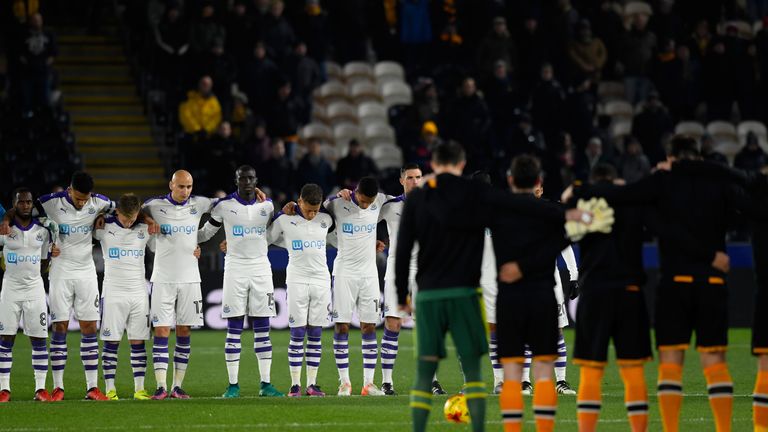 Manchester United -  who lost eight players in February 1958 when their plane crashed on take off from Munich airport - also expressed their condolences, saying: "The thoughts of everyone at Manchester United are with Chapecoense and all those affected by the tragedy in Colombia."
Wayne Rooney tweeted: "Sad news to wake up to today. Thoughts are with @ChapecoenseReal and their family and friends."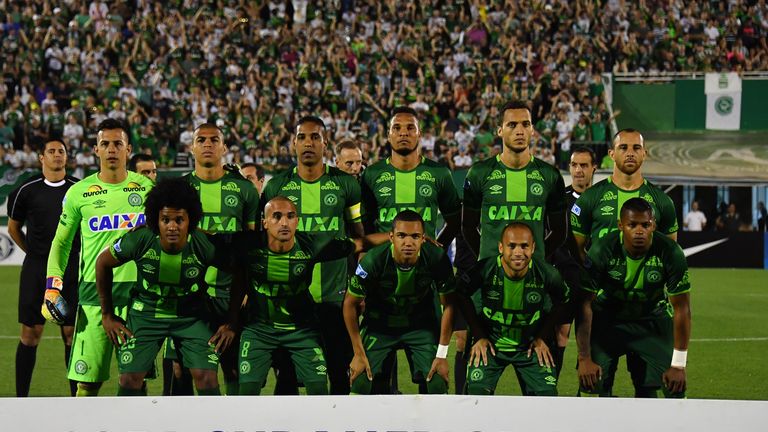 Goalkeeper David De Gea added: "Deeply affected by Medellin's plane crash. I shared locker with Cleber Santana (at Atletico Madrid) and it's difficult to reveal how I feel. A huge hug."
Argentina great Diego Maradona said: "Sadly those lads, who were on the way to becoming a force in football, took the wrong plane."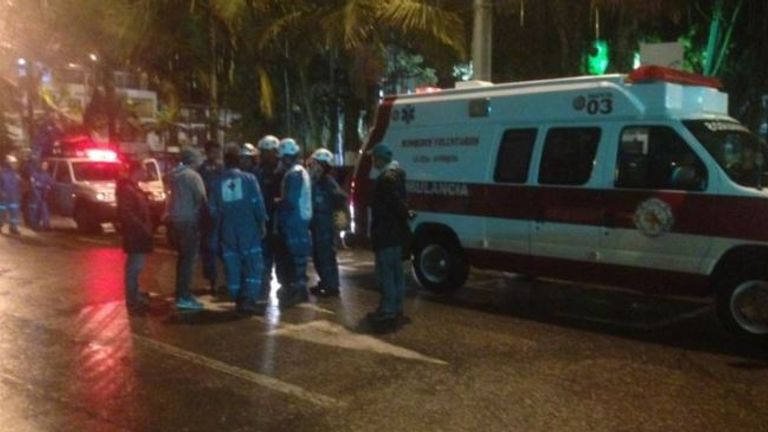 The Colombian club Atletico Nacional called on football authorities to hand the Copa Sudamericana title to their opponents as a tribute to the team's players who lost their lives.
A statement read: "(We request) that the Copa Sudamericana title be handed to Chapecoense as an honorary trophy for its great loss, and as a posthumous homage to the victims of the fatal accident that has put our sport in mourning."
All football matches in Brazil have been postponed for a week as a mark of respect and President Michel Temer has declared three days of national mourning in the country.
Plinio David de Nes Filho, one of Chapecoense's presidents who had not travelled to Colombia, told Brazilian TV: "Lifelong friends were on that flight.
"It was not just a group founded on mutual respect; it was a family. We lived in harmony, with great happiness. Before boarding the flight, they said they were going to turn their dreams into reality. The dream ended this morning."
Reports coming out of Brazil on Tuesday evening claimed that other clubs would loan players to Chapecoense for free and ask that they be exempt from relegation for three years.