Barcelona at end of an era after PSG defeat, says Guillem Balague
Last Updated: 15/02/17 10:37pm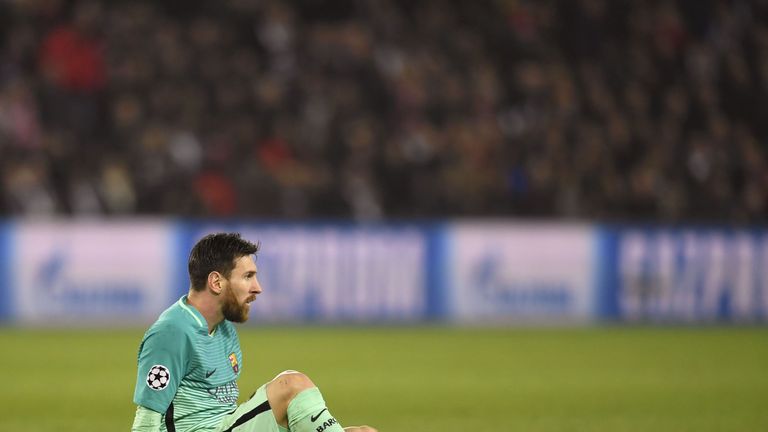 Having been beaten 4-0 by Paris Saint-Germain in the Champions League on Tuesday, Sky Sports Spanish football expert Guillem Balague reflects on the problems at Barcelona, the future for head coach Luis Enrique, and who might replace him in the summer...
This has been about an accumulation of problems at Barcelona.
Firstly, Luis Enrique has made the midfield - which was key in the successful years of the team - irrelevant. I don't understand why he took weight off the midfield and didn't really balance out the potential of controlling games with the power of the front three.
Logically he wanted to create space in front of the front three so he's always aiming for quick transitions, but that has meant Sergio Busquets and Andres Iniesta feel a bit alien to the rest of the team.
It used to be about control and passing, but now they depend so much on the front three - which is logical in a way because they are so good - that they want to get the ball to them as fast as possible.
When that happens the midfield is completely irrelevant so the influence of Busquets and Iniesta on the ball disappears, and without the ball they get completely beaten as they were by PSG.
If you are aggressive to them when they have the ball, and if you attack them with pace when they lose the ball, then you have a team that suffers.
They cannot defend properly like a normal team just using the back four, they need to defend up front, and although the front three are good with the ball, without it they don't do enough work. When they want to control the game not everybody is on the same wavelength.
Also, the new signings haven't done much, with the exception of Samuel Umtiti perhaps, and they depend more and more on the front three, especially Lionel Messi. As we saw yesterday, if a side puts pressure on Barca's build-up the ball doesn't get to the front three cleanly which destroys the chances of them doing damage.
For me it's the end of an era and I think Luis Enrique feels the same. There a lot of things that suggest Barcelona have lost their way and Luis Enrique has lost the confidence of some of his players
Guillem Balague
You could see this was not going to be a good night for Barcelona when, in the first half, Messi touched the ball only 17 times. The ball did not get to him. There was also a lack of intensity, with and without the ball, and they couldn't beat the high pressure.
Unai Emery knew Barcelona very well from his time in Spain and put Julian Draxler and Angel Di Maria behind Busquets and between the lines. There was no tactical movement from Luis Enrique in the first half to beat that, so they went in at half-time 2-0 down. There was a reaction in the second half but by then it was too late because the dynamic of the game had gone away from Barcelona.
Busquets said at the end of the game that they were beaten tactically. When Luis Enrique heard that he said he didn't know what he was talking about and had a go at one of the journalists in one of the post-game interviews.
He has this idea that a lot of what is happening is down to journalists and I don't understand why, because I think he should look to himself and some of the decisions he has been taking.
The dynamic has been going on for a while and it has been useful to win everything not so long ago, but you could see the essence of Barcelona was disappearing and they have been depending more and more on individuals, as we have been reporting in Revista de la Liga for a year.
For me it's the end of an era and I think Enrique feels the same. There a lot of things that suggest Barcelona have lost their way and it suggests Enrique has lost the confidence of some of his players and his message is not getting through to them.
It happens after two or three years that cycles finish. I have the impression he feels his cycle is finishing and that's why he is leaving it until April to decide if he is going to continue or not. Barcelona have a decision to make.
I know they have made it to the cup final, but if they fail to win the league, instead of waiting for Enrique to decide if he wants to continue or not, they may take action and decide it's not worth renewing his contract.
Barcelona have said to Enrique they will renew his contract if he wants, but that has got the potential to be changed. I feel Barcelona need a new impulse and it will be interesting to see what direction they take it.
I know people are positioning to be in the job next season. Enrique's assistant, Juan Carlos Unzue, is positioning himself, so is Sevilla head coach Jorge Sampaoli, and there are other names in the equation.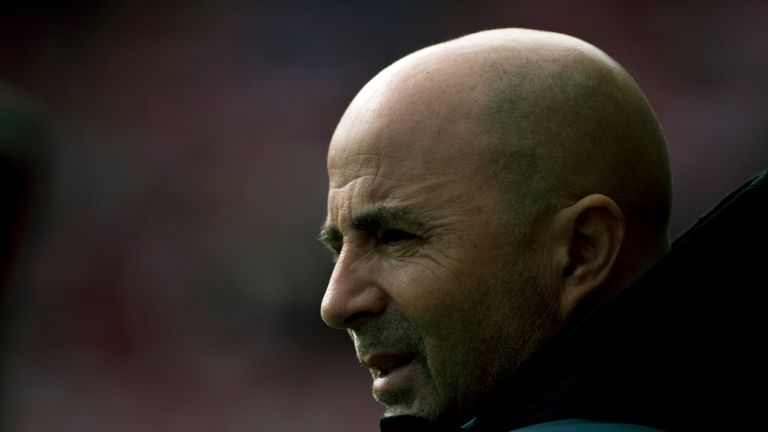 I have the impression Mauricio Pochettino is admired in Barcelona and will have a big decision to make in the summer, because he will want Spurs to continue his progression. If he gets that there is no doubt he will stay, but he has directors at Barca that admire him and he has been on the list for a while.
I am not surprised, even though he is closely linked to Espanyol and moving to Barcelona might be difficult, because he has the quality, style and philosophy to succeed.
Ronald Koeman has said himself he hasn't got a call yet. He is doing a good job at Everton and has been named in shortlists in the past, but I am not sure if he will be now, and Barcelona will have to do decide before going for another head coach what football they want to put in practice.
If it's the kind of football that we have seen at Sevilla they would have in Sampaoli somebody who is more than willing to come to Barcelona, with Juanma Lillo his assistant previously close to Pep Guardiola and a defender of that style of football. It seems a more logical decision but they would have to get them out of Sevilla.