From "disaster" to "incredible", there was a mood of shock and amazement in the Spanish and French papers following Barcelona's 4-0 thrashing by Paris Saint-Germain on Tuesday evening.
Angel di Maria scored twice as PSG romped to victory in their Champions League last-16 first-leg clash in France.
The defeat was Barca's joint-heaviest in the competition and no side has overturned a four-goal deficit to progress in a Champions League knockout tie.
"This is not Barca" was the headline of Barcelona-based newspaper Sport on Wednesday morning.
"Luis Enrique's side received a historical humiliation in Paris. Only Neymar and [Marc-Andre] Ter Stegen save face in an unrecognisable team without heart," they added.
In Marca...special criticism was reserved for Sergi Roberto - " a caricature" - while Messi "completed his worst game of the season".
Sport columnist Ernest Folch did not hold back in his assessment of the night in an article titled "Barca shipwrecked without a coach".
"Barca fell in Paris without valour and without excuses. It was a tumultuous fall, from the first to the last minute, and the worst part of the shipwreck was that, more than an accident, it manifested itself as an intense reflection of many problems...that had already been shown throughout the season.
"Barca bled in midfield in the Parc des Princes, the same point they have suffered all year, highlighted yesterday by Iniesta's injury, a lost Busquets and a drifting Andre Gomes who is totally undeveloped to play in this team right now."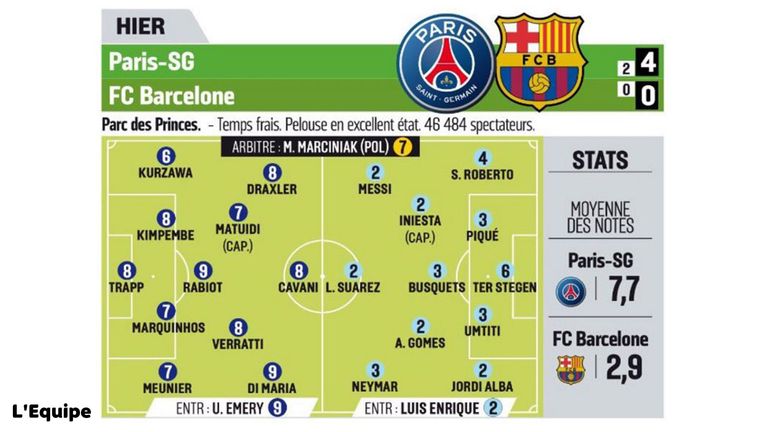 Another Barcelona-based newspaper, Mundo Deportivo, used one word on their front page to sum up the night: "Disaster."
They added: "A Barcelona without heart or game falls with a crash in Paris and has a foot and a half out of the Champions League."
"Nightmare in Paris" was the headline on Catalan daily sports newspaper L'Esportiu, which added: "PSG overwhelms the worst Barca of recent years and forces them to make a miraculous comeback at the Camp Nou."
AS go with "Total disaster" and highlight Lionel Messi's anonymous display, with the sub-headline: "Messi: 18 balls lost and no shots at goal".
Madrid-based Marca angled their front-page headline around PSG boss Unai Emery, former coach of Valencia and Sevilla. "Emery destroys Barca…PSG were superior in everything."
In an editorial inside they added: "There was not a ray of hope amid such disappointment. Not a single reason to believe. We cannot think of a match in recent memory in which Barca were so clearly outclassed."
Special criticism was reserved for Sergi Roberto - " a caricature" - while Messi "completed his worst game of the season".
The front page of L'Equipe conveys a contrasting mood, with one word, "Prodigious", summing up the night.
And while they were full of praise for PSG in their player ratings, they were scathing of Barcelona, with no outfield player receiving higher than a four out of 10.
That mark went to Sergio Roberto, while Messi, Andres Iniesta and Luis Suarez all received two out of 10, along with Barcelona head coach Luis Enrique.
L'Equipe columnist Damien Degorre described the rout as "huge, incredible, staggering, stunning, and hair-raising too", claiming the home faithful would "never have dared to imagine this game in their wildest dreams".