Arsenal boss Arsene Wenger 'played a blinder' at media conference
By Gary Cotterill, Sky Sports News HQ
Last Updated: 17/02/17 12:35pm
There was a time, three years ago, when Arsene Wenger was always late for his pre-match news conferences.
Then, all of a sudden, just as it was becoming a kind of charming, eccentric habit, it stopped. He got punctual.
If he was due to speak at 9am, he walked in at 9am.
Arsene. Reliable.
Today, however, it was back to old ways. He arrived half-an-hour late.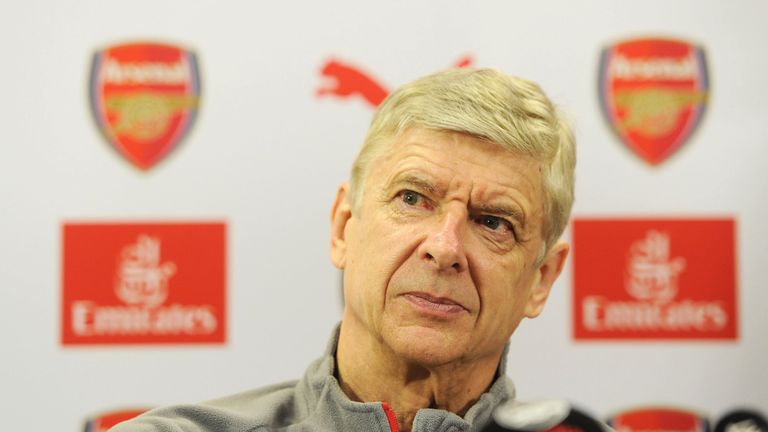 It was also back to old ways for his team this week of course, as Arsenal were thrashed 5-1 by Bayern Munich in the Champions League last-16 stage.
Arsenal. Reliable.
Wenger clearly knew as he walked into the media room with his usual "good morning" greeting, that the nature of that defeat has put him under intense scrutiny.
He will have noticed straight away more cameras and reporters than usual.
But, as usual, he was cool and calm as the inquisition started.
"No" - there was no dressing room bust-up after the final whistle in Munich. Just sadness and disappointment.
"No" - he doesn't get offended by all the criticism.
"Yes" - he will decide his future in March or April. And he went on, giving more away than usual.
"No matter what happens I will manage next season, whether it's here or somewhere else. I have strength and confidence to deal with disappointments"
That caused a stir in the room. Mr Arsenal, not ruling out being elsewhere after the summer.
Wenger was beginning to almost enjoy the jousting with journalists. His explanation of Alexis Sanchez's flight out of England gave him pleasure. Killing any conspiracy theory stone dead: "He has gone to Barcelona for a court case [tax] and will be back tomorrow."
He talked Sutton. He talked injuries and then, five minutes sooner than usual, his press officer called things to a halt.
This was never going to be an easy day for Arsene. But he played a blinder. It's a pity his players don't always do the same.